Student Profile: Liam Gorman Is A Family Man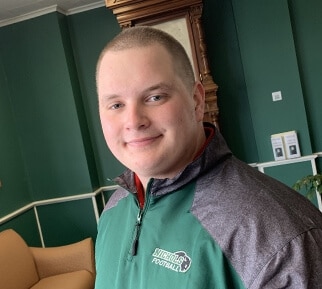 Without any hesitation, Liam Gorman ticks off the three things he values most about his time at Nichols. "Football, friends, and a second family," the senior athlete and Sport Management major insists, explaining that he joined his extended family as soon as he arrived on campus from Ashburnham, Massachusetts.
"I knew some people here who took me under their wing," Gorman recalls. "Freshman year at college isn't that easy a transition. This was a new chapter in my life."
Once he got his feet planted, Gorman reached out to others. "I was known as the friendly guy who said 'hi' around campus," he recalls. "It opened a lot of doors." Gorman's people skills earned him positions as an ambassador for the Nichols admissions office and a resident assistant in his dormitory.
Gorman's Nichols family has grown through playing on the Nichols football team. "I have a group of friends—fellow football players—and we check in with each other on and off the field," he explains. On the field, he has proved versatile, playing four different positions the past two years over, which the football team has managed a winning 11-9 record.
"I love sports," he says. "My parents were college athletes, and sports were in my blood."
Academically, Gorman excels at Sport Management, with his eye on a particular prize—coaching in the college ranks. Among his favorite courses: one on NCAA rules and regulations, including those covering recruiting and financial aid to athletes.
His 3.88 grade point average places Gorman in the highest ranks of Nichols student athletes. "It does take a lot of work," he admits. "The biggest part about being a student athlete is time management. Without it, you're going to be in trouble."
Several internships have added to the load. At his former high school, Gorman worked with the athletic director, getting exposure "to a piece of everything," he says. A subsequent football internship a Assumption College let him concentrate on the coaching side.
"I'm hoping to get a graduate assistantship in sports somewhere at the college level," he says of his career plans. "I'd get my masters for free, make some money, and get what I really want to do in life—and that's coach."
Learn more about other amazing Nichols College students on our Profiles page.
---
About Nichols College
The mission of Nichols College is to educate and enlighten students to capitalize on their ambitions and to become impactful, forward looking global leaders.
Media Contacts
Susan Veshi
AVP, Advancement and College Communications
susan.veshi@nichols.edu
508-213-2227