Student Profile: Lexxus Andrews Lends A Helping Hand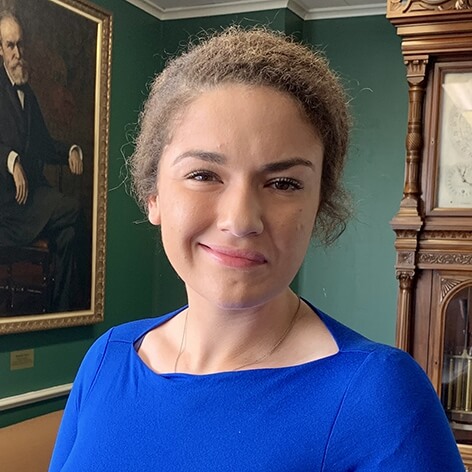 Lexxus Andrews knows how to help others. The senior Criminal Justice major with a psychology minor from Uxbridge, MA has extended her work in the classroom to a non-stop commitment to service organizations on- off-campus—from a program with local high school students to the local Boys and Girls Club and the organization Big Sisters.
Her volunteer work, Andrews explains, is paving the way for a career in helping children in the criminal justice system. She refers to her older brother, whom her mother adopted from her aunt. "He got into trouble at the youngest age you could think of," she recalls. "My mom found a better place for him by taking him in."
Andrews points out that she comes from a single parent household with four siblings, adding that this spring she will be the first person in her family to graduate college.
"I want to help those children who go through foster care, who didn't ask for their kind of life," she continues. "I want to both teach and work with juvenile delinquents. That's my road right now.
That road has run through Andrews's time at Nichols, lately with her "Little Sister" Gianna as part of the well-known program Big Sisters. "She has a similar situation as me. Her mother isn't in the picture so much," Andrews observes. "She's just like me, but small."
Andrews also serves as an orientation leader with some advice to offer incoming first year students, she says. "The first thing that I tell my students is, 'You could say something to someone positive or negative, and they're going to remember it.'"
She also plans events with students at nearby Shepherd Hill high school. Last year she helped them create a photo installation with the theme "Something someone said to you because of your gender."
"I'm trying to say "yes" to every opportunity thrown at me," Andrews concludes. "My resume is so full that there are some things I don't even put on it."
Learn more about other amazing Nichols College students on our Profiles page.
---
About Nichols College
Within a supportive community, Nichols College transforms today's students into tomorrow's leaders through a dynamic, career-focused business and professional education.
Media Contacts
Denise Kelley
Writer/Editor
denise.kelley@nichols.edu
508-213-2219