Nichols College announces AACSB International business accreditation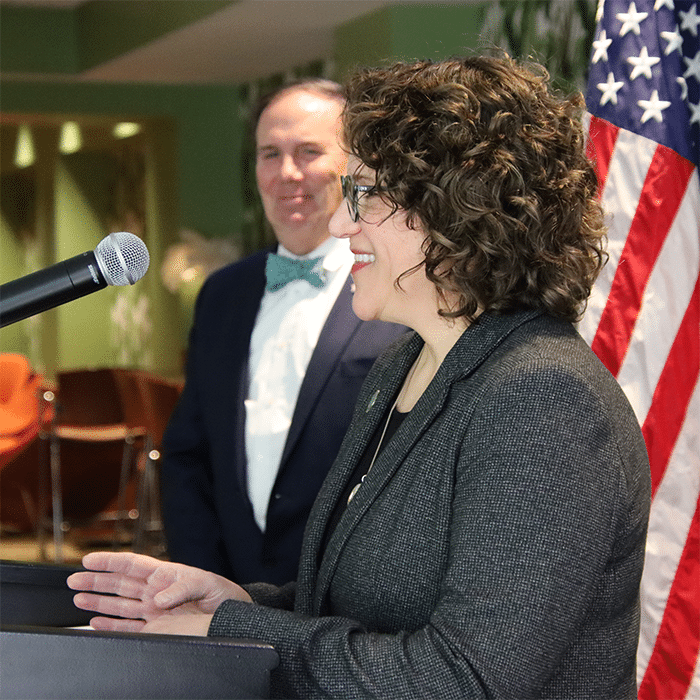 Nichols College has announced that is has earned business accreditation by AACSB International. AACSB International (AACSB) is the leading accrediting body for business degree programs globally. AACSB announced Nichols received the distinguished designation on February 21.
Founded in 1916, AACSB is the longest-serving global accrediting body for business schools and the largest business education network connecting learners, educators and businesses worldwide.
"The Nichols College community is elated to receive the news of our AACSB accreditation and honored by this prestigious distinction, which highlights the outstanding work of our faculty and staff, as well as our campus-wide commitment to embrace greatness in all that we do," said Nichols College President Glenn M. Sulmasy, JD, LL.M.
President Sulmasy added a heart-felt thanks to the academic team that led Nichols College to the finish line, including Dan Borgia, Ph.D., Provost; Mauri Pelto, Ph.D., Associate Provost; and Jean Beaupre, Ed.D., Dean of the School of Business. "Their dedication to excellence is evident in the myriad contributions they make toward enriching and elevating the Nichols learning experience. Without them, this accreditation would not be possible."
Synonymous with the highest standards of quality, AACSB accreditation inspires new ways of thinking within business education globally. As a result, less than 6 percent of the world's schools offering business degree programs hold AACSB business accreditation.
AACSB-accredited schools have successfully undergone a rigorous review process conducted by their peers in the business education community. During this multiyear path, schools focus on developing and implementing a plan that aligns with AACSB's accreditation standards, ensuring that they have the resources, credentials and commitment needed to provide students with a first-rate, future-focused business education.
"AACSB accreditation recognizes the depth, breadth, relevance and rigor of our academic programs and assures students of the continued caliber of a Nichols education as we prepare them for their roles as global business leaders," said Provost Borgia. "This is a proud day for Nichols College."
"This journey has enriched the learning experiences of our students and built a stronger collaborative learning environment across campus. The AACSB community's collaborative nature of building excellence in business education has supported our efforts," said Associate Provost Pelto. "Each graduate today has a story of experiential learning opportunities to tell that has been key to career development. Beyond our campus, the support of the board and the alumni has made all this possible. I look forward to the next generation of ideas that will emerge to enhance experiential learning at Nichols College."
"We are now part of a network of the best business schools around the globe. This prestigious accreditation is in recognition that we are in alignment with what AACSB is all about—excellence in teaching, research, curriculum and learner success, as well as a deep commitment to continuous improvement," said Dean Beaupre. "We are exceedingly proud of this collective accomplishment, and are excited about what this means for our students and our future."
Added Stephanie M. Bryant, AACSB Executive Vice President and Chief Accreditation Officer:
"Nichols College's commitment to earning accreditation is a true reflection of their dedication—not only to their students, alumni network, and greater business community, but to the higher education industry as a whole," said Bryant. "Today's students are tomorrow's business leaders, and the addition of Nichols College to the network of AACSB-accredited business schools will have a lasting positive impact for their institution, both locally and globally."
Around the Nichols community
Positive commentary and reactions from community members around campus were prompted by the accreditation announcement from AACSB and an on-campus press conference held to demarcate and help communicate the historic accomplishment.
Accolades from the Nichols College Board of Trustees
"I'm simply elated and thankful for all the hard work and efforts that went into our multi-year effort of achieving AACSB accreditation. This represents the pinnacle of recognition for business schools, and Nichols College is honored to be a member of this exclusive community. Nichols is blessed with an incredibly dedicated faculty and close-knit, hardworking student body. AACSB accreditation will continue to enhance Nichols' commitment to the highest levels of the entire academic process."
—Randy Becker, Chairman of the Board of Trustees at Nichols College
"I'm delighted and proud that Nichols College recently completed an incredibly rigorous process to achieve the prestigious AACSB accreditation! This important milestone reflects our ongoing commitment to provide a high- quality education and optimal student experience and become a leading business school of choice. Congratulations!"
—Carolyn Burke, Vice Chair of the Board of Trustees
"This is another great accomplishment that Nichols College has attained in its over-200-year history! The hard work and effort that went into attaining AACSB accreditation is why Nichols is one of the top educational institutions in the country."
—John Davis, Former Chairman of the Board of Trustees
Cheers from Nichols College students
"Nichols now having the AACSB accreditation proves I made the right investment by attending Nichols College. Nichols has always provided me with the best education, knowledgeable faculty and staff, and unlimited opportunities. The accreditation proves the college I attended was a prestigious and dedicated environment that allowed me to grow professionally and personally."
—Elizabeth Duffy '23, Business Management Major
"This accreditation makes me more confident in my degree and all future degrees that students will earn. This accreditation makes my degrees and everyone else's degree hold more weight. And this also means to me that Nichols is striving towards greatness in all aspects of education and professional development. Nichols isn't the type of college to be content where they are. Nichols wants to grow, expand and strive towards greatness for the sake of all students, future students and alumni."
—Grant Garcia '23, Marketing Major, Men's Tennis Team
"As a current senior at Nichols, knowing that I will graduate from an institution that has this accreditation makes me more confident in receiving a job from top employers. Having the opportunity to receive an education from outstanding faculty and a school that has programs that can meet rigorous benchmarks has truly prepared me for my future career."
—Madison Robichaud '23, Finance Major, Women's Lacrosse Team
"Being an international student here at Nichols, our college having AACSB accreditation allows me to further validate the degree that I'm working so hard for. I was also a student who got to meet firsthand the peer-review team while they were on campus through their process, and as a future higher-education professional, hearing their stories about their own institutions was inspiring and exciting."
—Julia Carroll '23, Sport Management Major, Women's Ice Hockey Team
"As a student, even one who is set to graduate in May, this accreditation means that the only direction in which Nichols is moving is forward. We have made great strides to make sure we can provide our students with the best possible professors and learning services. As well as holding all of our students to a high standard, and a higher standard than schools in our area. Also, when it comes to being properly prepared for the business world, Nichols has done it better than most for a long time, and it is the one thing that has been made clear to me when I have been job searching and mentioning that I go to Nichols."
—Brian Gagnon '23, Sport Management Major, MBA 2024
(Pictured: President Glenn Sulmasy, JD, LL.M; Jean Beaupre, Ed.D., foreground, speaking at on-campus press conference on the college's AACSB accreditation.)