Nichols College Earns AACSB International Accreditation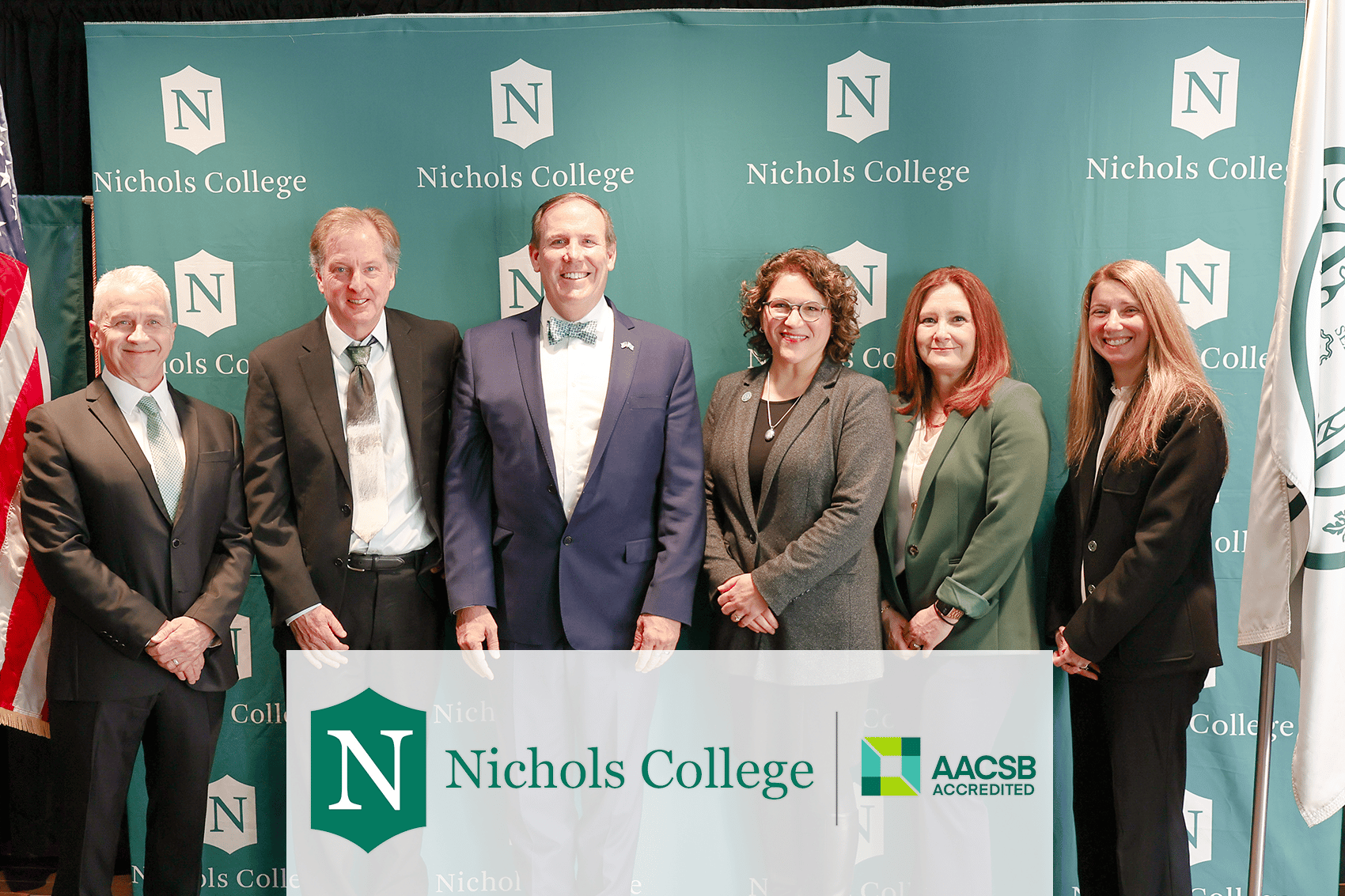 Tampa, Fla., USA (February 21, 2023)—AACSB International (AACSB) announces that Nichols College has earned business accreditation. Founded in 1916, AACSB is the longest-serving global accrediting body for business schools, and the largest business education network connecting learners, educators, and businesses worldwide.
"AACSB accreditation recognizes institutions that have demonstrated a focus on excellence in all areas, including teaching, research, curriculum development, and student learning," said Stephanie M. Bryant, executive vice president and chief accreditation officer of AACSB. "We congratulate Nichols College and President Glenn Sulmasy on earning accreditation and applaud the entire team—including the administration, faculty, staff, and students—for their roles in earning this respected honor."
"The Nichols College community is elated to receive the news of our AACSB accreditation and honored by this prestigious distinction, which highlights the outstanding work of our faculty and staff, as well as our campus-wide commitment to embrace greatness in all that we do," said Glenn Sulmasy, president of Nichols College. He thanked the AACSB staff, peer visiting team and mentor Joyce Heames, PhD, Dean of Campbell College, for their support, guidance, and counsel.
President Sulmasy added a heart-felt thanks to the academic team that led Nichols College to the finish line, including Dan Borgia, PhD, provost; Mauri Pelto, PhD, associate provost; and Jean Beaupre, EdD, dean of business. "Their dedication to excellence is evident in the myriad contributions they make toward enriching and elevating the Nichols learning experience. Without them, this accreditation would not be possible."
"AACSB accreditation recognizes the depth, breadth, relevance and rigor of our academic programs and assures students of the continued caliber of a Nichols education as we prepare them for their roles as global business leaders," said Provost Dan Borgia. "This is a proud day for Nichols College."
Synonymous with the highest standards of quality, AACSB accreditation inspires new ways of thinking within business education globally. As a result, less than 6 percent of the world's schools offering business degree programs hold AACSB business accreditation. Through today's ratification, a total of 980 institutions across 60 countries and territories have earned AACSB accreditation in business. Furthermore, 193 institutions maintain supplemental AACSB accreditation for their accounting programs.
AACSB accreditation ensures continuous improvement and provides focus for schools to deliver on their mission, innovate, and drive impact. AACSB-accredited schools have successfully undergone a rigorous review process conducted by their peers in the business education community, ensuring that they have the resources, credentials, and commitment needed to provide students with a first-rate, future-focused business education.

"Nichols College's commitment to earning accreditation is a true reflection of their dedication—not only to their students, alumni network, and greater business community, but to the higher education industry as a whole," said Bryant. "Today's students are tomorrow's business leaders, and the addition of Nichols College to the network of AACSB-accredited business schools will have a lasting positive impact for their institution, both locally and globally."
AACSB also announced that Abo Akademi University; EBS Universität für Wirtschaft und Recht; Faculty of Management, Economics & Law, Alpen-Adria-Universität Klagenfurt; Ghent University; Nova Southeastern University; Özyeğin University; Queen Mary University of London; Southwest Jiaotong University; Texas A&M University-Central Texas; Texas A&M University-San Antonio; Texas Woman's University; Universidad Pontificia Comillas; University of Huddersfield; and University of the District of Columbia have earned accreditation in business.
About AACSB International
Established in 1916, AACSB International (AACSB) is the world's largest business education alliance, connecting educators, learners, and business to create the next generation of great leaders. With a presence in more than 100 countries and territories, AACSB fosters engagement, accelerates innovation, and amplifies impact in business education. Learn how AACSB is transforming business education for a better society at aacsb.edu.
---
About Nichols College
Within a supportive community, Nichols College transforms today's students into tomorrow's leaders through a dynamic, career-focused business and professional education.
Media Contacts
Denise Kelley
Writer/Editor
denise.kelley@nichols.edu
508-213-2219