"A historic day": Nichols College holds press conference on AACSB accreditation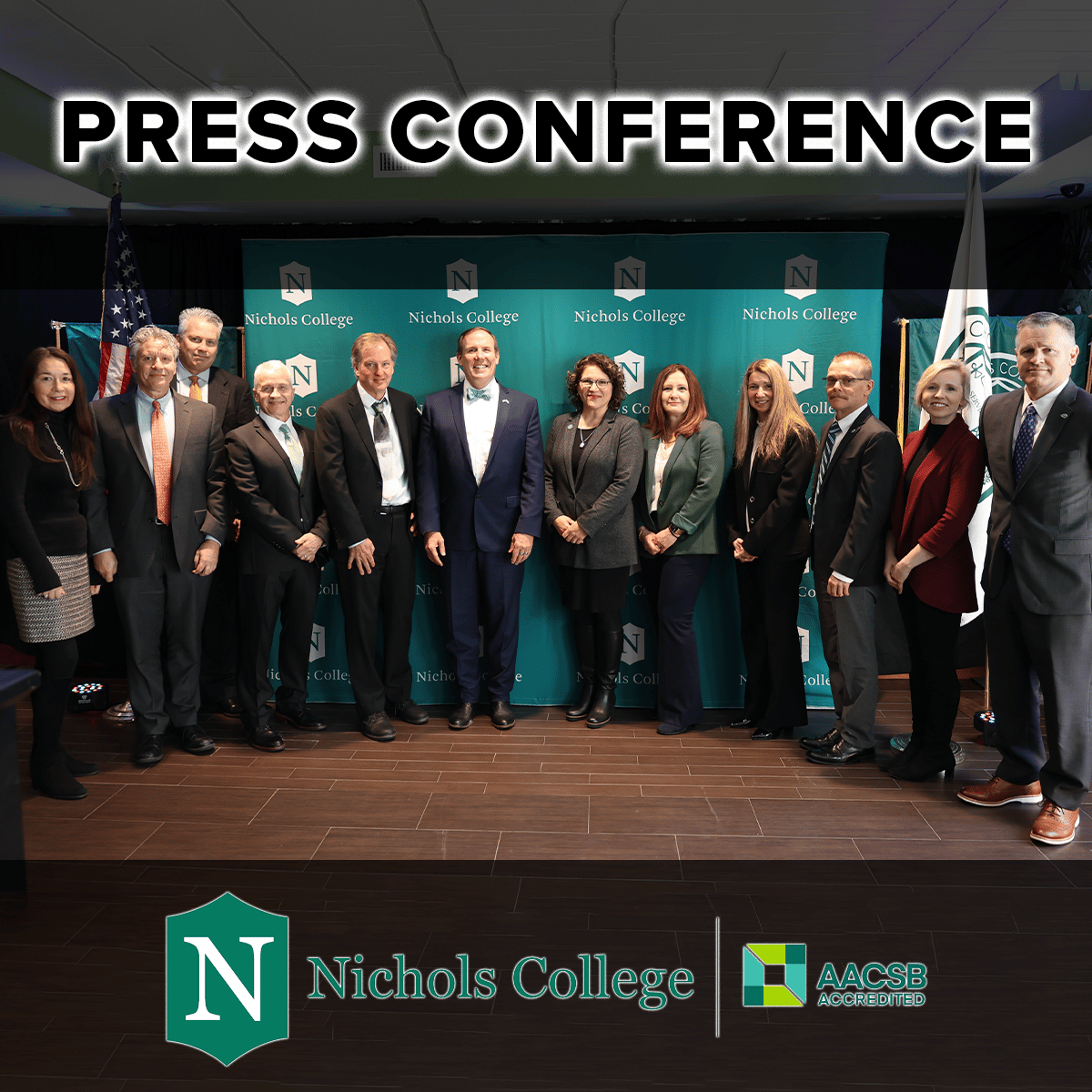 Nichols College held a press conference providing a briefing on a historical achievement made by the college this week: accreditation by AACSB International. On Feb 21, AACSB announced that Nichols College has earned business accreditation.
AACSB International (AACSB) is the leading accrediting body for business degree programs worldwide. Founded in 1916, AACSB is the longest-serving global accrediting body for business schools, and the largest business education network connecting learners, educators and businesses worldwide. Achieving AACSB accreditation is considered the gold standard of excellence in business education and has been earned by only 6% of the world's business programs.
Watch the Press conference here:
Press conference highlights
During the press conference, Nichols College President Glenn M. Sulmasy, JD, LL.M, Provost Dan Borgia, Ph.D.; Associate Provost and Special Assistant for Accreditation Mauri Pelto, Ph.D.; and Dean of the Business School Jean Beaupre, Ed.D., addressed members of the Nichols community, demarcating the notable achievement.
"It's a very proud day for us here at Nichols college. It's a momentous occasion, and it's going to have an impact on the institution for many years to come," said Borgia, who kicked off the conference and introduced President Sulmasy.
"It's a historic day to be a bison. The third oldest college in the Commonwealth now ranks among the elite in the United States," began President Sulmasy. Sulmasy thanked leadership members of the Nichols community and Nichols Board of Trustees members in attendance, faculty, staff, students, his predecessor and former Nichols College President, Susan West Engelkemeyer, Ph.D., and he discussed what the accreditation means for the college. 
"We are at the beginning of an inflection point in the history of Nichols College. What we have embarked on in the last year is to shatter the notion of being the best-kept secret in New England. The AACSB elite designation, as one of the top business schools top 5% in the world, is the beginning of shattering that notion. AACSB accreditation is a catalyst for the Embracing Greatness campaign we're on at Nichols College."
"It's a huge moment for us and a great opportunity to celebrate scholarship," he continued. "We're not just teaching theory, we apply it and give students a chance to do that, so when they graduate, they're career ready."
"Our national prominence is enhanced by this designation—and some would argue, our international prominence," said Sulmasy.
"AACSB isn't about checking boxes to achieve accreditation; they're there to support you at being excellent in business education in a way that makes sense for your mission. […] They allow you and support you in becoming better at what you're already good at," said Pelto during his comments. Pelto was the lead organizer of the College's AACSB accreditation efforts.
For example, said Pelto, by leveraging faculty strengths and passions, faculty built what they call "The Triple Threat," where every student earns a professional certification, completes a real-world consulting project, and gains an internship.
"Now I can say that essentially every student is going to achieve that Triple Threat," said Pelto, citing a range of course-embedded opportunities created by the college in the last several years thanks to the accreditation process. These include Bloomberg market concepts certification for first years students and terminals for the College's student-managed investment fund; the Nichols Consulting group, one of the few undergraduate-led consulting experiences in the country; an intelligent process automation center (CIPA); alumni mentoring opportunities and more.
"It really is a big day here on campus," said Beaupre. "We are now part of a network of the best business schools around the globe. They have recognized that we are in alignment with what AACSB is all about, which is excellence in teaching and research, in curriculum, and in learner success. We should all be very proud of this accomplishment and their recognition of our alignment with what their values are."
"It's all about preparing [students] to contribute to the world of business and to have a positive impact on the environment, on their organizations, on their communities. Students here now will be able to say they are part of an elite accredited group of business schools, and they are at the core of what it's all about," said Beaupre.
About Nichols College
Within a supportive community, Nichols College transforms today's students into tomorrow's leaders through a dynamic, career-focused business and professional education.
Media Contacts
Denise Kelley
Writer/Editor
denise.kelley@nichols.edu
508-213-2219