Nichols College hosts inaugural REAL Symposium, a celebration of learning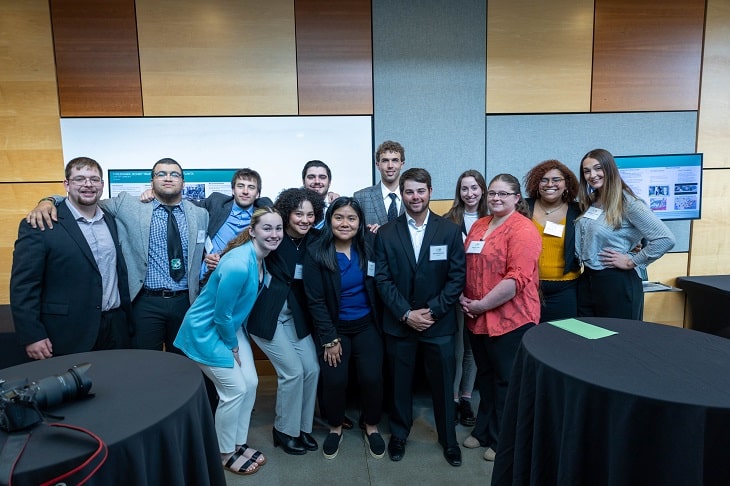 On April 18, students, faculty and staff gathered for the inaugural Research, Experiential, and Applied Learning (REAL) Symposium at Nichols College. The event, a celebration of learning, served as a showcase for unique and impactful projects by students and faculty in and out of the classroom.
Throughout the day, the campus buzzed with the many examples of real-world, applied learning that are a hallmark of a Nichols education, where students not only learn theory but also apply it. With over 21 sessions, nearly 130 presenters discussed their learning experiences, including innovative faculty and student research projects; real-world consulting projects in marketing, criminal justice and finance; study abroad presentations; honors thesis presentations and more.
"We are a learning environment that focuses on integrating our knowledge with real world application, offering each student multiple dynamic experiential opportunities throughout their academic journey. Today is a celebration of what we do best here in terms of academics. I want to thank the Provost and the team who put this together, and all the participants, students, faculty and staff, so we can take this day to celebrate learning and our academic accomplishments," said Nichols College President Glenn M. Sulmasy, JD, LL.M.
One session featured a panel of current students and alumni who shared their internship experiences, offering advice and insights from their time at organizations such as Moderna, Ernst & Young, Dell EMC Corp and Sailing Challenge, a company offering sailing regattas for corporate events in Florence, Italy, and others.
In another session, presentations were delivered by members of the Nichols College Bison Consulting Group (BCG), a consultancy program led by Professor Len Harmon where students apply their knowledge to develop solutions to real-world problems for growing businesses and work alongside CIPA (Center for Intelligent Process Automation) program students, who help organizations automate business processes.
Ingrid de Souza Oliveira '24, a BCG member and General Business major who worked on executing social media and brand content for Soapy Noble Express Car Wash chain, said "It was great to present our project, knowing how much it was benefiting us. I want to hook other Nichols students into this because you're going to be able to graduate and tell employers honestly: I've worked with real clients, I have that experience, and I have actually made money for them."
There were two Honors Presentation sessions, featuring topics as diverse as political communication on Twitter, cultural identity in the workplace, legalized sports betting, music fan culture and more.
"It felt really good to be able to present the accumulation of a semester's worth of research," said Maddie Soudant '23, a Psychology major and Honors student. She presented her honors thesis at the REAL Symposium, entitled "The Changing Culture Around Women's Athletics and Its Effects on Social and Personal Identity." "To be able to look at everyone else's presentations and the work that we've all put in—we've all been working at these projects for three months now—it's cool to really see the end result of all our work."
Other highlights:
In the "Media & Politics in Modern America" session, students presentations discussed how uses of social media reflect or shape mainstream political narratives
In the "Criminal Justice and Finance Research Projects" session, students in the criminal justice capstone presents their research projects and finance students shared their work for the student-run investment fund (the Thunder Fund), which utilizes Bloomberg terminals
In "A Real-World Real Estate Project," students shared their real estate development consulting project focused on what goes into finding and evaluating profitable opportunities for business locations
In "Exploring Data Science," Dr. Kevin Mentzer and students presented collaborative research projects on the use of social media in the 2022 U.S. Senate elections, the NFT market, and measuring data literacy skills
Faculty Research Spotlight sessions featured innovative research projects by Nichols faculty
In "Nichols on the Green," students who have contributed to and led the revitalization of the College-owned and -run Dudley Hill Golf Club share their story and the future of this live learning lab
Students in the session "Super Bowl Sensation" discussed their experience traveling to and working at the 2023 Super Bowl
(Pictured: Student presenters pose for a photo in the New Academic Building during the REAL Symposium.)
About Nichols College
Nichols College has earned business accreditation from the prestigious Association of Advance Collegiate Schools of Business (AACSB International), the longest serving global accrediting body for business schools and the largest business education network connecting learners, educators, and businesses worldwide. Founded in 1815, Nichols College transforms today's students into tomorrow's leaders through a dynamic, career-focused business and professional education. Nichols offers real-world learning focused on professional depth – combined with vibrant living, competitive athletics, and an unmatched alumni advantage – equipping students to exceed their own expectations. www.nichols.edu
Media Contacts
Denise Kelley
Writer/Editor
denise.kelley@nichols.edu
508-213-2219