President Sulmasy issues campus statement: 'Nichols stands with Ukraine'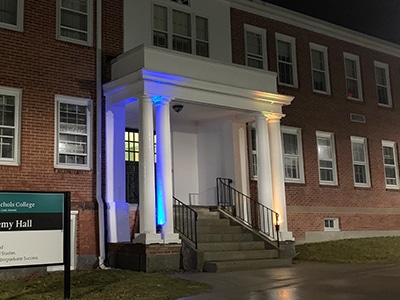 DUDLEY, Mass. – Nichols College President Glenn M. Sulmasy, JD, LL.M., sent an email to the campus community strongly condemning Russia's actions and articulating the college's solidarity with and support of the people of Ukraine.
"We, as a united Nichols community, unequivocally condemn the Russian invasion of Ukraine," he said. "Putin's blatant disregard of international law by violating the territorial integrity of Ukraine, as well as myriad human rights atrocities, are unconscionable and not in keeping with the community of nations in the 21st century. This is a historic moment in time which we as educators and students should be cognizant of, and reject, such egregious behavior of a nation state."
Sulmasy, a widely published expert on national security, the law of armed conflict, and international law, went on the say that Nichols, through its Student Government Association and Institute Women's Leadership, will collect gift cards, non-perishable food, and clothes to send to "the brave Ukrainian people as they endure inhumanity in its purest sense in their fight for continued independence and freedom. " He concluded the message with "Nichols stands with Ukraine."
On February 25, Nichols invited the campus to a special Zoom discussion on the Russia-Ukraine conflict to ask questions, address concerns, or simply share your thoughts about what has happened and what may be to come.
---
About Nichols College
The mission of Nichols College is to educate and enlighten students to capitalize on their ambitions and to become impactful, forward looking global leaders.
Media Contacts
Susan Veshi
AVP, Advancement and College Communications
susan.veshi@nichols.edu
508-213-2227