Nichols College professor featured in National Geographic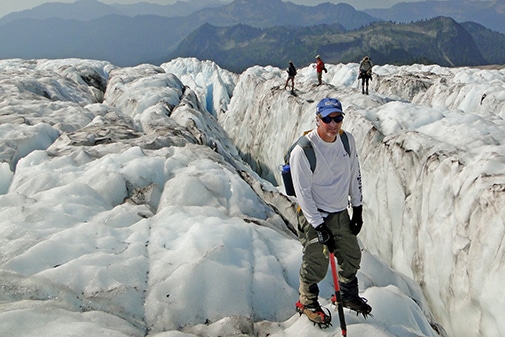 DUDLEY, Mass. – The work of Mauri Pelto, PhD, professor of environmental science at Nichols College and a world-renowned glaciologist, is the subject of a National Geographic feature released today.
In August, Cassidy Randall, a reporter from National Geographic, accompanied Pelto to the North Cascades, where he has been studying the impact of climate change and heat waves on glaciers over the past four decades. They found the volume loss in 2021 to be greater than 5 percent of the total – the highest Pelto had observed since he began monitoring the glaciers 38 years ago.
An increase in heat waves over the past two years has affected glacier regions around the world, according to Pelto, who first reported his observations in the Yukon to NASA's Earth Observatory in 2018. Since then, Pelto, a glaciologist on the Science Advisory Board at NASA EO, has shared his findings on the snow line rise and retreat of the Taku Glacier in Alaska, the rapid formation of melt ponds on Eagle Island Ice Cap, and the appearance of snow-free glaciers in winter on Mount Everest caused by record warmth in January.
Throughout his career, Pelto has extensively contributed to the body of knowledge on glaciers and is highly sought after by print and broadcast media for his expertise. The National Geographic article is just the latest publication to feature his research, which has garnered the attention and interest of scientific and mass media news outlets across five continents.
---
About Nichols College
The mission of Nichols College is to educate and enlighten students to capitalize on their ambitions and to become impactful, forward-looking global leaders.
Media Contacts
Susan Veshi
AVP, Advancement and College Communications
susan.veshi@nichols.edu
508-213-2227
Jillian Riches
Asst. Director, Public Engagement
jillian.riches@nichols.edu
508-213-2211