World-renowned glaciologist at Nichols College embarks on 39th climate change visit to the North Cascades

DUDLEY, Mass. – Mauri Pelto, PhD, professor of environmental science and associate provost at Nichols College, is heading into the field for the 39th consecutive summer to measure and communicate the impact of climate change on glaciers of the North Cascades in Washington. 
Beginning August 1, Pelto and a team of scientists and artists will measure and observe 10 glaciers, as part of the North Cascade Glacier Climate Project (NCGCP). The NCGCP was founded by Pelto in 1983 to identify the response of North Cascade glaciers to regional climate change, particularly changes in mass balance, glacier runoff and terminus behavior, and communicate those changes.
This summer, the group will have an opportunity to assess the long-term ramifications of the 2021 season, which featured a historic heat wave at the end of June and a period of extended warm weather mid-August. The heat led to a greater exposure of bare ice on glaciers earlier in the summer, particularly at higher elevations, which led to substantial mass losses on North Cascade glaciers, -2 m.
Pelto, a member of the Science Advisory Board for NASA Earth Observatory, has extensively contributed to the body of knowledge on glaciers and on how environmental geological events affect the world around us. He has been cited for his expertise by print and broadcast media around the world, including the Washington Post, San Francisco Chronicle, Seattle Times, Reuters and CBC. Last fall, his work was the subject of a National Geographic feature. The impact of heatwaves on glaciers has been a recent focus of his research.
Among the field team members is Pelto's daughter, Jill, an accomplished artist and scientist who incorporates scientific research and data into paintings and prints to communicate environmental changes. She will be joining NCGCP for her 14th field season.
To learn more about the project, visit glaciers.nichols.edu and follow the expedition on twitter @realglacier.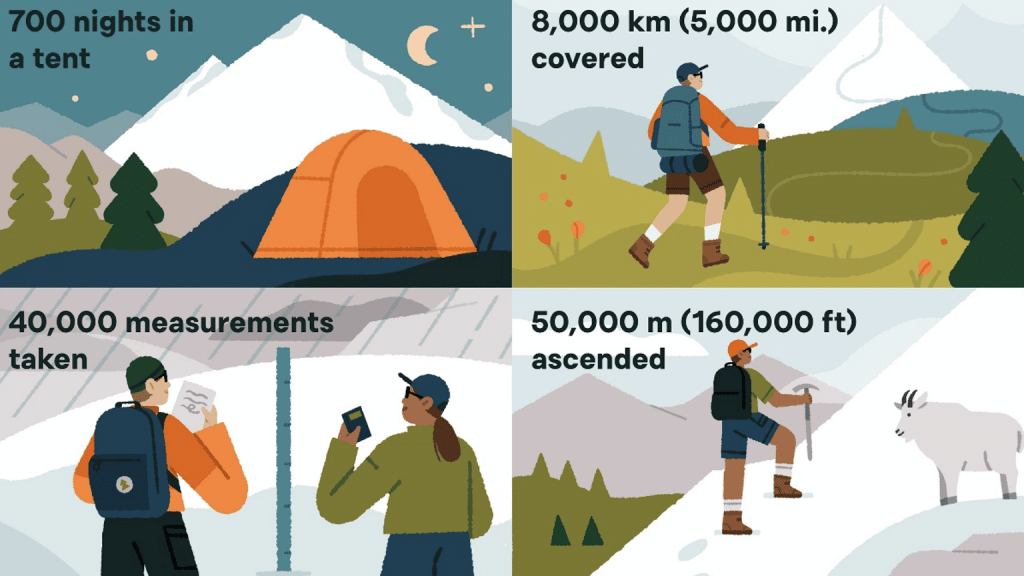 A few measures of what it takes to execute a field monitoring program of glaciers for 39 years, with no helicopter support (Illustration by Megan Pelto).
Measures described in image: 700 nights in a tent. 8,000 km covered. 40,000 measurements taken. 50,000 m ascended.
---
About Nichols College
Within a supportive community, Nichols College transforms today's students into tomorrow's leaders through a dynamic, career-focused business and professional education.
Media Contacts
Denise Kelley
Writer/Editor
denise.kelley@nichols.edu
508-213-2219