"Be open to the possibilities," says James T. Brett at Nichols College Graduate School Commencement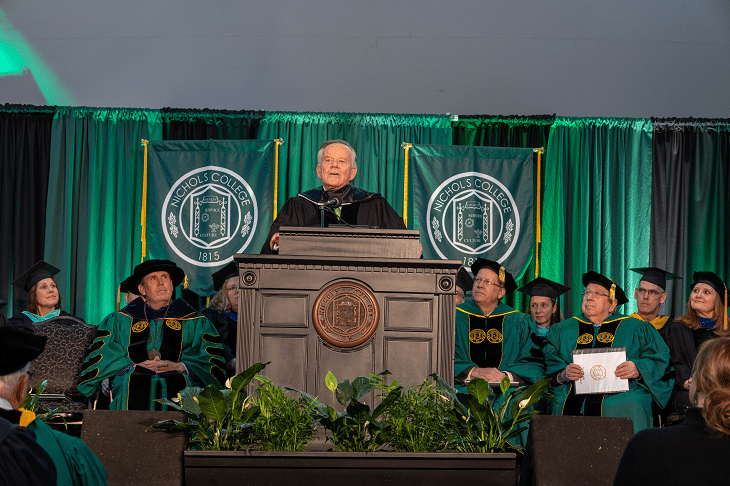 DUDLEY, Mass. – James T. Brett, President and CEO of The New England Council and lifelong champion for people with disabilities, offered wisdom and advice during keynote remarks he delivered during the Nichols College Graduate School Commencement Ceremony on May 4, 2023. Under a large tent on the Shamie lawn on campus, 167 students from across the Graduate School programs (MBA, MSA, MSOL, and MSC) participated in the ceremony, with a reception that followed at Lombard Dining Hall. Brett also received an Honorary Doctorate in Humane Letters as part of the ceremony.
A steadfast crusader for the intellectually disabled, and exemplary force for economic, civic and social change, Brett has led The New England Council, the nation's oldest regional business association, since 1996. The Council is composed of a non-partisan alliance of businesses, academic and health institutions, and public and private organizations throughout New England. Their mission is to promote economic growth and a high quality of life in the region. Prior to joining the Council, Brett served for 15 years as a member of the Massachusetts House of Representatives. Brett has been a trusted advisor to three U.S. presidents and is current chair of the President's Committee for People with Intellectual Disabilities under President Biden, advancing policies and initiatives at the highest level for the disabled.
Brett began his remarks by touching on the topic of public discourse, advising the graduates to do their part to be faithful to a respectful approach of evaluating others' points of view.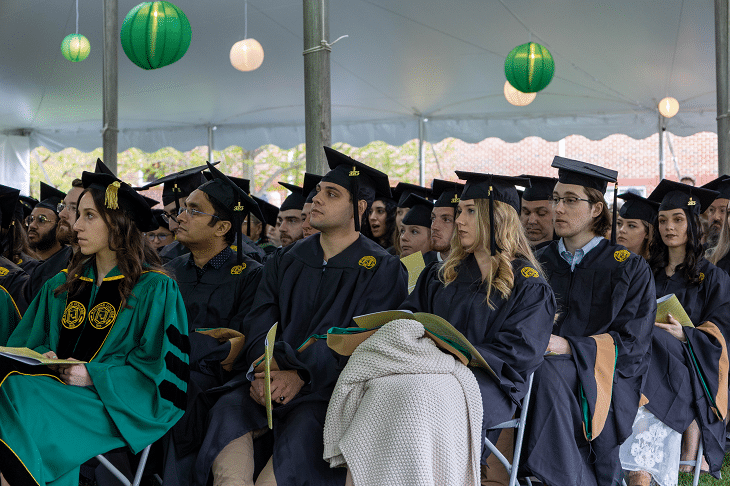 "I spent a good part of my life in the day-to-day give-and-take politics, … and I hope that we can improve the quality and respectfulness of our political discourse," he told the graduates. "Before we build barriers of separation between ourselves and others, I think we should ask, what are we walling in and walling out?"
He discussed his interest in helping the disabled, and how it started with his oldest brother, Jack, who was born with intellectual disabilities.
"My brother Jack certainly was the inspiration that led [us] to understand that each of us has a personal responsibility to do what we can to care for persons with disabilities. … He opened our eyes, and we learned the lesson early, and we believe in being open to the idea of possibilities."
He advised graduates to be open to the myriad benefits that helping people provides.
"Be open to the possibilities of taking a similar step in your own lives. Make a personal connection with an institution or agency or volunteer organization that is dedicated to overcoming pessimistic assumptions, and instead see the possibilities. Make your participation in that work a permanent part of your life plan. … There is no shortage of need. I guarantee you that 20, 30, 40 years later, you will look back at what you have accomplished with great satisfaction."
In delivering the Graduate Address, Emily Tinyszin '23, a recipient of the Graduate Elite award for academic excellence in the MSA program and currently an assurance associate at PricewaterhouseCoopers, advised, "I hope that each and every one of you serves as an inspiration to yourselves. If today proves nothing else, it is that your goals and dreams are achievable, if you are willing to work hard enough for them. When others doubt you, be able to lean on yourself and persist."
In his commencement remarks, Nichols College President Glenn M. Sulmasy, JD, LL.M, noted, "Having this degree, having experienced and learned from all real-world learning group projects and impactful coursework you've undertaken … means you're about to take on what is next. With the skills you've learned in the process, you're not only prepared for that incredible adventure, you're prepared to drive it, to be the leader, to be more impactful than ever in achieving your goals."
President Sulmasy noted that the graduates have several advantages working in their favor, such as real-world applicability of their Nichols studies; the institution's recent AACSB accreditation, a credential held by only 6% of the world's business programs; and the College's strategic plans for reaching ever greater heights. "We truly are a college on the move," said President Sulmasy.
(Pictured in header photo: James Brett delivers keynote remarks during The Graduate School Commencement Ceremony held May 4, 2023 on the Nichols College campus.)
About Nichols College
Nichols College has earned business accreditation from the prestigious Association of Advance Collegiate Schools of Business (AACSB International), the longest serving global accrediting body for business schools and the largest business education network connecting learners, educators, and businesses worldwide. Founded in 1815, Nichols College transforms today's students into tomorrow's leaders through a dynamic, career-focused business and professional education. Nichols offers real-world learning focused on professional depth – combined with vibrant living, competitive athletics, and an unmatched alumni advantage – equipping students to exceed their own expectations. www.nichols.edu
Media Contacts
Denise Kelley
Writer/Editor
denise.kelley@nichols.edu
508-213-2219