Vinny Lombardo '96: Music Man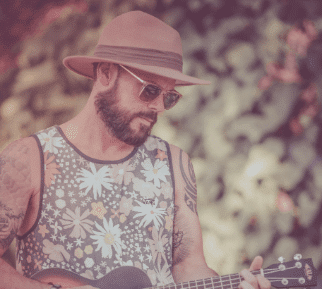 Making it in the music business isn't easy, Vinny Lombardo just makes it look that way. Since graduating from Nichols College in 1996 and moving to Los Angeles, he has toured internationally with Building a Better Spaceship, made a name as the critically acclaimed Pilot Touhill, and recently debuted as solo artist Vinn Lombardo.
A prolific singer and songwriter, Lombardo has garnered a loyal and growing following since his days with Building a Better Spaceship, which released two records. "I did most of my touring with this band," he states. That included 42 of the 50 states, Europe, Asia, and South America. "Russia is still on the bucket list," he shares. They opened for bands such as Incubus, 30 Seconds to Mars, Lifehouse, 311, and The Killers.
But just as his career was taking off, tragedy struck. "My dad was killed by a drunk driver in 2008 and that basically ended the band," says Lombardo. "I moved back [home] to New York and took a break from music."
When Lombardo returned to LA, Pilot Touhill was born. The California beaches and bars proved to be the perfect stage for his music, which has been described as a "mix of rock and pop with a modern twist on reggae that goes down easy like a margarita in the summer sun." As Pilot Touhill, Lombardo says he aims to "spread the good vibes," which fans and critics alike pick up from his "catchy songs and soulful melodies."
Lombardo writes most of the music and collaborates with other musicians and friends as well. Where does he find inspiration? "[It] can come from anywhere really," he says. "Life experiences mostly, but sometimes just telling a story can work, too." Fast Times Magazine agreed when it wrote, "Pilot's songs charm the listener with stories of life, love and loss. It's very nice to hear an artist whose lyrics actually mean something."
Pilot Touhill has released five albums and is keeping fans clamoring for the sixth, "The Last Butterfly," by releasing songs on social media during the pandemic. The band is also keeping the good vibes going in the COVID-19 era by streaming concerts where the fans pick the songs they perform. "It's worked out great so far, and we've gotten a great response," he reports. And his first solo single, "Don't Leave Me Alone," is winning even more followers, who note Lombardo's "silky" and "one-in-a-million" voice.
Lombardo cherishes the fans, many of whom become good friends over the years, he says. "Some have even designed artwork for albums and posters," he adds. "It's nice to have friends from all over the world."
And old ones closer to home, as well. The White Plains native who "loved the small town feel of the Nichols campus" as a student, still maintains contact with many classmates and hopes to return for a homecoming football game one day. "Some of my best memories were being a part of the football, lacrosse and especially the rugby teams," he says, adding, "The parties in 'New Dorm Pit,' as we affectionally called it, were epic and some of the most fun times of my life." And in a life that is now filled with performing, touring, and cutting records for adoring fans, this humble rock star also recalls the simple pleasures that Nichols offered: "I miss the cafeteria and having a buffet of food made daily for me to eat."
---
About Nichols College
Within a supportive community, Nichols College transforms today's students into tomorrow's leaders through a dynamic, career-focused business and professional education.
Media Contacts
Denise Kelley
Writer/Editor
denise.kelley@nichols.edu
508-213-2219