Nichols College named top employer for veterans; Opens Veterans Lounge on campus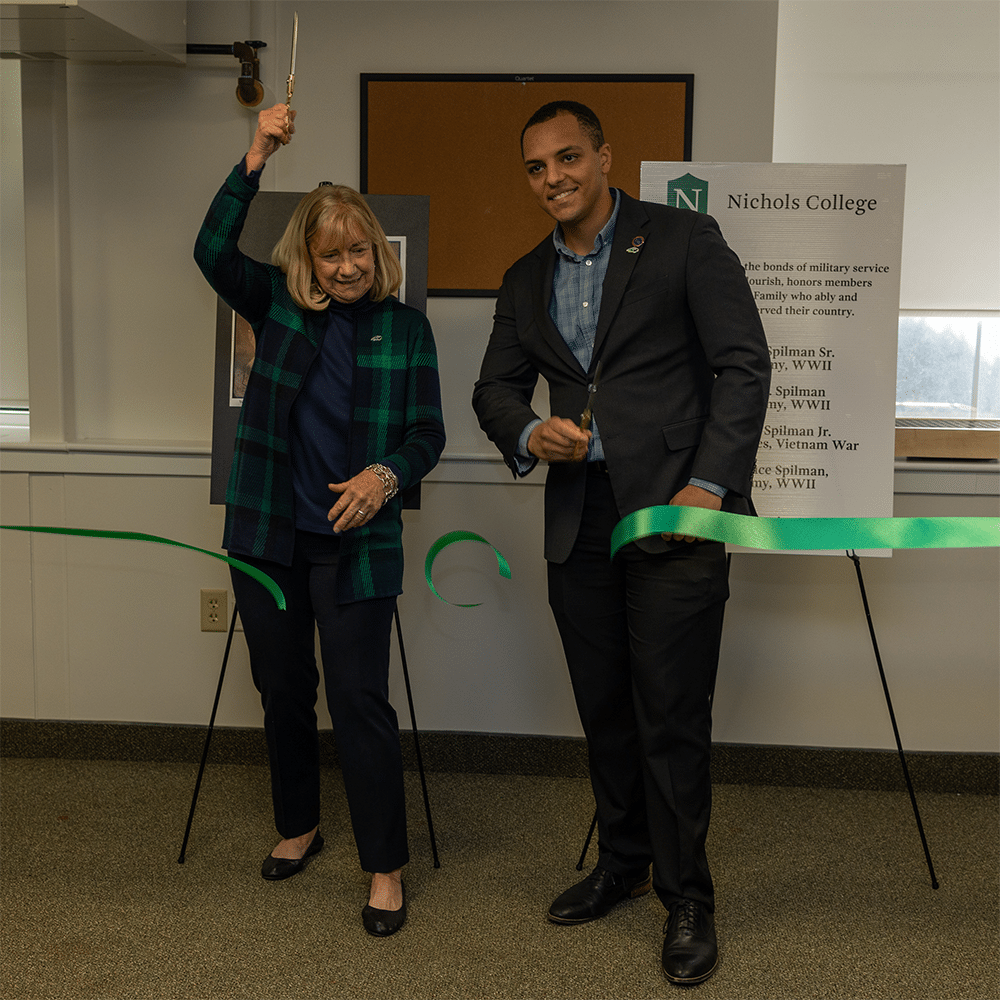 DUDLEY, Mass. – Nichols College further strengthened its enduring ties to the nation's veterans this week, earning national recognition as a top employer for those who have selflessly served, opening the Veterans Lounge on campus, and supporting veterans with a campus-wide fundraiser.
In its annual survey of veteran-friendly employers, Military Times ranked Nichols College third among U.S. colleges and universities and No. 173 overall among national employers. The rankings are based on a voluntary survey that asks companies about their policies and benefits for veterans and their families, such as recruitment and employment practices and retention and support programs. The 2023 rankings are available here.
On Nov. 8, Nichols celebrated the opening of its new Veterans Lounge with a formal ribbon-cutting ceremony. Nichols Veterans Club President and U.S. Marine Christopher Charity '25 provided the vision and worked alongside Nichols Compensation and Benefits Manager and Army Veteran April Girardin and generous donor Nancy Kelleher to bring the space to life. Kelleher, whose father William Spilman '38, uncle Kenneth Spilman '47, and brothers William Spilman, Jr. '70 and James Spilman all served their country, cited Charity's leadership, passion and selfless service as the impetus for her involvement in this meaningful project.
On Nov. 9, Nichols students, faculty and staff participated in Sweat for Vets 2023. The annual fundraiser invites participants to complete 22 laps around the Vendetti Field track (5.5 mi.) while asking sponsors to donate monies for each lap completed. All proceeds support Project New Hope, a Worcester-based nonprofit organization that supports critical needs for veterans and their families. The 22 laps represent the number of U.S. veterans who tragically die by suicide each day. More than 100 members of the Nichols College community completed their daily steps (and more) while supporting a worthy cause.  
About Nichols College
Nichols College has earned business accreditation from the prestigious Association to Advance Collegiate Schools of Business (AACSB International), the longest serving global accrediting body for business schools and the largest business education network connecting learners, educators, and businesses worldwide. Founded in 1815, Nichols College transforms today's students into tomorrow's leaders through a dynamic, career-focused business and professional education. Nichols offers real-world learning focused on professional depth – combined with vibrant living, competitive athletics, and an unmatched alumni advantage – equipping students to exceed their own expectations. To learn more about Nichols College, visit www.nichols.edu.
Media Contact:
Denise Kelley 
Marketing and Communications Writer/Editor denise.kelley@nichols.edu 
508-213-2219