Nichols College rises in U.S. News Best Colleges rankings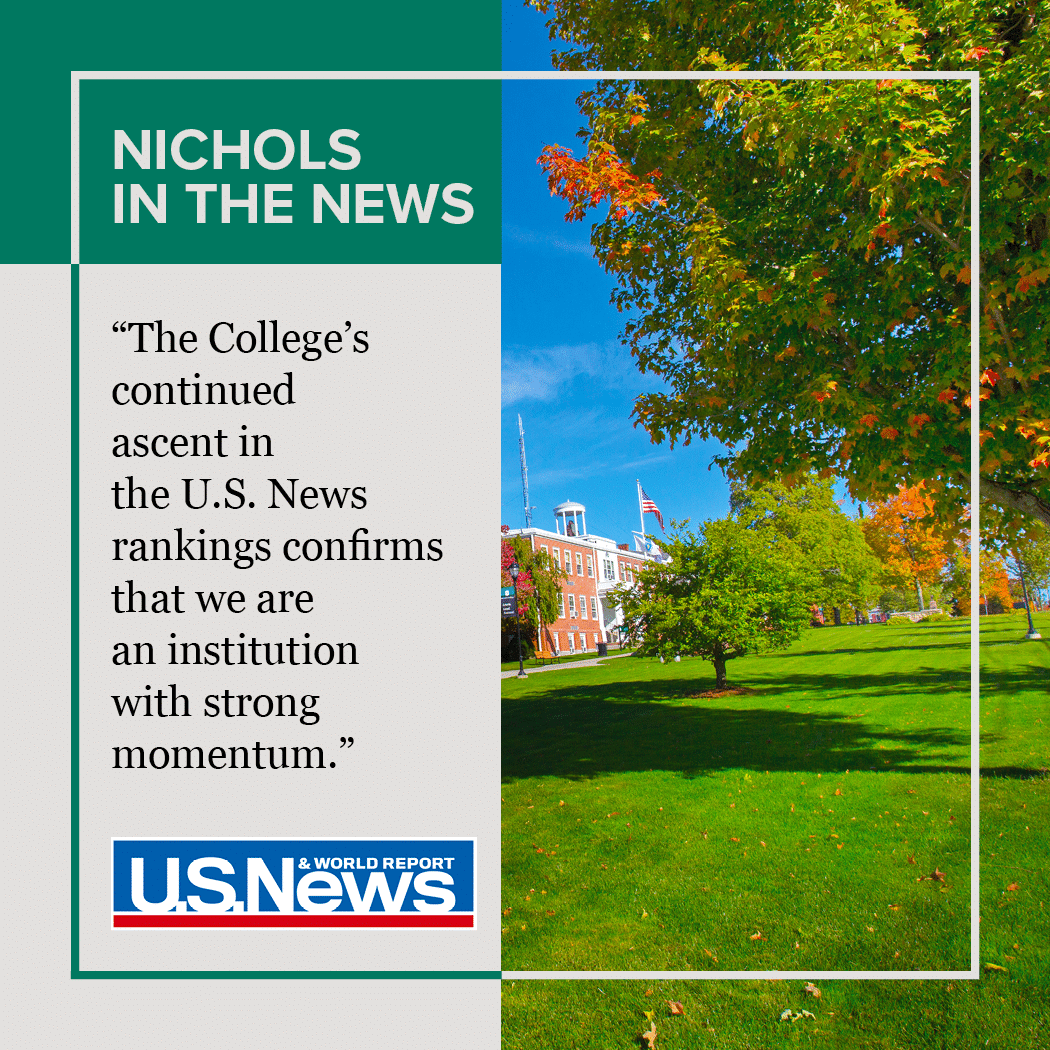 September 18, 2023
DUDLEY, MA – Nichols College has earned recognition in the 2023-24 U.S. News & World Report Best Colleges rankings. In the competitive Regional Universities-North category, the college rose three spots and is ranked #118 overall. The Regional Universities-North category covers a geographic area from Maryland to Maine, a region densely populated by institutions of higher education.
The U.S. News rankings consider a variety of factors to provide students and parents with an objective basis to compare institutions and help guide college selection. Among these are: graduation and retention rates, Pell Grant graduation rates, peer assessment, faculty salaries, student-faculty ratio and more.
Nichols Provost Dan Borgia, Ph.D., lauded the news: "This recognition in U.S. News reflects the hard work of the entire Nichols community who work closely with every student to deliver a high-quality, broad-based business education that prepares them for lifelong success. The College's continued ascent in the U.S. News rankings confirms that we are an institution with strong momentum and a very bright future."
The College also received high marks recently from other national publications for excellence in academics, experiential learning and career outcomes. The sports management program is now ranked 20th in the nation, surging 20 spots from its most recent ranking. Forbes included Nichols among its list of best master's in cybersecurity online programs. Nichols is ranked eighth nationally among undergraduate business schools for salary potential, and 12th nationally as a Best Value Business College by Payscale.
About Nichols College
Nichols College has earned business accreditation from the prestigious Association of Advance Collegiate Schools of Business (AACSB International), the longest serving global accrediting body for business schools and the largest business education network connecting learners, educators, and businesses worldwide. Founded in 1815, Nichols College transforms today's students into tomorrow's leaders through a dynamic, career-focused business and professional education. Nichols offers real-world learning focused on professional depth – combined with vibrant living, competitive athletics, and an unmatched alumni advantage – equipping students to exceed their own expectations. www.nichols.edu.
Media Contacts
Denise Kelley
Writer/Editor
denise.kelley@nichols.edu
508-213-2219