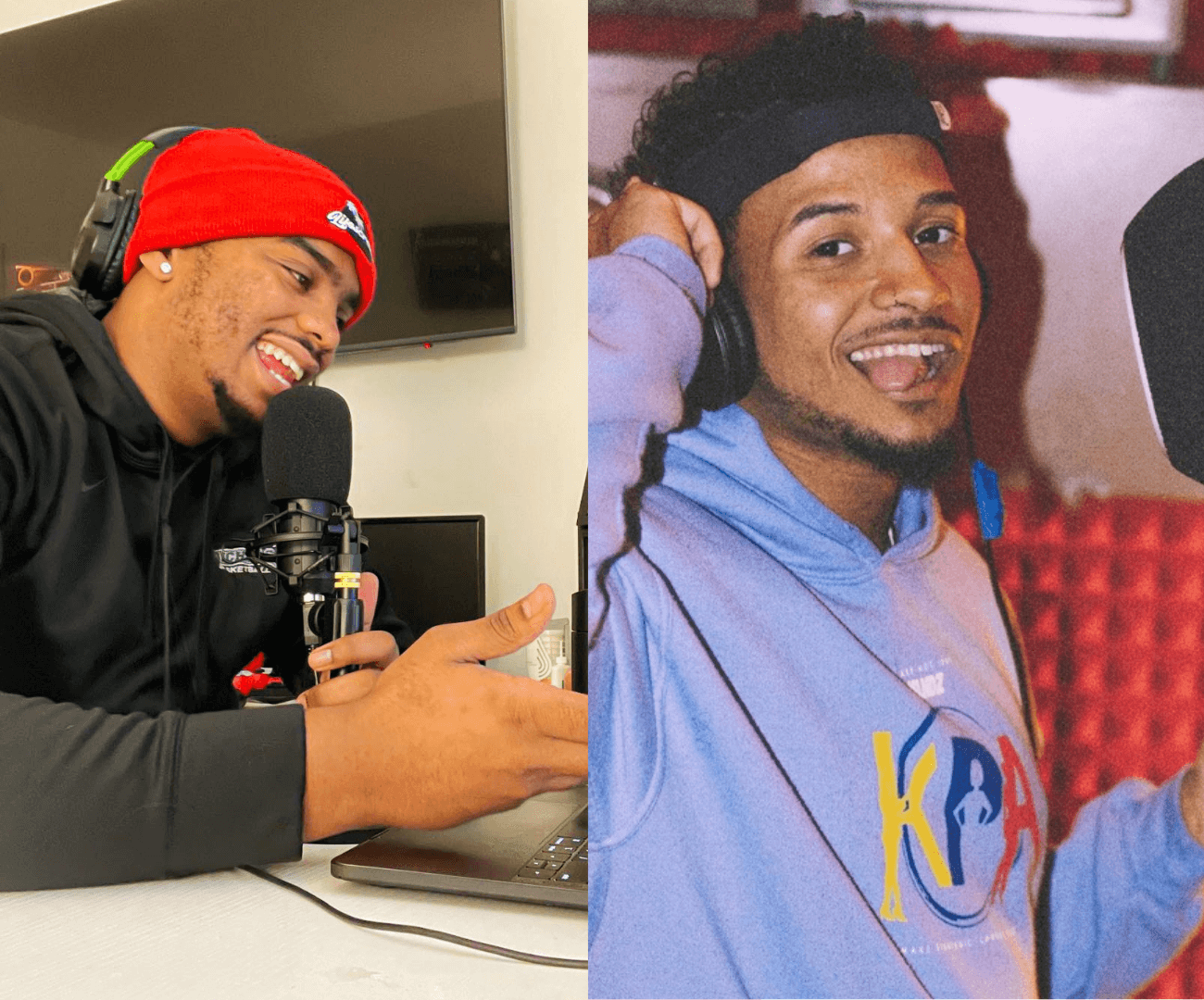 Real, raw, and relentlessly transparent. That's how to best describe the new podcast "Love One Self," hosted by Nichols alumnus Brandon Teixeira '20 and Elson Lopes.
Teixeira and his friend Lopes are using their voices to provide a safe space for those struggling with their mental health or know of others who do. They're building a community, dismantling stigmas and embracing entrepreneurship along the way.
Inspired to Speak
Like all great podcasters, Teixeira became inspired to speak. He has personally struggled with mental health since high school. He faced many struggles during this time, including both of his grandmothers passing away from breast cancer and his mother also being diagnosed with the disease.
In the midst of the coronavirus lockdown, Teixeira even made the decision to move out of his home to ensure his mother remained unexposed to the virus.
During one of those lonely days of lockdown in his new apartment in Framingham, the idea for a podcast came to Teixeira. He knew then that something good could come out of all of this darkness.
Reaching out a Hand
Teixeira's journey at Nichols started after he turned down a scholarship to play basketball at the University of Tampa. Teixeira instead chose Nichols so he could stay close to his sick mom at home in Stoughton, while still being able to play basketball on a winning team.
But in his freshman year on the hardwood he tore an ACL, ending his first season prematurely. He recovered from that injury, only to tear his other ACL in his second season.
Then going into his Junior year, tragedy struck when four of his friends were killed in a car accident.
Teixeira had met his breaking point and knew something needed to change.
He started to open up to the ones around him—and found people to rely on.
His close mentor Rachel Ferreira, who was Assistant Director of Enrollment at the time before moving to the graduate school, had encouraged him to go to the Nichols Counseling Services. And Vice President of Student Affairs Pamela Boggio worked with him to transition online when needed, providing him additional relief. There was an understanding and emotional support that got Teixeira through it all.
"Nichols kept me here and alive. As scary as it is, they kept me safe," he says.
And when Teixeira spoke to his team about what he was dealing with, they made it clear they were there for him.
"It was tough, but it was like a movie. Everyone came up to me, gave me a hug and would say 'we got you,' it was beautiful," he said.
The new men's basketball coach Brandon Linton also stood by him with unwavering support. Linton would call Teixeira into his office, just to check in, even when he was injured and unable to play.
"Coach Brandon Linton's biggest thing was connecting with us on a personal level. He wanted to help us get jobs, make sure we're set and healthy and for me that meant everything."
Nothing but Love
Since the first episode of Love One Self dropped on Dec. 20, Teixeira has been blown away by the support he's received. Current students have reached out to him to show their gratitude and offer messages of support. And when Teixeira emailed the podcast to 25 Nichols faculty and staff to thank them for getting him here today, he received heartfelt responses from each of them.
Moving forward, Love One Self will have guests on frequently to share their stories. The podcasters welcome students, parents and even professors to listen and contribute to breaking the stigma around mental health. "We can't do this without everyone," says Teixeira. In true #BisonGiveBack spirit, he's making an invaluable contribution to the Nichols community that once helped him.
Check out Love One Self on Apple Podcasts here: https://podcasts.apple.com/us/podcast/love-one-self/id1545540733
Follow Love One Self on Instagram here: https://www.instagram.com/be_loveoneself/
---
About Nichols College
Within a supportive community, Nichols College transforms today's students into tomorrow's leaders through a dynamic, career-focused business and professional education.
Media Contacts
Denise Kelley
Writer/Editor
denise.kelley@nichols.edu
508-213-2219