Taking financial literacy on the road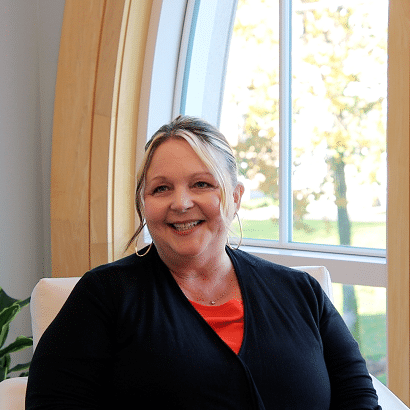 "Know your numbers" is a common phrase recited by entrepreneurs and accountants alike, designed to inspire business owners and individuals to be mindful of their balance sheets. It's also a phrase that will be the focus of Professor Karin Curran's upcoming financial literacy course, taught with the help of Nichols students, to beginning farmers across New England.
For Curran, who has taught accounting and finance for over 30 years, the course represents another leg in her journey in taking her Personal Finance class at Nichols "on the road" and into the community, with each stop offering a new student population to teach, and a new course to design.
She's worked with Abby's House, a Worcester-based nonprofit providing housing and advocacy for women in need, where she provided financial training and one-on-one sessions for women. She designed a course for factory workers at Swissturn/USA, Inc., an employee-owned manufacturing company based in Oxford, that showed them how their collective hard work can impact their bottom line. For the opportunity working with beginning farmers, she'll teach them how to analyze their financial situation and achieve their business goals.
Curran started this work not only for the professional growth it offers. She says the impetus for taking her personal finance course into the community came from her desire to extend the impact she makes in the classroom to others who could benefit.
"In my Personal Finance class at Nichols, I have my students keep track of every cent they spend, and at the end of the semester, they're shocked – saying, 'my gosh, how did I spend $4,000?' Then we look at how much they would have 40 years later if they put that into an investment account," says Curran.
"When I see how excited they get, it's just exciting for me. Because if you have a plan, and you're aware of some of the big pieces of being financially secure, you can change the trajectory of your life. It's one of my favorite classes to teach."
The farming financial literacy course is part of a USDA-funded grant and Nichols partnership with the Pocasset Pokanoket Land Trust (PPLT), an indigenous-led nonprofit that also serves diverse farmers with a focus on ensuring healthy ecosystems.
Curran's Nichols colleague Bryant Richards, Ph.D., referred her to the grant opportunity at the PPLT, which was looking for an expert who could help them apply for a USDA grant. Her work creating the financial literacy component for the PPLT's grant initiative aided the approval for a 3-year $524,000 grant, part of a larger $24 million investment in beginning farmers and ranchers that the USDA commenced for the continued success of American agriculture.
Part of the aim for the course is to reach underserved and diverse populations. BIPOC farmers and U.S. military veteran farmers who have under 10 years of farming experience are encouraged to take the course, which is free for farmers. As part of the Nichols partnership, they will have the option to take the course on the Nichols campus or online, with Spanish translation available.
"I could have held the course elsewhere, but I wanted to bring it to campus to give Nichols students a unique experiential learning opportunity, as well as the opportunity to work on the food supply issue for our country," said Curran. "So I asked the administration if I could teach it in a Nichols classroom, and they were excited and agreed. We're preparing to have some farmers on campus (and online) when the course starts in January."
Two of her former students who've agreed to help teach the course as Teaching Assistants, Dylan Derubeis '25 and Dan Lee '25 (both juniors, varsity lacrosse players, and best friends), are excited, too. They'll be working directly with the farmers in the classroom, applying the personal finance principles they learned in Professor Curran's course to help improve the farmers' livelihoods while learning more about farm business finances.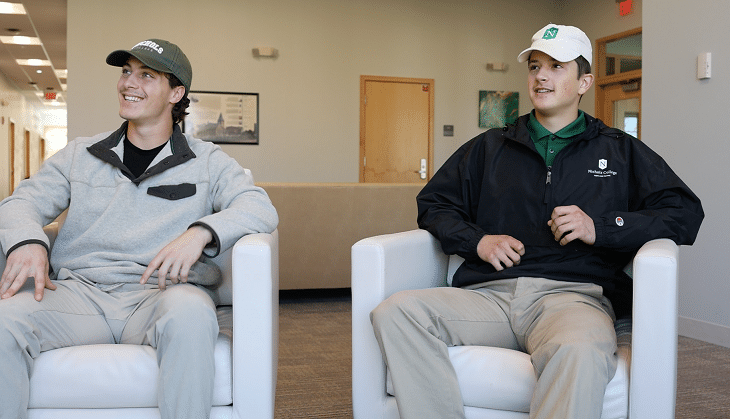 "I am excited for this opportunity because it is a totally new thing for me. I love challenging myself to learn new things, and this experience will provide an education for us and the farmers," says Lee. "Also, no one can say they have taught a course like this!"
"It's amazing that I get to work with my teammate and best friend Dan to do this. It makes it very easy for us to plan this course together. I believe this will have a very positive impact on the students in the class," added Derubeis. "Plus, I'll also be gaining practice really working with people and using my strengths and their strengths to achieve that final goal, which is helpful preparation for my career."
Curran also recognizes that the Nichols students are vitally important to the success of the course.
"For the farmers who sign up, the level of experience they have may vary as far as, have they taken a business class before? Do they know what an income statement is? That's why Dylan and Dan are going to be helpful, too. They can individualize the instruction even more, as the class teaching assistants," says Curran. "We're also going to have an interpreter on hand," for which Lee's second-language Spanish skills may also provide an assist.
The list of topics in the 7-week course is comprehensive, including creating a balance sheet, outlining assets, building equity, understanding industry benchmarks and more. In addition to helping to teach these topics, Dylan and Dan will also perform research and help Curran customize her road course for a farmer audience.
"Dylan and Dan are doing what I'm doing now, which is figuring out what kinds of expenses are going to be on a farmer's income statement. You know, what kind of assets are there going to be? How do you measure the value of all those pigs? Those kinds of things. And that's how this course is going to be a bit different than the others to build."
To help, the group has discovered a trove of online agricultural resources and calculators that have helped bridge the gap, including many they've found at academic research centers in the middle of the country.
Overall the trio is excited to provide a great opportunity for the farmers to enhance their businesses.
"Many businesses fail just because they're unable to read the numbers, so in the class we're just going to work to know our numbers," said Curran.
"I think any new group that is going to get to learn more about their own financial future and feel better about it is a good thing. Teaching financial literacy is very, very rewarding."
(Pictured in header story photo: Karin Curran, M.B.A., Assistant Professor of Accounting and Finance.)
About Nichols College
Nichols College has earned business accreditation from the prestigious Association of Advance Collegiate Schools of Business (AACSB International), the longest serving global accrediting body for business schools and the largest business education network connecting learners, educators, and businesses worldwide. Founded in 1815, Nichols College transforms today's students into tomorrow's leaders through a dynamic, career-focused business and professional education. Nichols offers real-world learning focused on professional depth – combined with vibrant living, competitive athletics, and an unmatched alumni advantage – equipping students to exceed their own expectations. www.nichols.edu
Media Contacts
Denise Kelley
Writer/Editor
denise.kelley@nichols.edu
508-213-2219