Student Profile: Three's Not A Crowd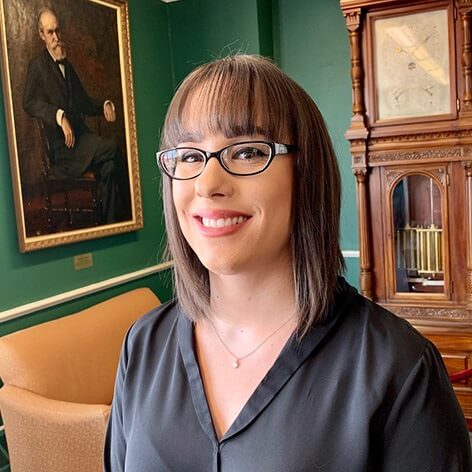 DUDLEY, Mass.—Hope Rudzinski was the last of three siblings to choose Nichols College, but she was not following in the footsteps of an older brother or sister who were already at the College or had graduated.
In fact, she and her brother Zach and sister Carlie are triplets, and all currently juniors.
"I was the last one to decide to come here," said Hope Rudzinski. "I didn't know if I wanted to go to college right away." The 1,200-member Nichols student body represented a huge increase over North Brookfield Senior and Junior High School, about 20 miles away, where she graduated with a mere 35 classmates.

"It's worked out," Rudzinski said of her three years at Nichols, in great part because of her own efforts. "When I went into my junior year, I stepped out of my comfort zone. I got two campus jobs (one of which, by the way, is with Nichols College Public Relations), met more people around campus, and made more connections."
In another departure from her comfort zone, she has become less dependent on her brother and sister, although the three stay in touch.
"You know they're going to be there," she said. "If I'm in a stressful situation, I could just go walk over to their dorms and see them."
There's no mistaking the three Rudzinski siblings for each other. Aside from the fact they are not identical, they have each travelled their own roads through their college careers.
"When you're a twin or triplet, always being together comes naturally," Hope pointed out. "That's the hard part. When you get older, you realize, 'Wait, I can't do everything with them.' You have to separately navigate to be your own person and be independent."
The three are majoring in different areas: Carlie chose hospitality management, Zach sport management, and Hope English—which has fit with her journalistic and literary interests. Hope is vice president of Windfall—the Nichols literary magazine—and works as a reporter for Nichols Public Relations, for which she covers events around campus and profiles its inhabitants.
"Everyone has a story," she said. "And connecting with someone on a personal level is important."
---
About Nichols College
The mission of Nichols College is to educate and enlighten students to capitalize on their ambitions and to become impactful, forward looking global leaders.
Media Contacts
Susan Veshi
AVP, Advancement and College Communications
susan.veshi@nichols.edu
508-213-2227