Student Profile: Richard Vazquez Aims To Be A Financial Fraud Hunter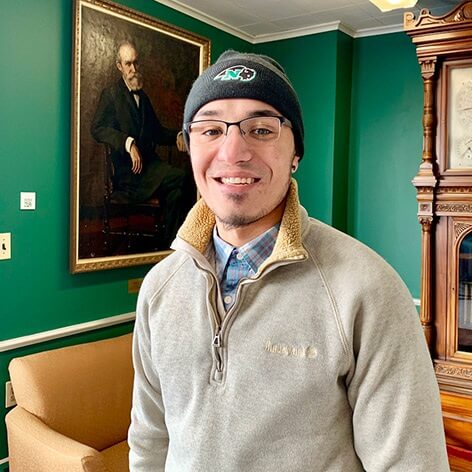 DUDLEY, Mass.—Richard Vazquez Jr. is putting his Nichols College double major in criminal justice and accounting to good use. The senior from Methuen, Mass., has spent much of his college career learning the ins 'n' outs of forensic accounting—a growing field for which Nichols is preparing accounting students.
Forensic accounting is the equivalent of crime scene investigation, but with numbers as the clues. In his courses at Nichols and two summer internships with Big Four-accounting firm Ernst and Young, Vazquez has learned to examine financial data and reports that reveal fraud somewhere in the business producing them.
"What drew me to the field was dealing with the puzzle: Who did the crime, and how did they do it?" Vazquez explained, adding that he knows how to answer that question.
"It's about following the money and where the discrepancies are in financial statements," he said. "There are always going to be greedy people in the world, and that's where the forensic accountant steps in."
Vazquez did well enough at Ernst and Young to receive a job offer before starting his senior year. His criminal justice major had added to his readiness for his career, where he will investigate crimes from embezzlement to money laundering—and come up with the financial evidence to prove them.
The culture of the prestigious accounting firm also suits Vazquez.
"Ernst and Young is one of the more diverse firms of the Big Four," he said. "There are a lot of fellow Puerto Ricans working there."
During his time at Nichols, Vazquez has played intramural basketball; supervised the College's call center—from which current students contact alumni to raise money; and served as a paid teaching assistant in a first-year Professional Development Seminar (PDS).
"I'm able to teach materials that I did well with, and have other students understand it," said Vazquez, who pointed out that he's getting something more out of the job. "I'm learning how to become a better presenter and to brush up my public speaking skills."
Those skills will come in handy when Vazquez has to explain the vast world of fraud he will uncover in his coming career.
---
About Nichols College
The mission of Nichols College is to educate and enlighten students to capitalize on their ambitions and to become impactful, forward looking global leaders.
Media Contacts
Susan Veshi
AVP, Advancement and College Communications
susan.veshi@nichols.edu
508-213-2227