Student Profile: Nichols Sports Star, Leader, And More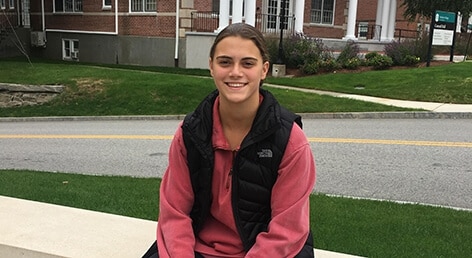 DUDLEY, Mass.—If you're looking for Nichols College junior Lindsey Gerzabek these late fall afternoons, you can find her skating down the right-wing during practices for the women's ice hockey team. But she also came to Nichols from her hometown of Branford, Conn., to play for the women's lacrosse squad, for which she will serve as co-captain in the upcoming spring season.
The attraction to Nichols didn't stop there, even though Gerzabek was being recruited in both sports by larger colleges.
"I really wanted a small school where I wasn't just a number—some place where I could make an impact," she said. "When I first visited and interacted with the faculty and students, they made me feel comfortable."
For her part, Gerzabek has made the impact to which she aspired, and not just on the ice or lacrosse field. While she arrived as a student-athlete, she has become so much more. As a criminal justice major, Gerzabek is part of the Nichols Criminal Justice Club, and has added the Marketing Club and Student Advisory Council to her full schedule.
"I wasn't thinking about being involved in campus activities other than sports," Gerzabek said. "Now, I'm involved with people I never thought in a million years I'd be involved with."
She also has doggedly fulfilled a criminal justice internship with the Rhode Island State Police K-9 unit.
"I made cages, helped in the training, and went on dog-related calls," she said, noting that one of the calls was related to a bomb threat at a high school.
Gerzabek credited the widening of her horizons to the emphasis Nichols places on leadership, starting with a required first-year class, nicknamed "LEAD 101."
"That course is really a foundation for all of Nichols," Gerzabek said. "It has expanded my perspective on what a true leader is," starting, she added, with the teams for which she plays. "Learning leadership in the classroom crosses over to athletics—on the ice, and even in the weight room."
---
About Nichols College
Within a supportive community, Nichols College transforms today's students into tomorrow's leaders through a dynamic, career-focused business and professional education.
Media Contacts
Denise Kelley
Writer/Editor
denise.kelley@nichols.edu
508-213-2219