Student Profile: Nichols Criminal Justice Major Ashley Corcoran On Mission To Work For FBI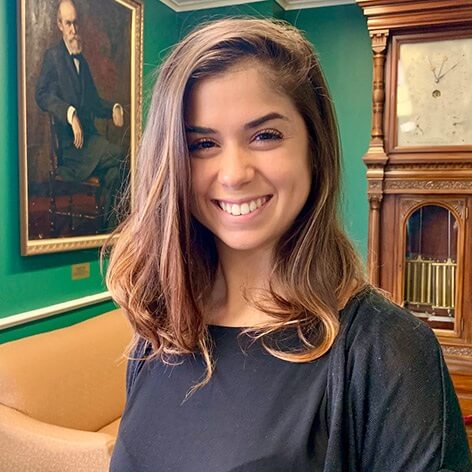 DUDLEY, Mass.—Nichols College junior Ashley Corcoran is strong.
For the past three years, she's excelled in criminal justice and recently won that major's most prestigious scholarship. Not to mention that she can deadlift 250 lbs.—a way station in her training as a competitive body builder.
"There are so many ways to go in criminal justice, and I found the path to go down," Corcoran said.
Having taken courses in Homeland Security and Emergency Planning, she is aiming for a job in the FBI with a focus on terrorism, when she graduates in 2020. She got a head start this month when she led 15 members of the Criminal Justice Club—for which she serves as president—to the regional FBI headquarters in Chelsea, Mass.
"We spoke to one woman, a special agent, who had trained as a dancer in college. She switched careers and applied to the FBI during senior year," Corcoran said. "I told her that I was going to apply next year."
Corcoran will also attend a national security conference next fall as part of Nichols College's Dunbar Scholarship—named for the accomplished Nichols alumnus and founder of the armored car and security giant.
Corcoran commutes to Nichols from Wrentham, Mass., but the return commute usually involves stopping at her gym, where she trains almost three hours every day. Several years ago, she became enamored with body building and is heading to her first competition this summer in Rhode Island.
"It's very intense," Corcoran said, adding that she drinks two gallons of water a day. "It takes hard work and dedication, as well as balancing it with school work."
---
About Nichols College
The mission of Nichols College is to educate and enlighten students to capitalize on their ambitions and to become impactful, forward looking global leaders.
Media Contacts
Susan Veshi
AVP, Advancement and College Communications
susan.veshi@nichols.edu
508-213-2227