Student Profile: James Singletary '19 Is A Nichols 'Man Of Distinction'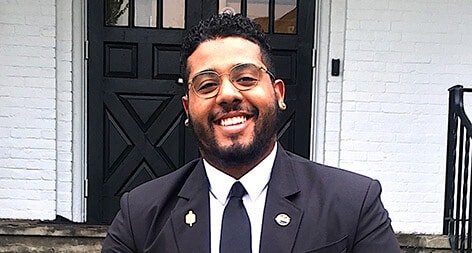 DUDLEY, Mass.—Senior James Singletary is a man of distinction who has become a powerful contributor to the life of the Nichols College campus and surrounding community.
He arrived his first year focused on football after a successful high school career in his central Massachusetts hometown of Marlborough. It didn't take long, however, for Singletary—a double major in criminal justice management and accounting—to blaze other trails as a tutor, a writing fellow, and a program coordinator for the Office of Residential Life.
Along the way, he served an internship with the gang unit investigation team at the Worcester County Jail and House of Correction in West Boylston, and volunteered for the local Big Brothers/Big Sisters program.
"I've gotten more opportunities here than I ever thought I could," Singletary said.
Singletary also serves as president of the campus organization Men of Distinction, which he founded during his sophomore year for underrepresented students, with the mantra: "Brotherhood. Community. Diversity. Respect."
The group has grown to 37 and offers its members something they may not get elsewhere.
He displays the group's emblem on the pocket of the sports jacket he's wearing.
"We define what it means to be a man, to be a minority, to face racial and economic adversity," he explained. "The Men of Distinction are my brothers."
Singletary has cast an even wider net among his classmates and professors, with whom he regularly connects.
"The people I've been surrounded by have helped build me into who I am today," he said.
Where he was earlier in life has also made an impact on Singletary, including the time when as a child, when he and his mother lived for a time in a Boston shelter. He credited his mother for her strength.
"I've always been taught to seek opportunity out of my comfort zone," said Singletary, even if he does not always succeed. "I believe in failing forward. If I fail, I want to build off that."
---
About Nichols College
The mission of Nichols College is to educate and enlighten students to capitalize on their ambitions and to become impactful, forward looking global leaders.
Media Contacts
Susan Veshi
AVP, Advancement and College Communications
susan.veshi@nichols.edu
508-213-2227