Student Profile: For Ian Spencer, Charity Starts At Center Ice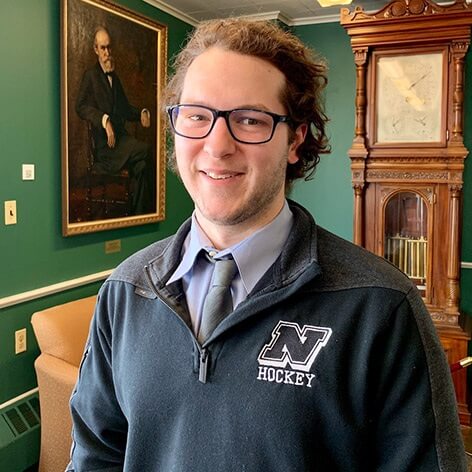 DUDLEY, Mass.—Nichols College senior Ian Spencer co-captains the men's ice hockey team and has played a big role in the team's winning seasons over the past four years. He points to last year's Commonwealth Coast Conference championship and the team's performance in the NCAA Division III tournament as the high points in his playing career.
"We won our first game to get into the NCAA Elite 8," the Hawthorne, N.J., resident recalled, adding that he most valued "all the work leading up to it and how close our team was."
But it's off the ice where the goal-scoring Spencer, along with several other hockey players, has developed a new—and remarkable—goal based on his hockey experience and contacts. By creating Hockey Players for Humanity he has entered the realm of real-world marketing and real-life charity work.
The non-profit company—which sells a variety of sports gear online—launched this past October, with the aim of contributing its profit from selling T-shirts, caps, and sweatshirts to charitable organizations. The company has already raised thousands of dollars.
"I always enjoyed giving back and volunteering," Spencer said. "But you can only do so much on your own. We can accomplish more with a brand."
His idea to start Hockey Players for Humanity, Spencer said, grew from a marketing internship during which he did merchandising for a beer distributer.
Spencer said that his Nichols College marketing major provided the foundation.
"Marketing was a big part of why we decided to do it," he said. "We could learn so much through this experience—creating the website, using social media, and working with analytics."
The company's mission has also expanded to events such as running a summer "tune-up" camp for college-bound hockey players that raised more than $5,000. All of the profits went to increase awareness of testicular cancer.
"It's hockey with a heart," said Spencer.
---
About Nichols College
The mission of Nichols College is to educate and enlighten students to capitalize on their ambitions and to become impactful, forward looking global leaders.
Media Contacts
Susan Veshi
AVP, Advancement and College Communications
susan.veshi@nichols.edu
508-213-2227