Nichols to host Spring 2023 President's Panel Series on- campus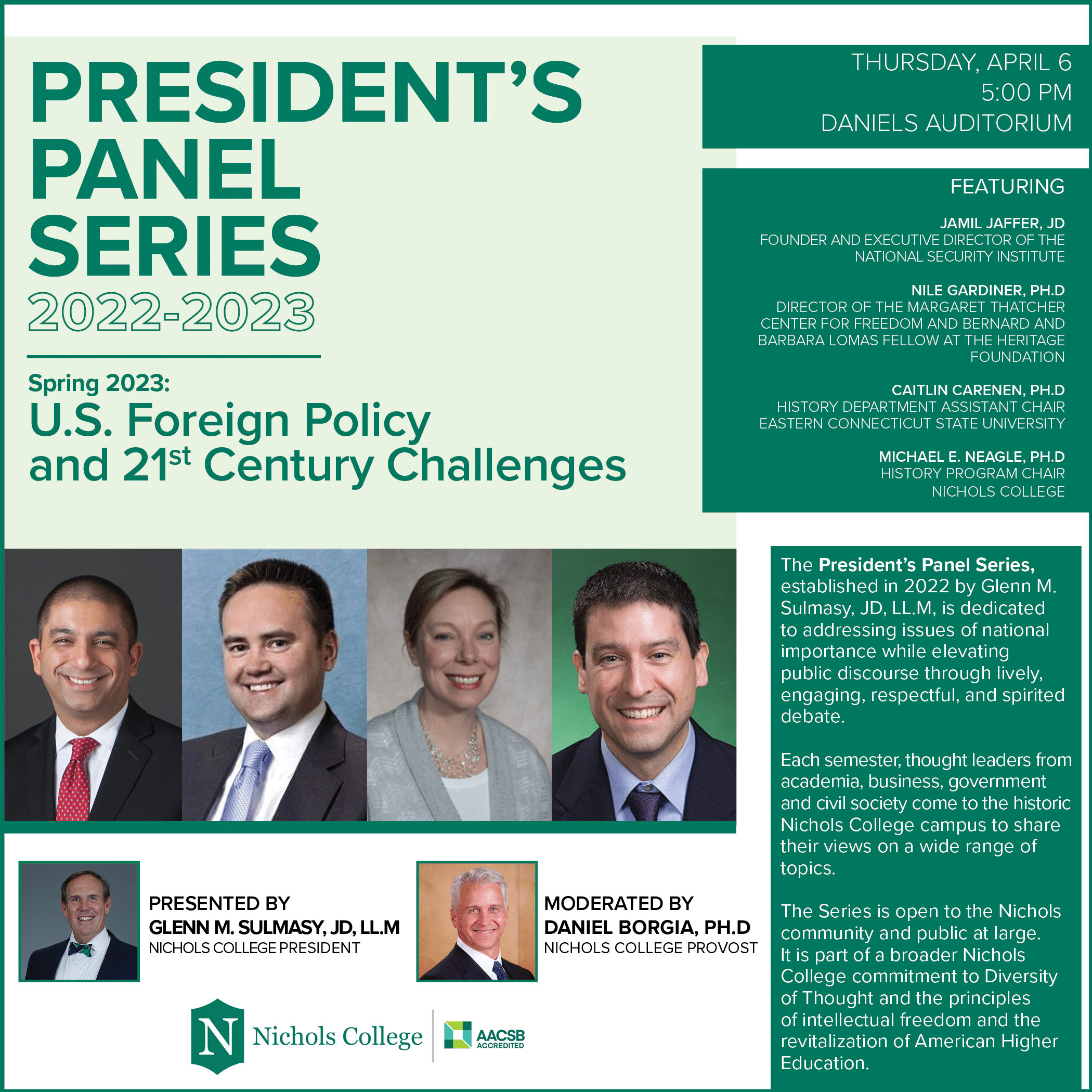 Nichols College has announced the second iteration of the President's Panel Series that will be hosted on Thursday, April 6, 2023 at 5 PM in Daniels Auditorium on the Nichols campus.
The President's Panel Series, hosted by the 8th President of Nichols College, Glenn M. Sulmasy, JD, LL.M., is a forum dedicated to addressing issues of national importance while elevating public discourse through engaging, respectful, and spirited debate.
This semester's panel, "U.S. Foreign Policy and 21st Century Challenges", boasts four experts in foreign policy: Jamil Jaffer, JD, Founder and Executive Director of the National Security Institute; Dr. Nile Gardiner, Director of the Margaret Thatcher Center for Freedom and Bernard and Barbara Lomas Fellow at the Heritage Foundation; Dr. Caitlin Carenen, History Department Assistant Chair at Eastern Connecticut State University; and Dr. Michael E. Neagle, History Program Chair at Nichols College. Dr. Daniel Borgia, Nichols College Provost, will moderate the event.
President Sulmasy established the President Panel Series in 2022 to uphold the Nichols College dedication to diversity of thought, the principles of intellectual freedom and the revitalization of American Higher Education.
"In Nichols College's commitment to intellectual diversity, we are dedicated to providing a forum for respectful and spirited debate. Last semester, our students enjoyed engaging with leading panelists as they discussed their diverse viewpoints on the post-election economy and job market. This spring, we will be hosting historians and experts in international policy from Washington D.C. as they share their expertise with our students and entire community. This will help further Nichols' vision of students discussing polarizing issues of national importance objectively with their peers," said Sulmasy.
The event hosted on April 6 is open to the public free of cost.  It will be live-streamed on Youtube at https://www.youtube.com/watch?v=3DSbXoggj7I
For more information on this panel series, the previous panel event, or about Nichols' commitment to intellectual diversity, please visit https://www.nichols.edu/
(Pictured: Official Flier for President's Panel Series, which takes place on Thursday, April 6 at Nichols College.)
About Nichols College
Nichols College has earned business accreditation from the prestigious Association of Advance Collegiate Schools of Business (AACSB International), the longest serving global accrediting body for business schools and the largest business education network connecting learners, educators, and businesses worldwide. Founded in 1815, Nichols College transforms today's students into tomorrow's leaders through a dynamic, career-focused business and professional education. Nichols offers real-world learning focused on professional depth – combined with vibrant living, competitive athletics, and an unmatched alumni advantage – equipping students to exceed their own expectations. www.nichols.edu
Media Contacts
Denise Kelley
Writer/Editor
denise.kelley@nichols.edu
508-213-2219