Shooting Hoops For A Cause
By: Hope Rudzinski '20, English & Communications Major
Nichols College teamed up with Special Olympics for a basketball tournament fundraiser on Sunday, November 10. Special Olympics is one of the world's largest sports organizations for children and adults with intellectual and physical disabilities. This event was coordinated by Nichols' Sport Management Event class, along with inspiration from Anthony Ellis, a Nichols student who is overcoming his own disabilities.
"It was important to have this event at Nichols to show that there can be different sides to sports and help people gain new perspectives on Special Olympics. This event class helped me form the idea and get it at Nichols. My favorite part of the event was just seeing the pure joy on everyone's faces," says Ellis, a junior sport management major from Leicester, Mass.
The basketball tournament featured three games in which mixed teams of Special Olympics young adults and Nichols students competed for the championship. After each game, a team was eliminated and tried to work its way back up.
"We wanted to bring awareness to Special Olympics events and to think about the difference these events can make," says Brittany Jacobs, assistant professor of sport management at Nichols whose class planned and executed the event, "These students did all the work – they raised the money and planned everything. They should be proud of themselves."
In total there were 50 volunteers, eight teams, and 150 people who attended for different reasons but, at the end of the day, came together as one to support each other.
"It's really a great feeling to give back to the community, and it means a lot for the people that participate in it," says Liam Gorman, a senior sport management major and gender studies minor from Ashburnham, Mass.
"Seeing smiles on all their faces is awesome. This is our first time doing this event. I think we should do this more often," says DeJante Starks, a junior sport management major from Braintree, Mass. Benjamin Rizoli, a 20-year-old with special needs from Milford, Mass., who attended with his mother, has participated in Special Olympics since he was five, including basketball, swimming, and soccer events.
"Being a parent of a Special Olympics kid is so much different than parenting a child who plays a regular sport; the community is very accepting," says Denise Rizoli, "He wanted to come to play at Nichols because his aunt is a professor at Nichols; he loves supporting her."
The Sports Management Event class plans on continuing the Special Olympic events for the future.
"It's the environment – everybody's cheering for everyone," Rizoli says about Special Olympics.
On and off the court, Special Olympics players may have found their biggest fans in Nichols College students.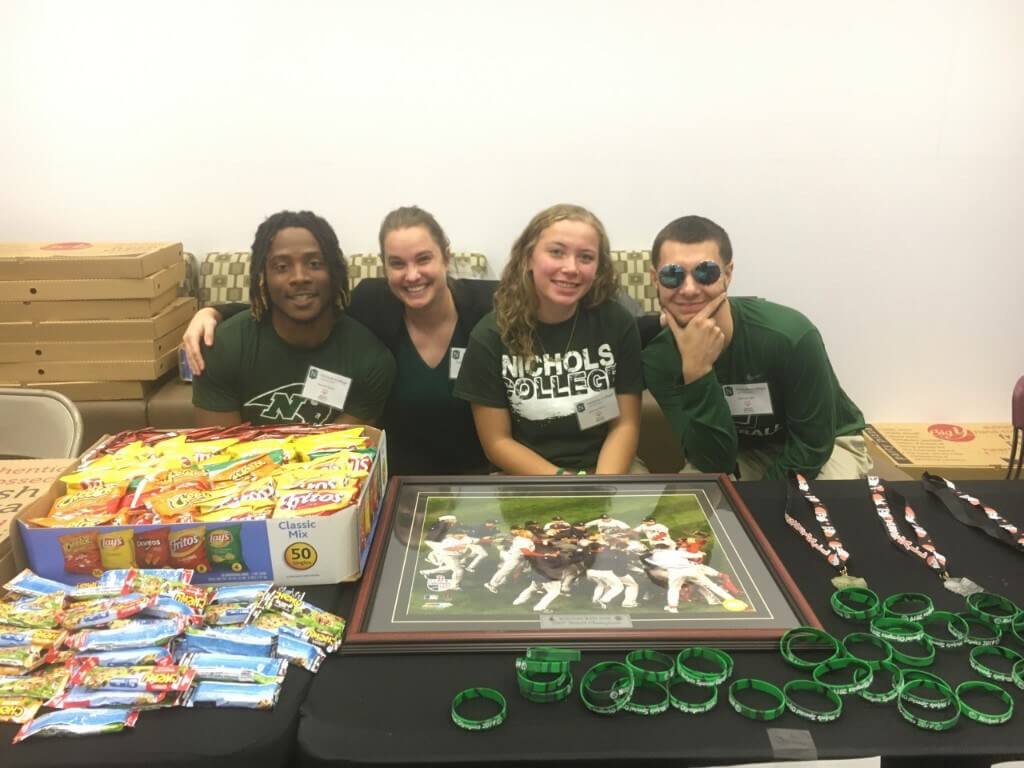 ---
About Nichols College
Within a supportive community, Nichols College transforms today's students into tomorrow's leaders through a dynamic, career-focused business and professional education.
Media Contacts
Denise Kelley
Writer/Editor
denise.kelley@nichols.edu
508-213-2219