Teaching workshop at Nichols College hosts Michael Roberto, D.B.A., top case study author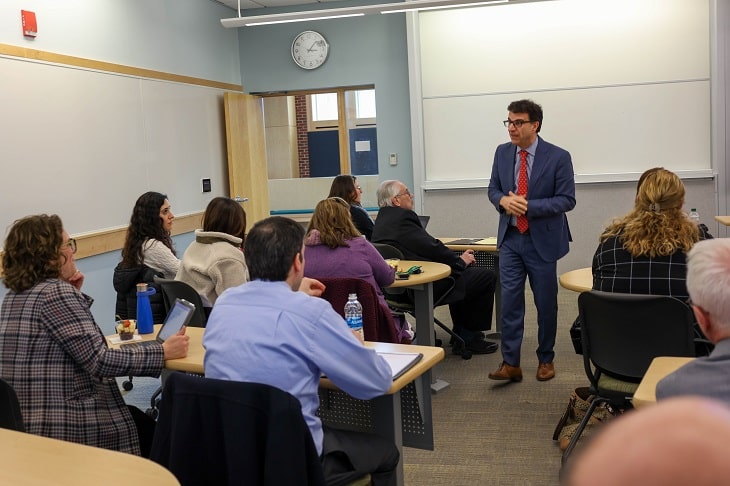 DUDLEY, MA – Michael Roberto, D.B.A., professor of management and best-selling author at Harvard Business Publishing, visited the Nichols College campus on March 9 to conduct a teaching workshop open to Nichols faculty and organized by the Nichols College Faculty Development Committee.
Roberto is the Trustee Professor of Management at Bryant University in Smithfield, RI, where he teaches leadership, managerial decision making and business strategy. He joined the tenured faculty at Bryant after serving for six years on the faculty at Harvard Business School.
The workshop focused on teaching and learning using active learning techniques such as the case method to spark curiosity and learning, as well as tactics for keeping students engaged and energized. "Active" learning is a method of teaching where student learn by participating in hands-on exercises; "passive" learning is where students receive and memorize the information that is provided to them.
"At Nichols College, we aim to foster an active and vibrant educational environment; we understand the powerful impact that faculty can have on student learning and outcomes," said Nichols College President Glenn M. Sulmasy, JD, LL.M.
"That is why we were elated to host renowned case study author and award-winning educator, Dr. Mike Roberto. The workshop was a fantastic opportunity for our faculty to share and learn with Roberto and from each other."
Roberto is recognized for his teaching, writing and research. He has earned several teaching awards, including the Outstanding M.B.A. Teaching Award from Bryant University and Harvard University's Allyn A. Young Prize for Teaching in Economics. He has published many best-selling case studies and simulations. In 2022, Harvard Business School Publishing ranked his Trader Joe's case study as the second most popular case in their entire catalog, and they ranked his Everest Leadership and Team Simulation as the bestselling simulation ever developed and distributed by Harvard Business School. The Everest simulation also won top prize in the eLearning category at the 16th Annual MITX Interactive Awards. Professor Roberto's newest book, "Unlocking Creativity" was published by Wiley in 2019. He has written two previous books: "Why Great Leaders Don't Take Yes For An Answer" (2nd edition published in 2013) and "Know What You Don't Know," published in 2009.
In addition to sharing his techniques for using case studies in an active learning format in the classroom, Roberto also cited research showing that students learn more in active learning classrooms than they do in traditional lecture classrooms.
This is why the case study method is so successful, suggested Roberto. When used as a hands-on exercise, "the case method is designed to train your mind, to develop understanding of how to think about complex issues," said Roberto. "It gets students to grapple with the real world and shows them the relevance of the ideas" illustrated by the case.
(Pictured: Michael Roberto, D.B.A., conducting a workshop on active learning at Nichols College that was organized by the Nichols Faculty Development Committee.)
About Nichols College
Within a supportive community, Nichols College transforms today's students into tomorrow's leaders through a dynamic, career-focused business and professional education.
Media Contacts
Denise Kelley
Writer/Editor
denise.kelley@nichols.edu
508-213-2219