Randy Becker Feted As Nichols College Outstanding Alumnus
DUDLEY, Mass. – Webster Town Selectman Randall Becker was awarded the David F. Lombard '65 Outstanding Alumnus Award at Nichols College on October 18, 2019.
The award honors individuals who have been acknowledged by peers or associations and have achieved recognition for their accomplishments. It is named for a model alumnus for his generous and long-standing support of Nichols.
In presenting the award at the college's annual donor recognition dinner, Bill Pieczynski, vice president for advancement at Nichols, began by acknowledging the importance of family in Becker's life. "Witnessing from an early age the strong work ethic and philanthropic nature of his parents, he admits that their impact had great consequence on the person he has become," he said. "But this evening, we get to recognize Randy for his influence on his Nichols family."
Becker, who earned a bachelor's degree at Nichols in 1983 and an MBA in 1996, has maintained deep ties with his alma mater, giving back in multiple ways, including an endowed scholarship for local students. He elevated his involvement when he joined the Board of Trustees in 2006, later becoming and still serving as chair of its Finance Committee.
Several members of Becker's family and extended family have attended Nichols, including his wife Donna '83, and their son Andrew '12. In 2009, Nichols dedicated Becker Market in its newest residence hall in honor of the Becker family, and in 2017 Nichols awarded honorary degrees to parents, Shirley and Herman (posthumous).
Commenting on the award, Becker noted, "It is a humbling experience and truly a great honor to be recognized by one's peers. I thank the Nichols College Board of Advisors for acknowledging me and especially thank my wife, Donna, along with my family, for their love and support."
Becker served as the chief financial officer of MAPFRE USA (formerly The Commerce Group, Inc.) until his retirement three years ago. Currently he chairs the Board of Directors for MAPFRE USA. In addition to serving as chair of the Board of Selectmen for Webster, Becker is vice chair of Harrington Hospital, on the board of The Health Foundation of Central Massachusetts, and he and Donna are members of St. Louis Church where they serve in the Marriage Preparation "Couple to Couple" Ministry.
"Randy exemplifies servant leadership, which, by its purest definition, is a philosophy and set of practices that enriches the lives of individuals, builds better organizations, and creates a more just and caring world," said Pieczynski. "And so, for his accomplishments in industry, for his nurturing and caring actions toward [Nichols], for his steadfast loyalty and thoughtful guidance and support, it is our privilege to honor one of the family, Randy Becker."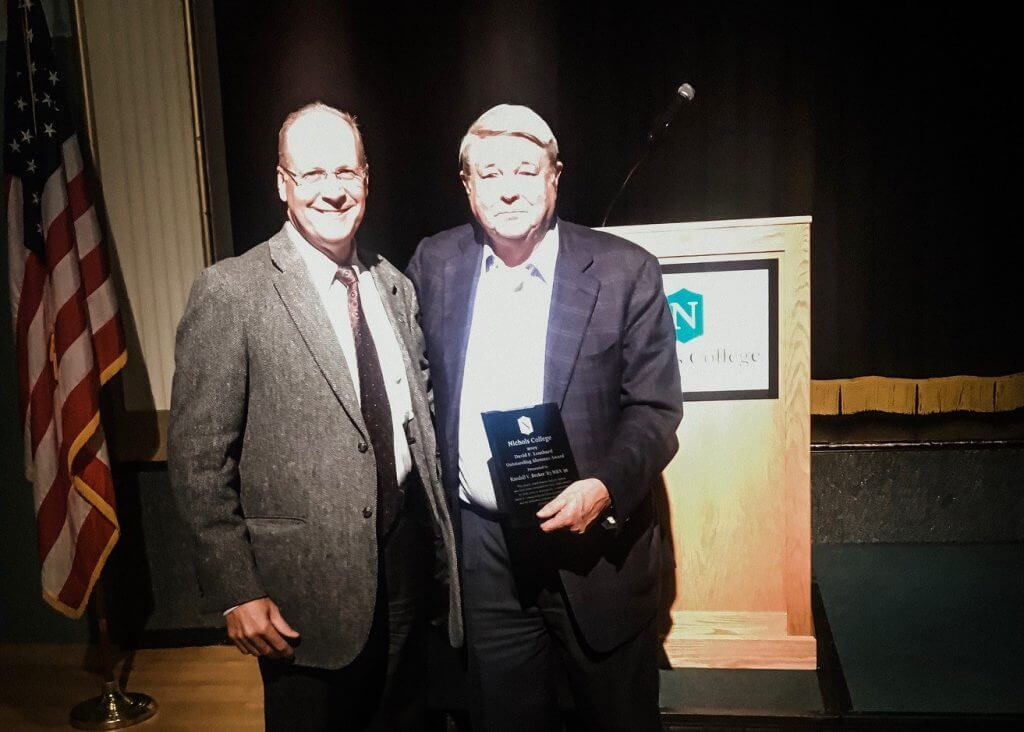 ---
About Nichols College
Within a supportive community, Nichols College transforms today's students into tomorrow's leaders through a dynamic, career-focused business and professional education.
Media Contacts
Denise Kelley
Writer/Editor
denise.kelley@nichols.edu
508-213-2219