Nichols event "A Conversation with Karyn Polito" a success, gains media coverage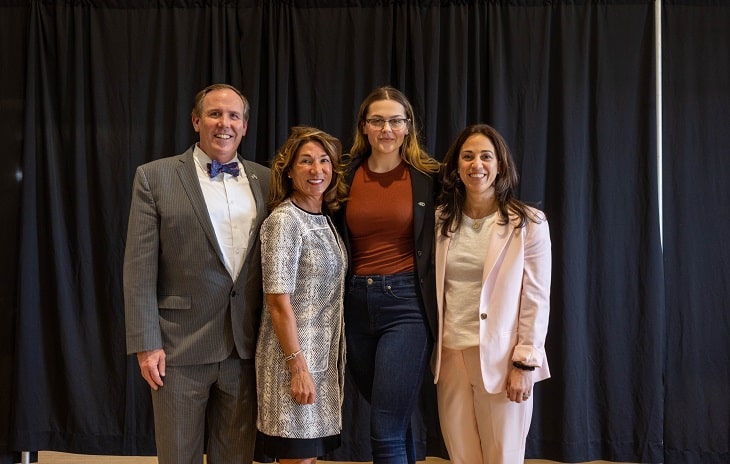 Nichols is in the news! Nichols College hosted former Massachusetts Lieutenant Governor Karyn Polito on campus yesterday afternoon for the event, "A Conversation with Karyn Polito," a dynamic event that was even covered by media outlets including the Worcester Telegram & Gazette as well as Spectrum News 1.
For the event, which was sponsored by The Office of the President, Nichols College President Glenn M. Sulmasy, JD, LL.M. conducted a question-and-answer session with Polito on a wide range of topics, including the importance of state and local partnerships, the transformation of the role of the Lieutenant Governor in the Commonwealth, and the importance of women having opportunities to obtain leadership roles. The former Lt. Governor also delivered remarks and addressed the audience with her advice on "Embracing Greatness," a nod to the theme and motto embraced by the Nichols community, and reported on the the wisdom she gained during her career in politics for the benefit of all attendees.
"We were honored to host former Lt. Governor Polito and are thankful for the opportunity to hear the invaluable lessons and insights she shared, as well as the chance to engage in conversation on her stellar career in public service and the opportunities available for women in business and politics today," said President Sulmasy.
Students at the event responded positively to the opportunity to hear from the former Lieutenant Governor.
"It was an awesome opportunity that she was able to come here and speak to us about her experiences, as she was in office for quite some time—not only during Covid but also before then," said Kiley O'Brien '25, a General Business major and varsity women's tennis player. "And she wanted to get to know us – as I walked in here, she came over and talked to me and asked me about the tennis team. It's great that we were able to hear her experiences."
Keeley Cerbo '24, a General Business major, Honors student, and office assistant at the Nichols College Institute for Women's Leadership, appreciated Polito's take on what it means to "Embrace Greatness."
"I thought that was really great, because you hear a lot of that here, to follow your dreams and to just try your best," said Cerbo. "One thing that really stood out to me was when she talked about visiting every single one of the 351 towns in Massachusetts to learn more about the town and what they value, which is something that is important to do as someone who's running the state," she said.
For more on the event, read the article in the Worcester Telegram & Gazette, "Live without regrets: Polito shares challenges and accomplishments at Nichols" by Veer Mudambiand at the story that aired on TV news station Spectrum News 1 by Olivia Lemmon.
You can also view the full event presentation on YouTube.
(Pictured, left to right: Nichols College President Glenn M. Sulmasy; former Massachusetts Lieutenant Governor Karyn Polito; Finance major Emma Dix '24; Director of the Nichols College Institute for Women's Leadership Leslee Ruggeri)
About Nichols College
Nichols College has earned business accreditation from the prestigious Association of Advance Collegiate Schools of Business (AACSB International), the longest serving global accrediting body for business schools and the largest business education network connecting learners, educators, and businesses worldwide. Founded in 1815, Nichols College transforms today's students into tomorrow's leaders through a dynamic, career-focused business and professional education. Nichols offers real-world learning focused on professional depth – combined with vibrant living, competitive athletics, and an unmatched alumni advantage – equipping students to exceed their own expectations. www.nichols.edu
Media Contacts
Denise Kelley
Writer/Editor
denise.kelley@nichols.edu
508-213-2219