Student Profile: No Stone Unturned At Nichols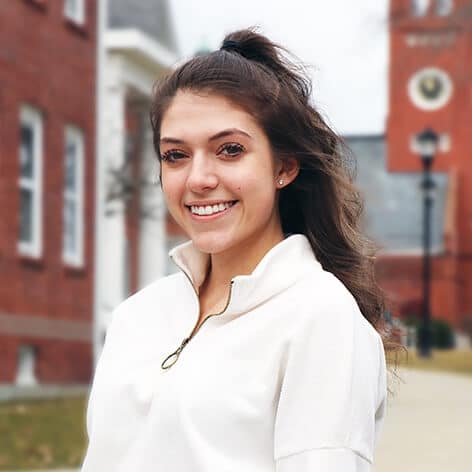 You might think that junior Rebecca John has left no stone unturned during her college career at Nichols. She's a student in the college's academic Honors Program, a member of the Emerging Leaders Program, a resident assistant, and a teaching assistant, all the while participating in the Windfall literary magazine, the Law Club, and the Human Resources Club, for which she serves as vice president.
Along the way, John has traveled to the Czech Republic and Italy with her classes, and she's extended a human resources internship that may well lead to her first job after graduation. And she's not done yet.
John noted that her wide range of interests and accomplishments have built on her initial visits to Nichols before she enrolled. "I stood on campus and I immediately thought, 'I'm home.'" she recalled.
"When I was accepted to become part of the Honors Program, I came to a dinner with other honors students who were entering the Class of '21 and immediately connected with them," John continued, adding that she has come to appreciate what the program's advanced courses have to offer. "There's more insightful thinking, reflective journaling, and intensive writing," she explained
John also appreciates what she's getting from the three-year Emerging Leaders program and its community service and leadership opportunities on and off campus. "The program is making us more aware of what businesses want in terms of leadership skills, communication skills, and other soft skills," she noted.
As a teaching assistant in the required Professional Development Seminar, John has been able to work closely with the first-year students in the class. "I love getting to talk to them about creating a resume, time management, and goal setting," she said. "And I share my personal experience of going from a senior in high school to a freshman and a junior in college."
"I had come through a dark phase and gained a lot of confidence in the process," John admitted. "I've grown a lot and never thought three years ago that I'd be in the position I'm in."
John added that she is considering human resources and law as two possible career destinations. Those decisions may have to wait. She's too busy turning over new stones.
Learn more about other amazing Nichols College students on our Profiles page.
---
About Nichols College
Within a supportive community, Nichols College transforms today's students into tomorrow's leaders through a dynamic, career-focused business and professional education.
Media Contacts
Denise Kelley
Writer/Editor
denise.kelley@nichols.edu
508-213-2219