Nichols To Add eSports In 2019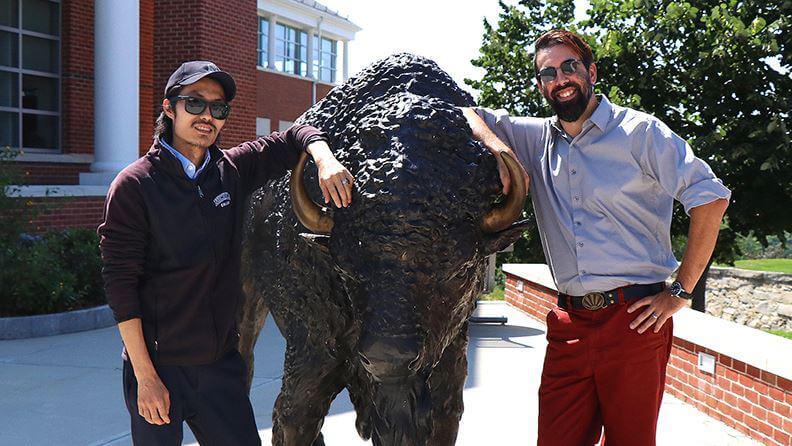 DUDLEY, Mass. – Nichols College Interim Director of Athletics Eric Gobiel has announced the addition of eSports as the college's 22nd varsity sport for the 2019-20 academic year.
eSports – or electronic sports – are a form of competitive video game playing in which teams compete in a variety of genres, including MOBAs, real-time strategy, sports, and more. Nichols will participate in two games this season – Rocket League and NBA 2K – with additions to come as the program evolves.
"I am thrilled to announce the creation of Nichols College's 22nd varsity sport," said Gobiel. "This decision could not have come at a better time, as we are seeing tremendous growth in the eSports community across the globe. Bringing eSports to our campus allows us to offer student-athletes an opportunity to compete on a national level while also receiving a world-class education and experience."
Nichols College Director of Business System Strategies Charles Tousignant (above, left) will serve as the inaugural head coach while Marketing Director David Leary (above, right) will serve as an assistant. "We are extremely fortunate to be bringing both Charles and David on board as their experience and knowledge in competitive gaming will be a tremendous asset as we build our program in the year to come," Gobiel said.
The coaching staff will begin recruiting students currently enrolled at Nichols as well as high schools immediately. Students will be invited to compete based on their level of interest and tryouts may be held to determine a varsity team. Alternates may be selected for both practices and competition.
"Nichols students have been expressing an interest in eSports and holding their own tournaments for a while," said Tousignant. "We realized that it was time for the institution to recognize the value that video games and collegiate competition can bring to their education. Team strategies in video games translate directly to business acumen, and we believe that by encouraging a sense of togetherness and competition, we can positively affect the futures of our players. Our goal is to provide students with the opportunity to compete locally and nationally in their favorite games as part of a cohesive team. We're really excited to see what these students can do out there on the virtual field."
Space which will serve as the central area for on-campus competition is currently being renovated and will be completed later this month. This arena will also be available to various groups on campus (ie gaming club) and have specified usage hours.
For more information on the eSports program or to speak to the coaches about joining, please contact Tousignant by clicking HERE or Leary by clicking HERE.
---
About Nichols College
The mission of Nichols College is to educate and enlighten students to capitalize on their ambitions and to become impactful, forward looking global leaders.
Media Contacts
Susan Veshi
AVP, Advancement and College Communications
susan.veshi@nichols.edu
508-213-2227