Nichols eSports First Season Is A Stampede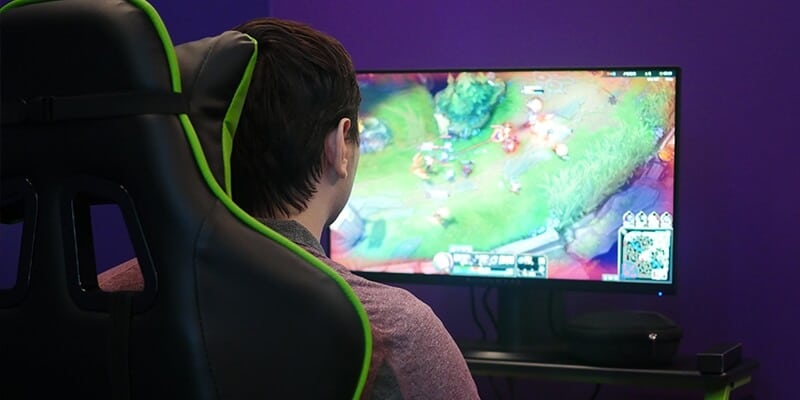 DUDLEY, MA – Video games are for more than just entertainment now.
The brand-new Nichols College eSports team kicked off their season at a launch party at the Fels Student Center this week. Students were able to see the new eSports location in Fels, meet team members and learn about the newest varsity team at Nichols. The eSports team gives athletes another way to both compete and build professional skills at Nichols.
The team is competing in four games this season: League of Legends, Hearthstone, Rocket League, and the NBA2K franchise series. The team consists of 11 players, as well as head coach Charles Touisignant and assistant coach David Leary.
"I am thrilled to announce the creation of Nichols College's 22nd varsity sport. This decision could not have come at a better time, as we are seeing tremendous growth in the eSports community across the globe," Eric Gobiel, Director of Athletics at Nichols, said. "Bringing eSports to our campus allows us to offer student-athletes an opportunity to compete on a national level while also receiving a world-class education and experience."
The eSports team has been provided with its own space in the Fels Student Center, with equipment including six Alienware desktop gaming computers and an Xbox One console. The team is also being given access to practice and fitness facilities and staff at Nichols to improve on their skills.
Nichols is the latest school to enter the growing world of competitive gaming. Players are participating in games every day online and some professional eSports athletes are earning six-figure salaries from their play. Sponsorships and large cash prizes are also being given out to players.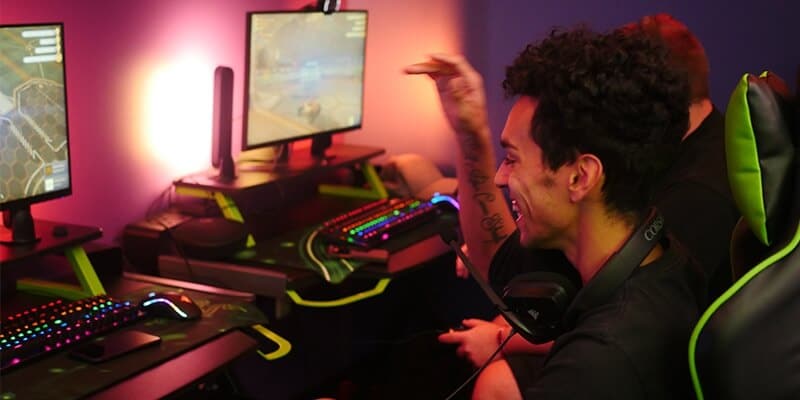 But Nichols College is looking to provide more than competition and a way to play for students.
"The integrated educational experience and skills these athletes receive by participating in eSports is invaluable. The team members must rely heavily on communication, collaboration, planning, and execution which are skills that directly translate to any occupation they may choose upon graduation," Gobiel said.
"We're looking to serve the professional development of students that's key to Nichols," Leary, assistant coach, said.
"We are focusing on content development, self-promotion, and how to put media out there," he added.
And Nichols students are already busy creating that content. Athletes on the team have created a podcast centered around eSports. The team has livestreamed competitions with other schools through the popular online video service Twitch. And team members are also providing color commentary and analysis through livestreams of their regular practice sessions.
With the introduction of eSports, players are also given the opportunity to become a part of a team in a sport that has previously been individualized.
Jared Maymon '20, a double major in Corporate Finance and Investments and Economics from East Greenwich, Rhode Island, is a current eSports team member who also previously played high school football as a defensive lineman. Maymon said his experience as an eSports athlete has been surprisingly similar to his time as a football player.
"It's really easy to compare the two," Maymon, whose gamer handle is "Maymonaise," said.
"Teamwork is forming, you can tell we'll be an extremely close-knit family," he said.
And the school also helps them prepare, giving the eSports team access to all of the tools and services other teams on campus can use.
Students participate in regular training sessions with the college's athletic training staff that were designed with eSports in mind. These sessions include workout programs that focus on improving the athletes' stamina and performance.
"We prepare them for the game," Bob Donahue, strength and conditioning coordinator for Nichols Athletics, said.
One of Donahue's goals has been to condition the student-athletes to be better prepared for high-stress in-game situations where increased heartrates are likely.
"The goal would be to get the heart rate down, when the mind is most focused," he said. "When the heart rate goes up you're more prone to mistakes."
The eSports athletes have also been working on improving their strength. Donahue said they are also considering working on dexterity exercises for improved hand-eye coordination and breathing exercises for improved stress management.
The Nichols eSports team regularly streams matches, practices, and color commentary on Twitch under the @NicholsCollege flag, and can be found on Instagram or Twitter @NCbison_eSports.
For more information and recruitment opportunities, please contact esports@nichols.edu.
---
About Nichols College
Within a supportive community, Nichols College transforms today's students into tomorrow's leaders through a dynamic, career-focused business and professional education.
Media Contacts
Denise Kelley
Writer/Editor
denise.kelley@nichols.edu
508-213-2219