Nichols College Welcomes American Dining Creations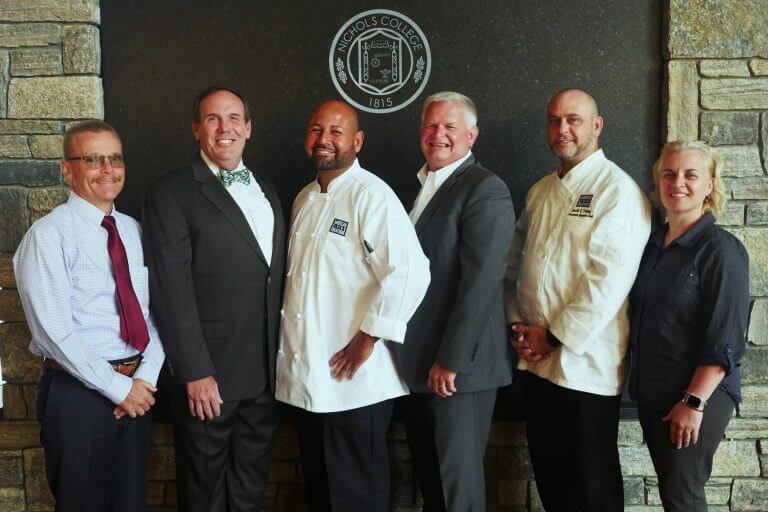 On behalf of the Nichols College Board of Trustees and President Glenn Sulmasy, it is my sincere pleasure to formally announce to the Nichols College community the arrival of our new Nichols Dining partner; American Dining Creations.
American Dining Creations – aka "ADC" is based out of the Syracuse area of New York and serves colleges and universities across the country. ADC makes its grand debut at an institution of higher education in New England, right here at Nichols College! We are excited for the entire community to welcome the ADC team and show them our New England charm and hospitality (no one mention sports).
The Nichols Dining team will be led by Executive Chef – Jose Pabon and General Manager – Jim Brousseau – both of whom are local to Nichols.
American Dining Creations' philosophy is grounded in their fresh difference approach and they are a premier hospitality provider and one of the fastest growing food service companies in the industry. Recently awarded the "Best New Dining Concept in Higher Education" for their innovative ChefU program and cited as One of the Six Companies to Watch by Food Management magazine; ADC's success is driven by a commitment to provide an outstanding hospitality experience uniquely customized to the individual needs of our campus community.
In the coming days, we will be sharing lots of information and introducing you to some of the new faces of Nichols Dining. Not to worry, there will still be plenty of familiar faces behind the line and welcoming you back to Lombard and campus too! In the coming year, we will see a renovation to the Davis Café area (opening up again this year), an expanded market concept moving from Copper Beech I to Fels, and the completion of the Lombard Dining Hall! There is plenty of excitement to come… but we want to leave some fun news for later.
In the coming weeks, as you join us in Lombard, some of the fresh differences you will immediately notice include:
Enhanced – from scratch-cooking
Greater variety of vegan and vegetarian options
Clearly labeled and easy to understand dishes that meet a wide variety of food needs and sensitivities
Fresh, hand-pressed burgers
Hand-cut fries
Scratch-made sauces, condiments and dressings
House-made pickles and chips
Scratch-made soups and chili
Earlier in the summer, Marney Buss, Assistant Dean of Students, shared some of the changes to the meal-plans/Dining Dollars/Bison Bucks; these plans remain in place with ADC and as you arrive on campus you will recognize them still as our Platinum, Gold, Silver and Commuter plans. Faculty and Staff are also welcome to purchase the faculty/staff meal plan.
Attached you will find an introduction from the ADC Team. Keep an eye on social media outlets for more information as well as your Nichols College email to learn more in the days ahead as the excitement builds for all the changes about to arrive on your plate! As you can imagine, President Sulmasy is "pumped up" about the new dining contract and our updated facility! Please reach out to Dining@nichols.edu if you have any questions before your arrival.
Welcome to Nichols College American Dining Creations!
Go Books. Go Bison.
PJ Boggio
Vice President of Student Affairs
Dean of Students & Title IX Coordinator
---
About Nichols College
The mission of Nichols College is to educate and enlighten students to capitalize on their ambitions and to become impactful, forward-looking global leaders.
Media Contacts
Susan Veshi
AVP, Advancement and College Communications
susan.veshi@nichols.edu
508-213-2227