Nichols College receives gift from DCD Automotive for new video scoreboard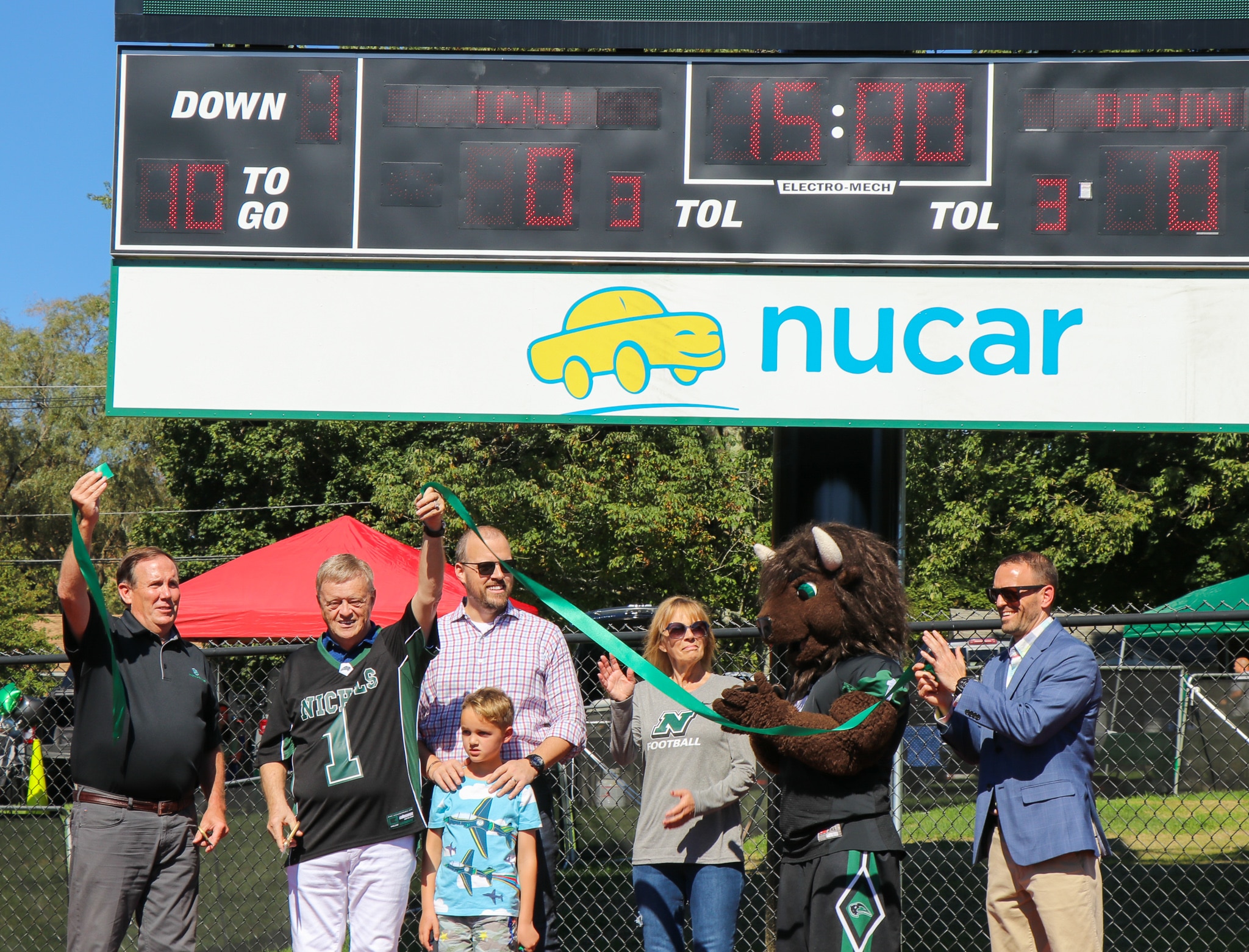 Members of the Dagesse family with President Sulmasy, cutting the ribbon for the new video scoreboard on Vendetti Field at Nichols College.
DUDLEY, Mass. – Nichols College recently unveiled a new digital scoreboard donated by Nucar, a subsidiary of the DCD Automotive Group based in Norwood, Mass.
A brief ceremony took place on Vendetti Field on September 23, prior to the start of the college's Homecoming football game, which included several members of the Dagesse family, who own and operate the DCD Automotive Group. Founder Dan Dagesse and his son, President and CEO Chris Dagesse, were joined by Nichols College President Glenn M. Sulmasy, JD, LL.M, Athletic Director Eric Gobiel. Football Coach Dale Olmstead, and Thunder, the school's bison mascot.
The 30-foot state-of-the-art sign – emblazoned with the Nucar logo – was built by Digital Scoreboards LLC, and features hi-def video capability, electronic scorekeeping, and a premium built-in sound system, among other features.
Nichols is the only college in the Commonwealth Coast Conference to have a video scoreboard.
"The new video board is certainly a game-changer for Nichols and the athletic department, allowing us to bring a whole new interactive experience for our fans and student athletes," said Gobiel. "We could not be more thankful to the Dagesse family for their extremely generous gift and continued support!"
In addition to football, the scoreboard will support the other teams that use Vendetti Field, including field hockey and men's and women's lacrosse. Beyond athletics, Nichols plans to use the video feature for campus events, such as movie nights, and extend opportunities to the local community, such as advertising during the game.
"This donation reflects our commitment to innovation and giving back," said Chris Dagesse. "We are also proud that the Nucar name will now not only be gracing dealerships in Delaware, Massachusetts, New Hampshire, and Rhode Island but will also be attached to this great institution."
Coach Olmstead called the scoreboard "awesome," adding, "Looking down on Vendetti Field from the hill and seeing a scoreboard of that magnitude makes a statement about Nichols commitment to athletics.  Our players love it, and I am looking forward to showing it off to our recruits!"
About DCD Automotive Group
DCD Automotive Group is a family-owned and operated automotive dealership group based out of Norwood, MA. Established in 1974 by Dan Dagesse, DCD currently owns and operates 19 subsidiary brands and employs over 900 employees across its 16 dealership locations in Delaware, Massachusetts, New Hampshire, and Rhode Island.
---
About Nichols College
The mission of Nichols College is to educate and enlighten students to capitalize on their ambitions and to become impactful, forward-looking global leaders.
Media Contacts
Susan Veshi
AVP, Advancement and College Communications
susan.veshi@nichols.edu
508-213-2227
Jillian Riches
Asst. Director, Public Engagement
jillian.riches@nichols.edu
508-213-2211