Nichols College Promotes Two to Associate Dean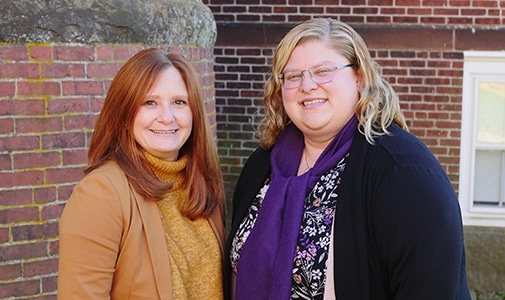 DUDLEY, Mass. – Nichols College has named Robin Frkal, PhD, to the position of associate dean for the Graduate School of Business and Professional Studies, and Allison McDowell Smith, PhD, to associate dean for the Graduate School of Liberal Arts.
Frkal, associate professor of human resource management, has been at Nichols for three years. She is program chair for the BS in human resource management and has been the director of the Master of Science in Organizational Leadership (MSOL) program. In her new role, she will oversee three of the four Nichols master's programs: MBA, MSOL, and Master of Science in Accounting.
"Our current graduate business programs bring exceptional ROI for students. I look forward to working with staff and faculty to continue to innovate our graduate programs and get the word out that Nichols is the business school of choice," said Frkal.
Prior to joining the Nichols faculty, she was an assistant professor of management and directed the MBA program at Assumption University. Her research has focused on why women opt out of corporate leadership and on women's leadership development programs. Understanding the critical career moments and underlying themes behind women's decisions to leave corporate leadership has practical human resources value for organizations focused on retaining female talent.
A resident of Dudley, Mass., Frkal holds a BA in foreign affairs from Assumption, an MS in communication from Clark University, and a MS and PhD in human and organizational systems from Fielding Graduate University. She also has a Diversity, Equity and Inclusion in the Workplace Certificate.
McDowell-Smith, associate professor of criminal justice and counterterrorism, will oversee the Master of Science in Counterterrorism (MSC) Program. She has been at Nichols for seven years, serving as the program chair for the BA in criminal justice and BS in criminal justice management and the founding director of the MSC Program, the first graduate program in the U.S. with a focus on violent extremism and leadership.
"As an interdisciplinary researcher and educator, I strive to identify and advance criminological approaches that may be relevant to violent extremist and terrorist thought and violence, offering unique perspectives on the often-overlooked relationship between the two," said McDowell-Smith. She has spearheaded pioneering innovative approaches to shape understanding of violent extremism and terrorism globally while pursuing data-driven policy security solutions and tackling unique proficiencies needed to understand the field of study at both private and public sector levels.
A resident of Ashford, Conn., She holds a BS in criminal justice from Rochester Institute of Technology, a MS in criminal justice administration from Niagara University and a PhD in business administration with a concentration in homeland security, leadership, and policy from Northcentral University.
McDowell-Smith is the co-founder and deputy director of the American Counterterrorism Targeting and Resilience Institute (ACTRI), a cross-disciplinary, nonprofit research organization focused on the broad spectrum of transnational extreme-right, extreme-left, and militant jihadi political violence. She is also a contributor to Homeland Security Today.
---
About Nichols College
Within a supportive community, Nichols College transforms today's students into tomorrow's leaders through a dynamic, career-focused business and professional education.
Media Contacts
Susan Veshi
AVP, Advancement and College Communications
susan.veshi@nichols.edu
508-213-2227