Nichols College President Susan West Engelkemeyer Announces Plan For 2021 Retirement, Capping A Decade Of Visionary Leadership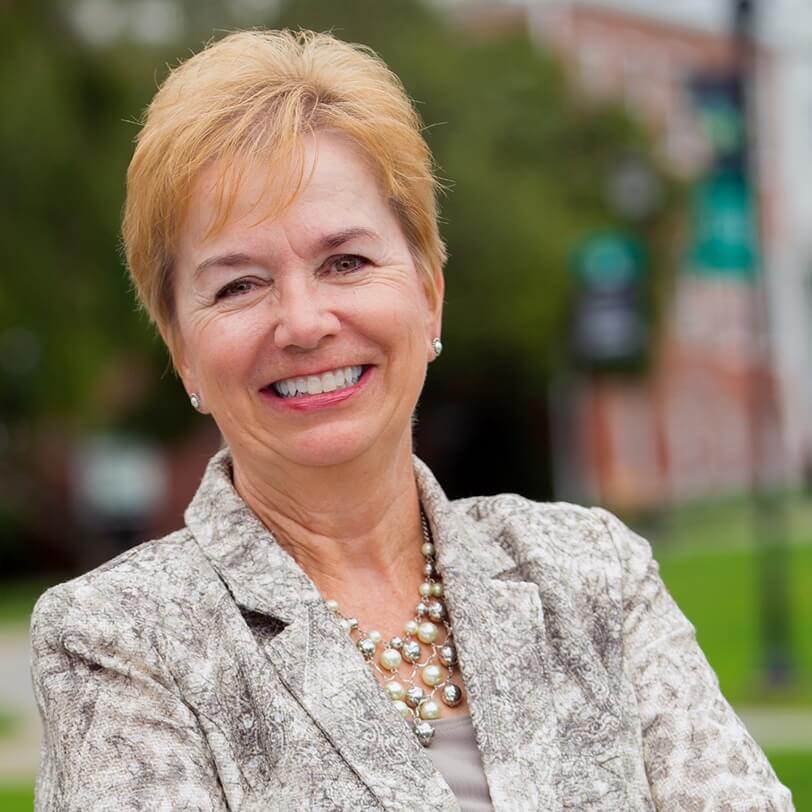 DUDLEY, Mass. – Nichols College President Susan West Engelkemeyer, Ph.D., has announced plans to retire in June, following the 2020-21 academic year. Dr. Engelkemeyer, who was appointed the seventh president of Nichols in 2011, shared the news in a September 8 memo to the college community.
"These years have been the highlight of my professional career in so many ways, and I am truly grateful to the Nichols community for your partnership, your support, and your commitment to our mission, and to our incredible students who are at the center of all we do," said Dr. Engelkemeyer. She recounted Nichols' accomplishments over the past decade, which she attributed to the efforts and dedication of the entire campus community.
Engelkemeyer said her decision was based on a desire to start the next chapter of her life, which includes spending time with her family, and expressed confidence in the future of the college. "While the global pandemic has slowed our pace as we work to actualize our vision to become 'a college of choice for business and leadership education,' I am confident that we will quickly regain our footing and emerge stronger than ever," she added.
Focused on that vision, Engelkemeyer ably navigated through one of the most challenging decades in higher education to elevate both the financial and competitive positions of Nichols. Her tenure at Nichols has been marked by persistent growth, by several metrics. Under her leadership, enrollment has been increased by 20 percent, retention by 30 percent, and the graduation rate by 50 percent. The college completed a historic $45 million comprehensive campaign, inspiring an unprecedented level of multi-million-dollar donations. Endowment has been nearly quadrupled, with the number of endowed scholarships rising from 21 to 81, including one that Dr. Engelkemeyer herself established.
Nichols strengthened its commitment to providing high-impact learning experiences through internships, course-based consulting projects, and increased faculty and student research opportunities; established the Institute for Women's Leadership as a resource for students, faculty, and the region; twice raised academic standards; and set a course toward obtaining the highest level of business school accreditation. Throughout the decade, financial stability and prudent planning have enabled Nichols to make strategic investments in its 200-year-old campus, including new academic and student services buildings, major renovations to the athletic facilities and dining hall, and advanced technology.
"Susan is a visionary and strategic leader who has steadily advanced Nichols College through one of the toughest periods in higher education," said John H. Davis, chair of the college's Board of Trustees and a 1972 graduate of Nichols. "Her dedication to this institution is matched only by her genuine affection for the students it serves, and Nichols will long benefit from the foundation she has set for our continued success."
Prior to her appointment as president of Nichols, Engelkemeyer served as dean of the Charlton College of Business at the University of Massachusetts Dartmouth and as the dean of the School of Business at Ithaca College before that. She was an associate professor and held administrative positions at Babson College. Engelkemeyer holds a Ph.D. in industrial management from Clemson University, an M.B.A. from East Carolina University, and a B.A. from Stephens College.
The Nichols College Board of Trustees has formed a Presidential Search Committee to lead the national search for the college's eighth president, with the help of the Boston leadership recruitment firm of Isaacson, Miller.
---
About Nichols College
Within a supportive community, Nichols College transforms today's students into tomorrow's leaders through a dynamic, career-focused business and professional education.
Media Contacts
Denise Kelley
Writer/Editor
denise.kelley@nichols.edu
508-213-2219