Nichols College officially opens academic year with Convocation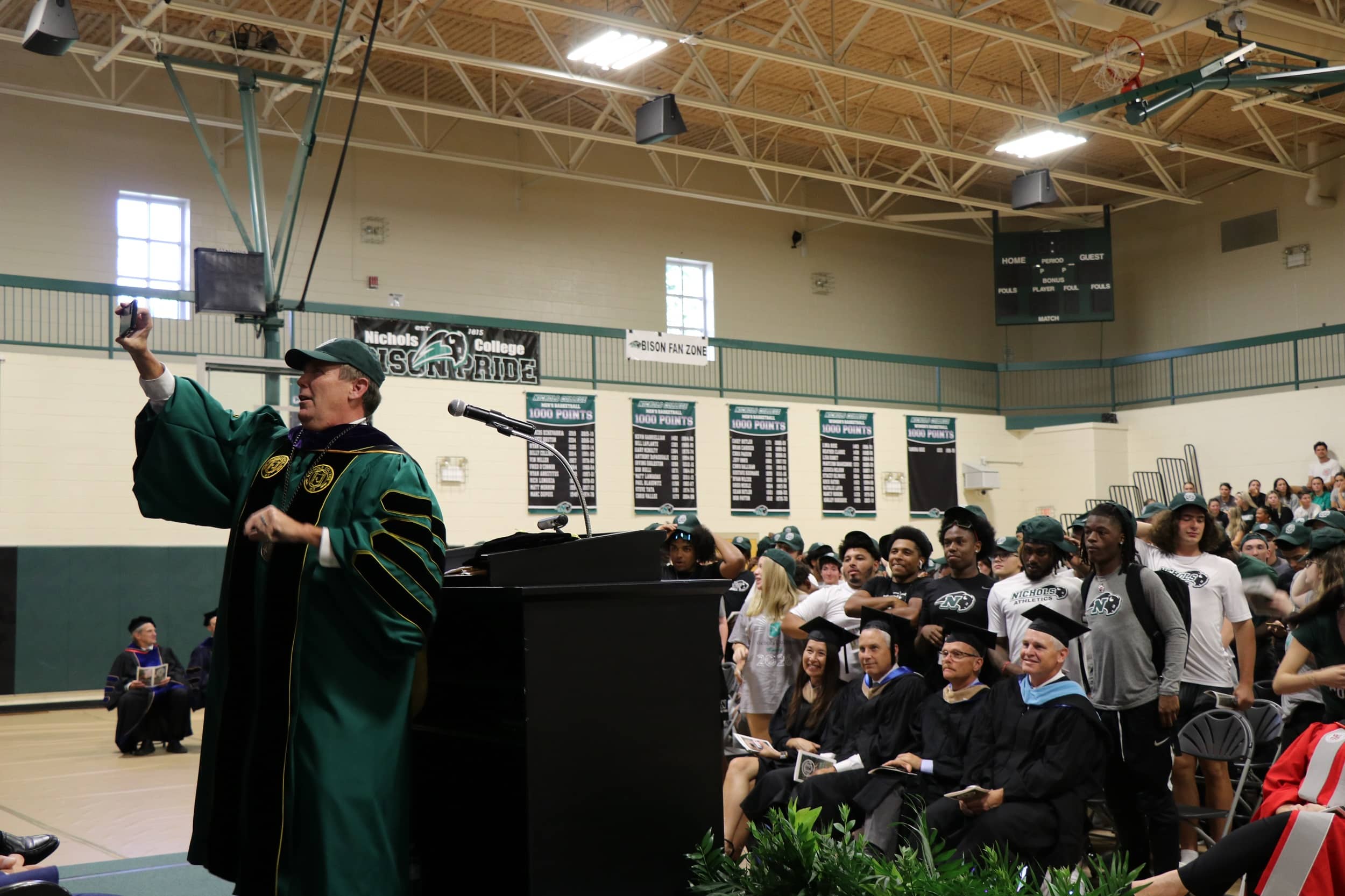 The Class of 2026 received a resounding Bison welcome on August 31, as Nichols College officially opened the academic year with the 2022 Convocation.
The incoming class processed across Center Road and over Budleigh Hill amid cheers and applause from hundreds of upperclassmen, faculty, and staff lining the walkway. As they entered the Athletic Center, where the ceremony was being held, they were greeted with high-fives from President Glenn M. Sulmasy, JD, LL.M, and First Lady Marla Sulmasy.
The annual Convocation – or coming together – featured inspiring messages to the newest class as they begin their college careers. In the invocation, Rev. Joseph Shea reminded them that being young is a strength. Calling on advice given by Paul to his apostolic delegate Timothy, Shea said, "Don't let anyone look down on you because you are young. Be an example setter in your speech, your faith, your life, your love, and your moral character."
In his welcome as master of ceremonies, Provost Dr. Daniel Borgia expounded on "Go Books. Go Bison," a familiar campus saying coined by President Sulmasy shortly after arriving at Nichols in July 2021.
"As new Nichols students, you have chosen to pursue a course of study and academic excellence that will prepare you to live a successful and rewarding life," Borgia said, referring to the Go Books portion. He continued, elaborating on Go Bison: "In addition, the faculty, staff, and leadership at Nichols will provide you with unique learning opportunities, exciting and engaging experiences, and strong personal support and mentoring. The contacts and networks you will build during the next four years will ensure that you are prepared to launch a successful career and live a fulfilling life."
To the incoming class, clad in Nichols gear, President Sulmasy said, "You have arrived at Nichols as good students, good athletes, good leaders, good thinkers – the faculty and staff here will make you great. As important to becoming part of this great Class of '26, you are officially now members of a proud tradition, officially part of the vibrant, growing Nichols College – you now proudly wear, and soon will bleed, green and black."
He then added, "Nichols in on the move in every area…you can hear it, you can taste it, you can feel the magic in the air. It is permeating all that we are, and all that we do here in Dudley. Our reputation is taking off both regionally, and during your time here at Nichols, it will take off nationally. I can't wait – the green and the black will be known around the country during your time here."
Giving an alumni perspective, Sean Glavin '06 advised, "Follow your happiness. Whatever brings you happiness is who you are. It's one of the things that makes us different. Doing what makes you happy is the only way you're able to be the very best version of yourself."
Glavin said he found his happiness in sports, playing football and baseball at Nichols, which later led to a college coaching position. He is now partner and executive vice president at Lockton Companies, the world's largest independent insurance brokerage.
"The best thing about Nichols College and its leadership team is they are always looking for ways to help you do what makes you happy – and to help you explore things that might make you happy if you aren't sure yet," he added. "If the way doesn't exist, they'll build it or connect you to it or, best yet, let you build it!"
To conclude the ceremony, Hillary Theofane, dean of students, led the Class of 2026 in an enthusiastic recitation of the Student Pledge, in which students proclaim to be a Bison today and a Bison forever.
---
About Nichols College
Within a supportive community, Nichols College transforms today's students into tomorrow's leaders through a dynamic, career-focused business and professional education.
Media Contacts
Denise Kelley
Writer/Editor
denise.kelley@nichols.edu
508-213-2219