Nichols College names former Brown University AD as athletics VP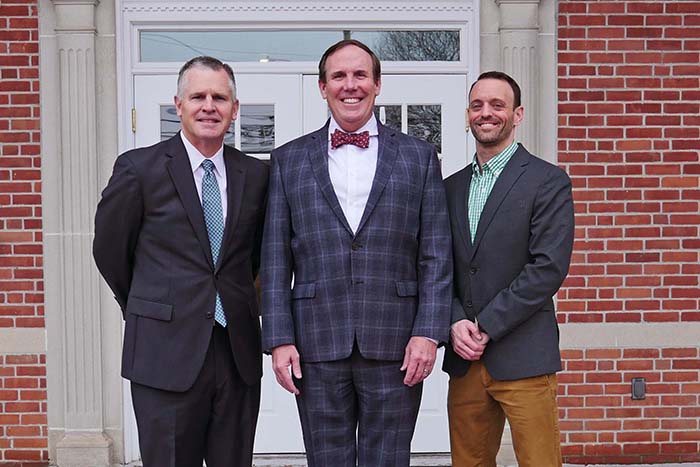 The Nichols College athletic leadership team, from left, Jack Hayes, Glenn Sulmasy, and Eric Gobiel.
DUDLEY, Mass. – Nichols College President Glenn M. Sulmasy, JD, LL.M, has appointed Jack Hayes, a 30-year veteran in sports administration and the Brown University athletics director for nearly a decade, as its new vice president for athletics, to begin March 1.
"The caliber and breadth of experience that Jack brings to this new position will inspire a deeper commitment toward raising the regional and national profile of our athletic programs," said Sulmasy. "Nichols is on the move, and I look forward to Jack leading the Bison charge."
As vice president, Hayes will oversee all aspects of Bison athletics, with a focus on fundraising and elevating the prominence of Nichols athletics, which comprise 23 men's, women's and co-ed varsity sports, 21 of which are NCAA Division III level.
"I am honored and excited to join the Nichols College community," said Hayes. "I am thankful for the opportunity that President Sulmasy has provided, and I look forward to working with the student-athletes, coaches, administrators, faculty and staff."
Hayes served as Brown's athletic director from 2012 to 2021, overseeing 34 NCAA Division I teams. During his tenure, the Bears earned 26 academic all-American awards, two Senior CLASS awards and a National Player of the Year honor. They won six Ivy League championships and made post-season appearances in 14 sports. Four of the coaches Hayes hired received conference coach of the year accolades. Hayes also oversaw the planning and fundraising for $50 million of construction and renovation projects and worked with the Rhode Island Interscholastic League to bring many of its championship events to the Brown campus. In 2018, Hayes received the Frank Lanning Award in recognition of his contributions to the Rhode Island sports community.
Hayes left Brown to pursue new opportunities, including as a senior advisor to Bruin Sports Capital, an investment and operating company that specializes in building global sports, media, entertainment and technology companies.
Prior to Brown, Hayes served as the director of athletics at Hofstra University from 2004 to 2012 while the Pride earned 10 academic all-America honors and 16 conference Scholar-Athlete of the Year awards. Its teams captured 21 Colonial Athletic Association championships and made 35 post-season appearances, including 26 NCAA tournaments. Five of the coaches Hayes hired went on to receive conference coach of the year awards. He also reintroduced the Hofstra Athletics Hall of Fame after a 50-year absence and led the effort to retire the uniform numbers of 23 prominent former student-athletes.
Hayes has served on various NCAA and conference committees, including the NCAA Leadership Council and the NCAA Men's Lacrosse Championship Committee, which he chaired in 2019. He held leadership positions at the University of Connecticut, and Fordham, St, John's and Fairfield universities before taking the athletic director position at Hofstra.
A native of Providence, R.I., Hayes earned a bachelor's degree in 1989 at Providence College, where he was a three-year starter on the lacrosse team, and a master's degree in 1992 at the University of Connecticut.
---
About Nichols College
Within a supportive community, Nichols College transforms today's students into tomorrow's leaders through a dynamic, career-focused business and professional education.
Media Contacts
Denise Kelley
Writer/Editor
denise.kelley@nichols.edu
508-213-2219