Nichols College Names Bryant University Provost As Its Eighth President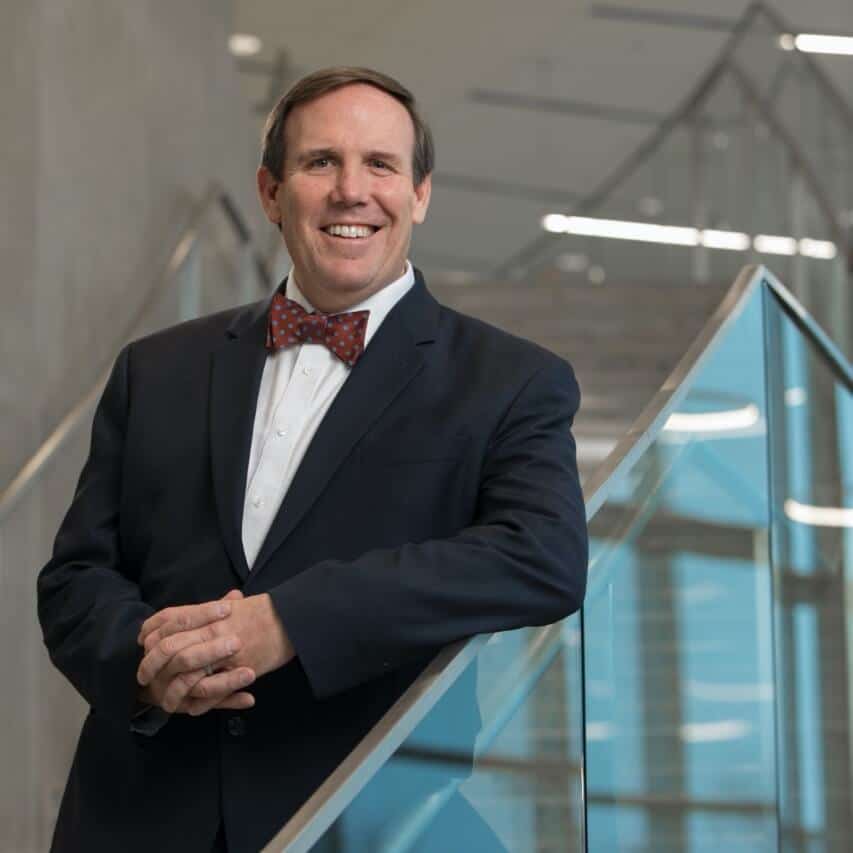 DUDLEY, Mass. – Glenn M. Sulmasy, JD, LL.M, acclaimed international law and national security expert with experience in academics, law, and government service, has been named the eighth president of Nichols College. He succeeds Susan West Engelkemeyer, Ph.D., who will retire at the end of this academic year following a decade at the helm of Nichols.
Sulmasy comes to Nichols with 24 years in higher education, most recently as provost and chief academic officer of Bryant University. He will begin his tenure as Nichols president on July 1, 2021.
"President Sulmasy brings a distinguished record of administrative leadership and academic achievement to Nichols. He is uniquely qualified to build on the success Nichols has experienced under President Engelkemeyer's leadership and drive us further toward a position of greater regional and national prominence," said John H. Davis '72, chair of the Nichols College Board of Trustees.
"I am honored to join the Nichols College community as its eighth president," said Sulmasy. "The Nichols reputation of offering a dynamic and results-oriented business and leadership education has grown measurably stronger under the leadership of President Engelkemeyer and is perfectly positioned to continue its trajectory. I look forward to working with the Board of Trustees, faculty, and staff to expand opportunities for Nichols students to learn, lead, and succeed…Discere, Duces, Stabit!"
The appointment follows a six-month national search. Davis thanked the Presidential Search Committee, led by Trustee Randy Becker '83 MBA '96, for its thorough and collaborative work. "The search for a new president of Nichols College drew an impressive pool of accomplished candidates, and the Committee worked tirelessly and efficiently to narrow the field, conduct interviews, and recommend the best candidate to the Board of Trustees," he said.
Sulmasy has served as the number two official of Bryant University since 2015, with primary responsibility for managing undergraduate and graduate academic programs, curriculum, and chairing the Academic Review Board. He oversees more than 1,100 faculty and staff members and an operating budget of $144 million. During his tenure, he initiated and implemented several academic programs, including a Bachelor of Science in Data Science, a Digital Marketing Program, a fully accredited Physician Assistant Program, a Graduate Certificate in Innovative Health Care Leadership and an online MBA.
He also successfully directed Bryant's recent reaccreditation by the New England Commission of Higher Education, and 2019 reaccreditation by AACSB International, the Association to Advance Collegiate Schools of Business.
Sulmasy has been a law professor at the U.S. Naval War College and the U.S. Coast Guard Academy, where he led the Department of Humanities, and additionally was a lecturer at the UConn School of Law, Roger Williams Law School, UC Berkley School of Law, and Harvard University. He is a visiting fellow at George Mason University School of Law.
In addition to lecturing extensively on the law of armed conflict, international law, and national security matters, he is widely published on national security matters, and serves as a subject matter expert/commentator. He has been featured in the Los Angeles Times, on CBS News Radio, National Public Radio, CNN International, US News & World Report, the New York Times, the San Francisco Chronicle, Al-Jazeera America, MSNBC, Fox News, and numerous other national media outlets. He is the author of "The National Security Court System – A Natural Evolution of Justice in an Age of Terror" (2009) and co-editor of "International Law Challenges – Homeland Security and Combating Terrorism" (2005).
Sulmasy was educated at the U.S. Coast Guard Academy, the University of Baltimore School of Law, UC Berkeley School of Law, and the Harvard Kennedy School.
He and his wife, Marla, have seven children and reside in Old Lyme, Conn.
---
About Nichols College
Within a supportive community, Nichols College transforms today's students into tomorrow's leaders through a dynamic, career-focused business and professional education.
Media Contacts
Denise Kelley
Writer/Editor
denise.kelley@nichols.edu
508-213-2219