Nichols College Men's Basketball Advances to Elite 8 in NCAA D3 Tournament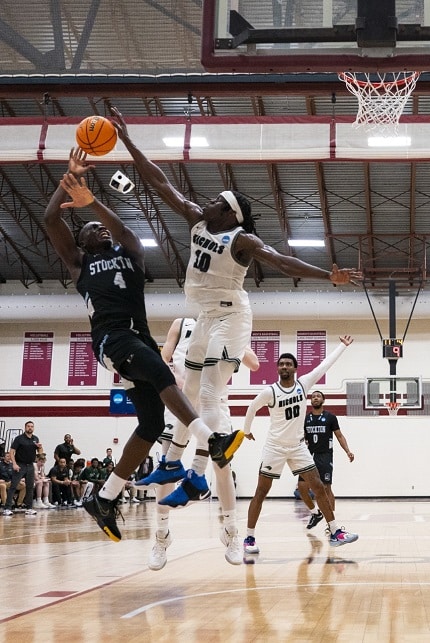 DUDLEY, MA – With a final score of 86-68, the Nichols College Men's Basketball team advanced to the "Elite 8" round of the national NCAA Division III Tournament on Friday evening after defeating Stockton University (NJ) at Tarble Pavillion on the campus of Swarthmore College in Swarthmore, PA. The team also extended their winning streak to 20 consecutive games, marking a new program-best for the Bison.
Tomorrow night, with a Final Four berth on the line, Nichols will take on Swarthmore College, who earned an Elite 8 appearance tonight after defeating Keene State. Tip-off is set for 7:15 p.m. from Tarble Pavilion.
The Bison's impressive win was helped by a game-changing second half where Jakigh Dottin scored most of his game total 34 points, his season high. Tavon Jones added 16 points and senior Quincy Ferebee chipped in 15. Matthew Alectus proved why he was named the Commonwealth Coast Conference (CCC) Defensive Player of the Year, tallying 15 rebounds and four blocks.
The last time Nichols made it to the Elite 8 was the 2018-19 campaign, where they were topped by Swarthmore College, which means Nichols will have an awaited chance at redemption in the Saturday game, the second Elite 8 appearance in program history.
Nichols Men's Basketball Head Coach, Brock Erickson, is 51-9 W-L through two years so far, and the fastest coach ever to reach 50 wins at Nichols. This is the sixth year in a row that the team has played in the NCAA D3 Tournament.
For more information, read a full recap of the game here: https://nicholsathletics.com/news/2023/3/10/mens-basketball-knocks-off-stockton-86-68-to-advance-to-the-elite-eight.aspx
(Pictured: Nichols College men's basketball player Matthew Alectus taking on Stockton in Pennsylvania on March 11.)
About Nichols College
Within a supportive community, Nichols College transforms today's students into tomorrow's leaders through a dynamic, career-focused business and professional education.
Media Contacts
Denise Kelley
Writer/Editor
denise.kelley@nichols.edu
508-213-2219