Nichols College hosts expert panel featuring diverse viewpoints on US economy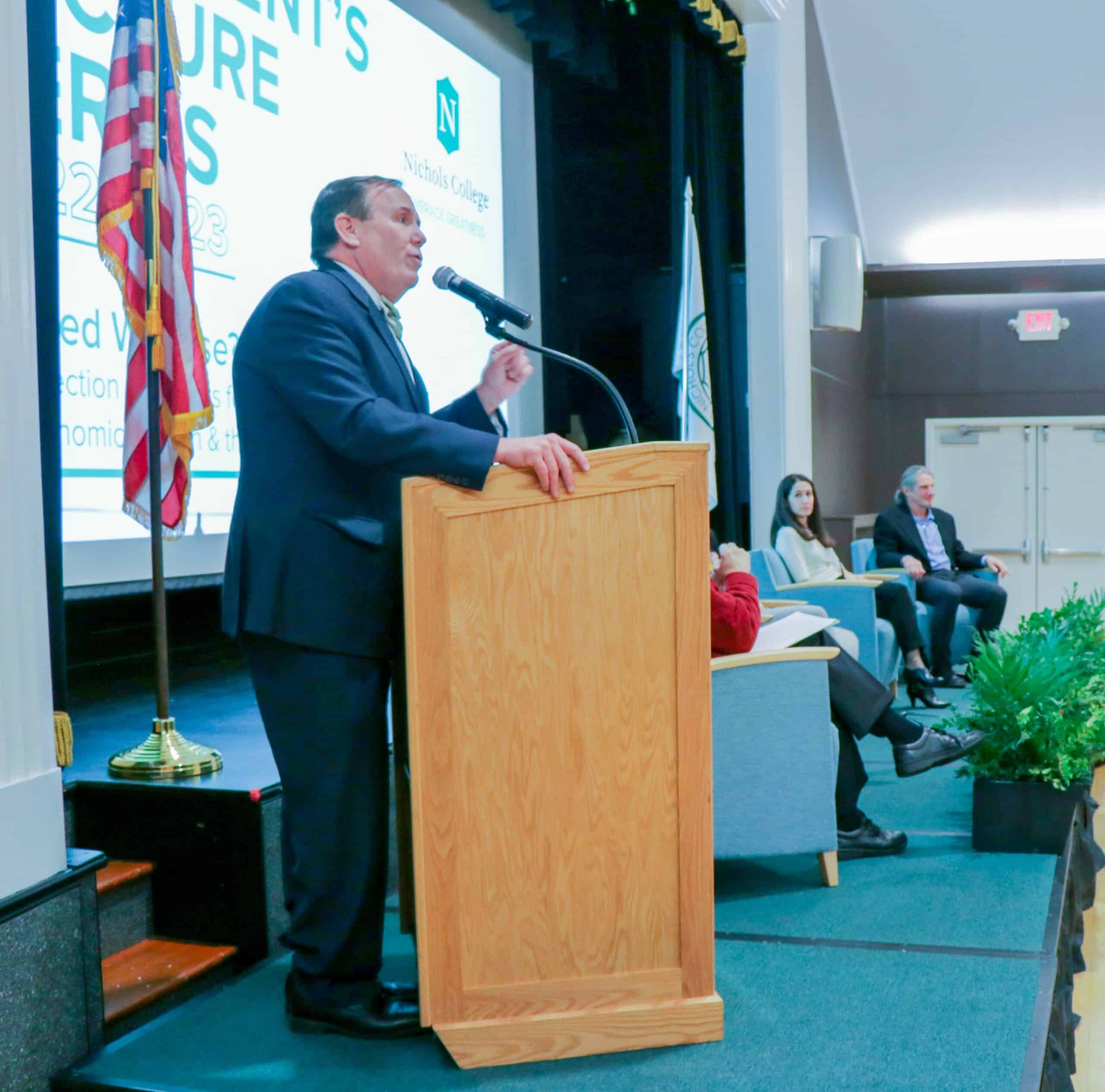 Dudley, MA (11/22/2022) — Nichols College hosted a thought-provoking economic discussion on Thursday, November 17, 2022 to inaugurate the President's Lecture Series, a forum dedicated to addressing issues of national importance while elevating public discourse through lively, respectful and spirited debate.
Presented by Nichols College President Glenn M. Sulmasy, JD, LL.M, "Divided We Rise? Post-Election Prospects for US Economic Growth & the Job Market" convened an expert panel of academics with decidedly different views.
The event drew nearly 100 attendees to historic Daniels Auditorium on the Nichols College campus in central Massachusetts. President Sulmasy was honored to welcome Town of Webster Selectman Tom Klebart among them.
"Nichols College is committed to intellectual diversity, encouraging responsible citizenship and providing a forum for respectful debate. Our students benefited immensely by engaging with leading economists who have experienced first-hand the challenges of polarization in our society. Our guests elevated the importance of this initiative by joining us, and we're grateful for their support."
Dr. Daniel Borgia, Nichols College Provost, moderated the panel discussion. Panelists included Dr. Richard Adelstein, Woodhouse/Sysco Professor of Economics, Emeritus, at Wesleyan University; Leila Davis, Associate Professor in the Economics Department at UMASS Boston; Dr. Hans Despain, Professor of Economics and Chair of the Economics Department at Nichols College; and Laura Jackson Young, Associate Professor of Economics at Bentley University.
Focusing on monetary policy in light of the midterm election outcome, the panel explored interest rates and inflation as levers for economic growth. Hot-button topics such as student debt forgiveness and climate change were a catalyst for healthy debate. The evening closed with questions from the audience, many of whom were Nichols students poised to launch their careers.
"Informed voters should understand monetary and fiscal policy to develop a broader sense of politics," said Tom Cunningham, a senior from Philadelphia majoring in Sport Management. "I thought the panel met its goal to foster a respectful discussion with differing viewpoints. My time at Nichols enabled me to follow the conversation, and with the future in mind I would like to have more of these events."
Tyler Dunn, a master's degree candidate from Mount Vernon, ME, appreciated the dialogue. "Lately I've been pessimistic about the effectiveness of stimulus checks and the actions of the Federal Reserve. Now I understand these issues more clearly, and I'm more convinced that the Fed may not be able to control inflation because most of the issues are on the supply side."
Dunn, who received his 2022 bachelor's degree in Economics from Nichols College, will graduate in 2024 with both an MBA and a Master's of Science in Organizational Leadership with a certificate in Cybersecurity. "There was actual discussion and not partisan bickering," he observed. "The panel did a good job removing political parties from the equation."
The President's Lecture Series upholds the Nichols College commitment to Diversity of Thought, the principles of intellectual freedom and the revitalization of American Higher Education. Programming for this series is free and open to the public. For more information, please visit https://www.nichols.edu/
---
About Nichols College
Within a supportive community, Nichols College transforms today's students into tomorrow's leaders through a dynamic, career-focused business and professional education.
Media Contacts
Denise Kelley
Writer/Editor
denise.kelley@nichols.edu
508-213-2219