Nichols College graduates hear life lessons from Bruins GM Sweeney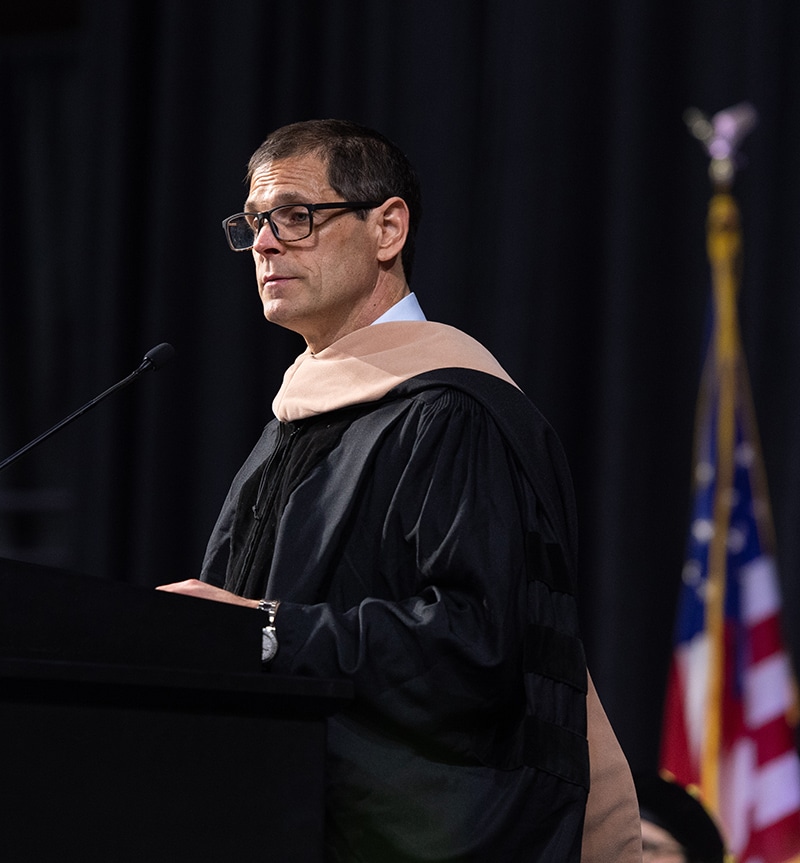 DUDLEY, Mass. – Nichols College conferred 504 undergraduate and graduate degrees at its 2022 Commencement ceremony on Saturday, May 7, at the DCU Center in Worcester, Mass., as keynote speaker Don Sweeney, general manager of the Boston Bruins, shared life lessons from his nearly 40-year career with the NHL.
The 2022 Commencement exercises also marked the first for Glenn M. Sulmasy, JD, LL.M, who became president of Nichols College in July 2021.
In his speech, Sweeney, now in his seventh season with the club, recounted the stories and mentors that led to six prominent themes in his life: Trust your process, learn to fall forward, grab a mop, no journey is made alone, find your gift and grow your influence, and enjoy the wins. Lessons he learned from high school and college, from starting a new career at the age of 38 after 16 seasons in the NHL (15 as a Boston Bruin) to transitioning to the front office of the Bruins organization to 2006.
He described the highlights of his NHL career – the Bruins winning the Stanley Cup in 2011 against the Vancouver Canucks in his native Canada – and the lowlights – losing game seven of the Stanley Cup Finals in Boston in 2019. "Failing and falling short is part of almost every journey but learning to fall forward is an important trait…and it can be learned," he said. "Dusting yourself off requires fortitude! Having a caring wife, who doesn't dwell on the losses, and a supportive family to pick you up, reminds you that you are not alone."
Driven by a competitive spirit, Sweeney exhorted, "It is okay to hate to lose but please try to find joy in your victories! Today is a big win! Celebrate with your friends, family, and mentors. Thank the people in your lives that helped you get here."
Sweeney had his own reasons to celebrate, as he received an Honorary Doctor of Business Administration degree and was also able to hand a diploma to his son, Jarrod, who graduated from Nichols magna cum laude in sport management. Other honorary degrees were bestowed on Gail E. Carberry, EdD, former president of Quinsigamond Community College (Doctor of Educational Leadership Administration) and Richard R. (Rick) Green, founder and CEO of 1A Auto (Doctor of Business Administration).
In his remarks to the graduates, President Sulmasy said, "The Class of '22 will depart this year leaving an enviable legacy and a network of friends unparalleled within higher education. But you, this class, my first class, will always be special."
Reflecting on the challenges and sacrifices of the class, in light of the COVID-19 pandemic, Sulmasy praised the graduates. "Whether you are a grad student, or undergraduate, all of you deserve special congrats today for navigating the virus and not letting it stop you from fulfilling your dreams," he said. "Today you can honestly say that as a Bison, you beat the virus and now will receive your diploma. Amazing grit you have displayed, amazing."
Class of '22 president and speaker, Lindsey Rugg, asked her classmates to remember their first time on campus. "For me, it was a tour during the summer of my senior year in high school. One thing that stood out to me was the beautiful green grass. But more than that, I felt good about myself when I was here. I know its cliché but something about this place just felt like home."
Rugg, a Nichols Honors Scholar graduating summa cum laude in economics and marketing, highlighted the individual accomplishments of several classmates and added, "We are the Class of 2022, successful in the classroom, successful in the athletic arena, and successful for having made our mark and forever changing Nichols College in our own special ways. And, within a few minutes, we will become a Nichols alum, something I am proud to say as I enter the workforce and a group I am honored to be a part of forever."
Representing Graduate and Professional Studies, speaker Anabell Caseiro DeOliveira, a candidate for the dual MBA/Master of Science in Organizational Leadership (MSOL) degree, said, "Your Nichols graduate degree will bring you great opportunities, glory, and successes into your life. This degree will help you further your career and even help you pave the way to use your knowledge to make a positive impact in the world, an impact in your community and industry, and will allow you to be a great leader that influences and inspires followers to learn from you."
Nichols awarded 349 undergraduate degrees in Associate in Business Administration, Bachelor of Arts and Bachelor of Science in Business Administration, and 155 graduate degrees, including the MBA, MSOL, Master of Science in Accounting, Master of Science in Counterterrorism, and dual MBA/MSA and MBA/MSOL.
---
About Nichols College
The mission of Nichols College is to educate and enlighten students to capitalize on their ambitions and to become impactful, forward looking global leaders.
Media Contacts
Susan Veshi
AVP, Advancement and College Communications