Nichols College Further Proves its Commitment to Being a Military-Friendly College with Unveiling of the "Challenge Coin"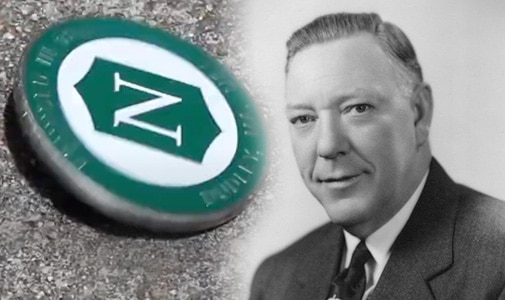 The Coin Honors Nichols College Former President (1931-1966), U.S. Army (Retired) Colonel James L. Conrad, Sr.
DUDLEY, Mass. – Further bringing to life the military and veteran affiliation that runs deep in its roots, Nichols College is proud to announce today the unveiling of its new military-inspired "Challenge Coin".
Honoring the college's former President, U.S. Army (Retired) Colonel James L. Conrad, Sr. for his contributions and excellence, The Nichols College Challenge Coin embodies the true meaning of selfless service. During his tenure from 1931-1966, Colonel Conrad put Nichols College on the path to becoming the modern four-year, business and leadership college that it is today. Simultaneously under his leadership, the college became the first educational institution in the country to be officially affiliated with Quartermaster Corps of the U.S. Army.
Just as military and public safety organizations have used challenge coins for years, The Nichols College Challenge Coin will be given to recognize individuals for excellence, and to those who support the mission and values of Nichols with societal impact. Dawning the famous green Nichols College logo on the front and an American flag encircled by an etching of Colonel Conrad's name along with his length of military service in WWII on the back, the coin is given by placing the coin in the presenter's right hand, then shaking the hand of the person receiving the honor.
Like Colonel Conrad, the 1st President, the 8th President of Nichols College, Glenn Sulmasy, JD, LLM, is a retired O-6 from the armed forces as well. "I am delighted we have developed this coin and it honors our legendary first President. Nichols is, and will always be, a home for veterans, retirees, and all those who served in the armed forces to study, learn, and develop the skills necessary to succeed in the American business world, and beyond. I thank Professor Stewart for making this new challenge coin a reality."
"We here at Nichols College are dedicated to supporting our military personnel. and we are thrilled to have the opportunity to honor former President, Colonel Conrad, who not only made momentous advancements for our school but serves as the perfect example of selfless service," said Tom Stewart, Colonel (retired) U.S. Army Brigadier General, Massachusetts. "It's because of our incredible faculty members like Colonel Conrad that we are proud to offer veteran pricing for graduate programs at $750 per three-credit course. This means that those currently serving in the military can use their Federal Tuition Assistance benefit while saving their GI Bill to transfer to their family, while those with prior-military service remain eligible for this enrollment. No other college in the country offers this type of value-added benefit and we look forward to continuing to make higher education accessible to our veteran and military community."
More About Colonel Conrad
In 1938 President Conrad prepared for the inevitable WWII, by developing students how the U.S. Army Quartermaster Corps operated. Every student went on to become officers in WWII. President Conrad himself took a temporary break from Nichols for national service once the U.S. entered WWII in 1941. He served at the theater level supplying the entire war effort, which is one of the most complex problem-sets in ANY military operation. At the conclusion of WWII in 1945, Colonel Conrad retired militarily and returned to lead Nichols College as the President once again. (Reference: Lawson, James L Jr. PhD; Nichols: A College For the Hill, 1931-1996, Nichols College 2013).
For more information about how Nichols College is a "Military-Friendly College", visit https://www.nichols.edu/admission/military-veterans-families/
About Nichols College
The mission of Nichols College is to educate and enlighten students to capitalize on their ambitions and to become impactful, forward looking global leaders.
Media Contacts
Susan Veshi
AVP, Advancement and College Communications