Nichols College and Team Training Associates, LLC, Create Degree Pathway in Public Safety Leadership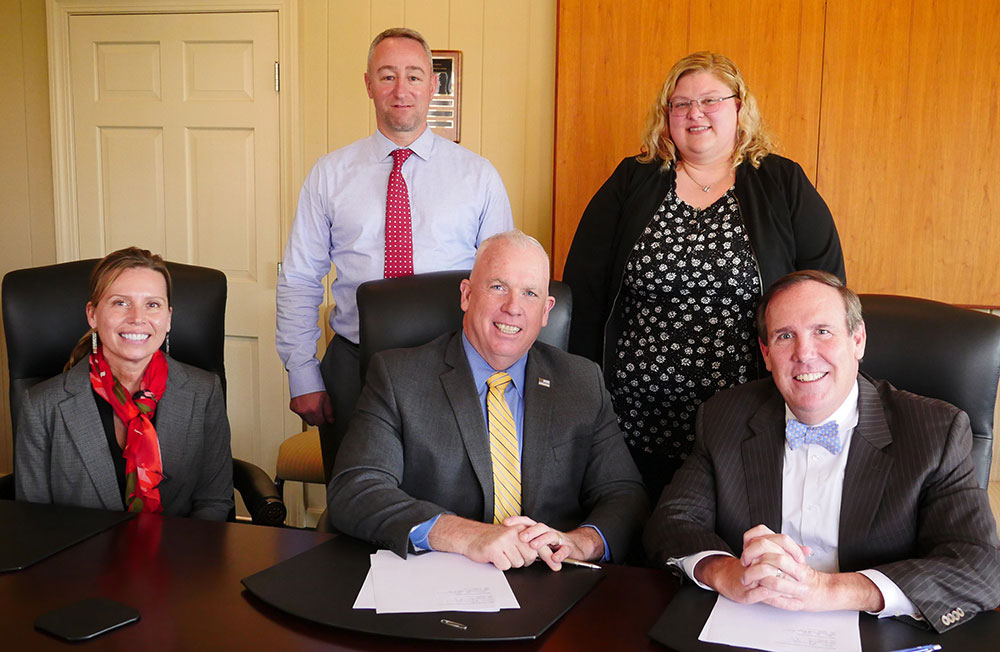 Clockwise from left: Julie Rumrill, Tom Stewart, Dr. Allison McDowell-Smith, Glenn Sulmasy, Dr. Eric Murray
DUDLEY, Mass. – Nichols College has signed an articulation agreement with Team Training Associates, LLC (TTA) of Thompson, Connecticut, to streamline the transition to a bachelor's or master's degree program for TTA-certified public safety leaders.
Students who successfully complete the Public Safety Leadership Academy, and other certificate programs at TTA, can earn academic credit toward the Nichols College Bachelor of Science in Business Administration with a concentration in criminal justice management or the Master of Science in Counterterrorism (MSC).
"This is a unique opportunity for the region's law enforcement and emergency response managers to increase their effectiveness as leaders and prepare for the future of these fields," said Glenn M. Sulmasy, JD, LL.M, president of Nichols College. "At Nichols, they will build on the excellent leadership training offered by TTA to expand their understanding of and response to today's safety threats, including cyber-terrorism and violent extremism."
The Public Safety Leadership Academy is a five-day (40 hour) course covering a wide range of leadership topics, including self-awareness, effective communication, leadership analytics, wellness, and employee engagement.
Other eligible TTA programs include the Certificate of Supervisory Leadership (40 hours), Certificate of Strategic Leadership (40 hours), and the Public Safety Command College (80 hours). Each of these specialized programs includes rigorous curriculum requiring classroom participation, case study analysis, and comprehensive experiential learning components related to specific areas of professional development within the field of public safety leadership.
"The cadre at Team Training Associates are highly credentialed and experienced public safety practitioner scholars," notes Eric Murray, EdD, president of TTA who earned the Master of Science in Organizational Leadership at Nichols in 2009. "For over a decade, our team has helped public safety leaders throughout the country operationalize evidence-based strategies to improve their workforce. We strive to remain at the forefront of professional development and leadership training. Collaborating with Nichols College is setting new standards of excellence and academic opportunities for our public safety clients."
The Nichols MSC is the only graduate program in the country to focus on violent extremism at home and abroad. The degree has provided a gateway to emerging careers as analysts and agents in agencies including the FBI, the U.S. Department of Homeland Security, and FEMA, and is viewed as a critical component in the training of the modern police force.
According to Allison McDowell-Smith, PhD, associate dean of the Nichols Graduate School of Liberal Arts & Sciences, "The combination of education between TTA certification programs and Nichols College graduate MSC degree can serve as a force multiplier for law enforcement as they are our first responders responsible for protecting our society. If they are able to lead others as to how to be proactive in regard to extremism threats, we can continue to make our communities safer."
---
About Nichols College
The mission of Nichols College is to educate and enlighten students to capitalize on their ambitions and to become impactful, forward-looking global leaders.
Media Contacts
Susan Veshi
AVP, Advancement and College Communications
susan.veshi@nichols.edu
508-213-2227