NEWS BRIEF: Rep. Richard E. Neal, Nichols College Pres. Glenn M. Sulmasy announce $680K for innovative academic program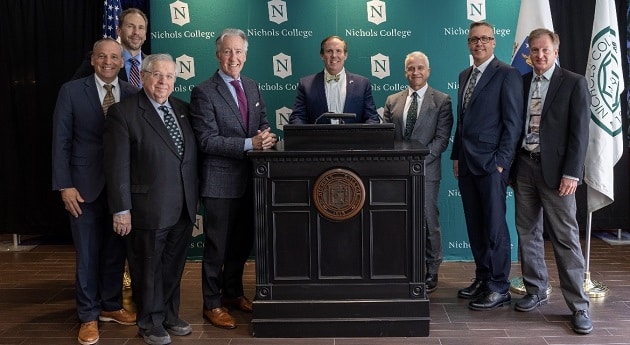 Congressman Richard E. Neal joined Nichols College President Glenn M. Sulmasy, JD, LL.M, on the Nichols campus on April 7 to announce that Nichols College was awarded $680,000 in funds for an earmark project to help launch a degree program in Intelligent Business Automation, focusing on digital literacy, ethics, learning, and collaboration.
Nichols College is one of the first institutions of higher education in the country to launch a degree in Intelligent Business Automation.
The allocation was made possible through Congressionally Direct Spending (CDS) from the Department of Education, said a post-event release from Congressman Neal's office to the media.
"The global economy is witnessing a shift that has culminated in a reliance on advanced technology, and with that comes the need for skilled labor. Our higher education institutions are tasked with ensuring our nation's workforce can meet the demands of our changing economy, and that is exactly what Nichols College intends to do with the funding I was able to procure," said Congressman Neal in the release. "By launching their intelligent business automation degree program, Nichols is giving some of the brightest minds in our region the resources that will give them an advantage upon graduation. The caliber of learning institutions in Massachusetts is second to none, and Nichols College continues to help uphold that reputation."
"We are grateful to the Congressman and his team for their consistent support of innovative approaches to higher education," said President Sulmasy. "The grant provided by Representative Neal is one that serves as a catalyst for enhanced approaches and uses of automation, data science, and data visualization. It ensures Nichols College remains at the forefront of intelligent process automation and continues to distinguish itself with the best experiential learning opportunities in the nation. We cannot thank him enough for his support."
Read the full release issued by Rep. Neal's office here: https://neal.house.gov/news/documentsingle.aspx?DocumentID=3713
(Pictured: Nichols College Prof. Len Harmon, Prof. Bryant Richards, Former State Sen. and current Nichols College Board of Trustees member Richard T. Moore, Rep. Richard E. Neal, Nichols College President Glenn M. Sulmasy, Provost Daniel Borgia, Prof. Kevin Mentzer and Prof. Mauri Pelto at announcement event on April 7.)
About Nichols College
Nichols College has earned business accreditation from the prestigious Association of Advance Collegiate Schools of Business (AACSB International), the longest serving global accrediting body for business schools and the largest business education network connecting learners, educators, and businesses worldwide. Founded in 1815, Nichols College transforms today's students into tomorrow's leaders through a dynamic, career-focused business and professional education. Nichols offers real-world learning focused on professional depth – combined with vibrant living, competitive athletics, and an unmatched alumni advantage – equipping students to exceed their own expectations. www.nichols.edu
Media Contacts
Denise Kelley
Writer/Editor
denise.kelley@nichols.edu
508-213-2219