Nichols College Men's Basketball Advances to Sweet Sixteen in NCAA DIII Tournament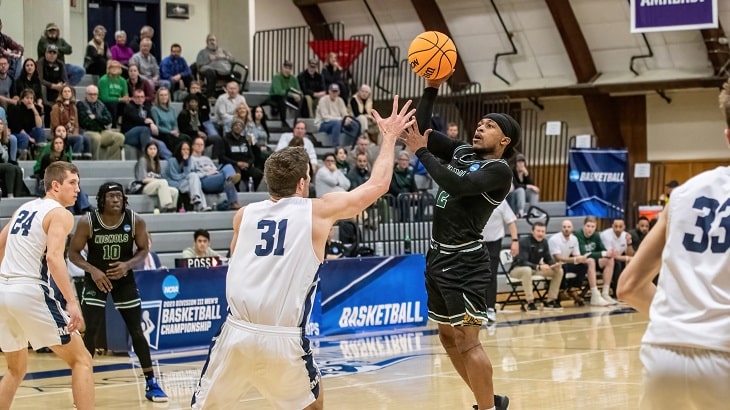 The Nichols College Men's Basketball team advanced to the "Sweet 16" round of the national NCAA Division III Tournament on Saturday night after defeating Middlebury College (VT).
For the Sweet Sixteen game, Nichols will face Stockton University (NJ) on Friday, March 10, at Tarble Pavillion on the campus of Swarthmore College in Swarthmore, PA. Tip-off is set for 4:15 p.m. The winner will move on to the Elite 8.
To make it to this point, the Bison have sustained a program-best 19-game winning streak, winning their conference (Commonwealth Coast Conference) and beating nationally recognized colleges University of Rochester (NY) and Middlebury thus far in the NCAA Tournament. Though their opponents were considered favorites, the Bison still came out on top, overcoming a 20-point deficit to beat Rochester on March 3 and holding off Middlebury by 7 points on March 4 after being down by 12 in the first half.
The team is led by the Commonwealth Coast Conference (CCC) Defensive Player of the Year Matthew Alectus, who is also one of the top 10 players in the nation in rebounding.
"The Bison have a balanced scoring attack," said Director of Athletic Communications Nick Perenick in his recent article, referring to Alectus, Ty Rucker, Tavon Jones, Jakigh Dottin, and Quincy Ferebee. In the game, Nichols will also get minutes from starting guard Nate Duckworth, who is third in the nation in assist-to-turnover ratio, and first year Shea Doherty, who played a career-high 20 minutes in Saturday's win over Middlebury, he said. "The Bison have proven that they know how to win the close games, as they are 14-0 under head coach Brock Erickson in overtime games and games decided by five points or less in the past two seasons," said Perenick.
A celebratory sendoff to the Sweet 16 will take place this week at Nichols, where they are sure to meet cheers of "Go Books, Go Bison," a motto on campus.
This will be Nichols' first Sweet Sixteen since the 2018-19 campaign. The Bison made it to the Elite 8 during that campaign, where they lost to Swarthmore College, which sets up the possibility for Nichols to compete in an Elite 8 redemption match against Swarthmore, since Swarthmore has now also advanced to the Sweet 16 and will have home court advantage should they move on to the Elite 8.
Nichols Men's Basketball Head Coach, Brock Erickson, is 50-9 W-L through two years so far, and the fastest coach ever to reach 50 wins at Nichols. This is the sixth year in a row that the team has qualified for the NCAA D3 Tournament.
Footage of the Nichols v Middlebury game on March 4 can be found here – https://www.youtube.com/watch?v=28R1YfFdY6Q and downloadable via YouTube downloader.
(Pictured: Nichols College men's basketball taking on Middlebury College in Vermont on March 4. Photo Credit: Will Costello.)
About Nichols College
Within a supportive community, Nichols College transforms today's students into tomorrow's leaders through a dynamic, career-focused business and professional education.
Media Contacts
Denise Kelley
Writer/Editor
denise.kelley@nichols.edu
508-213-2219