Nichols College Partners with Indianapolis Metropolitan Police Department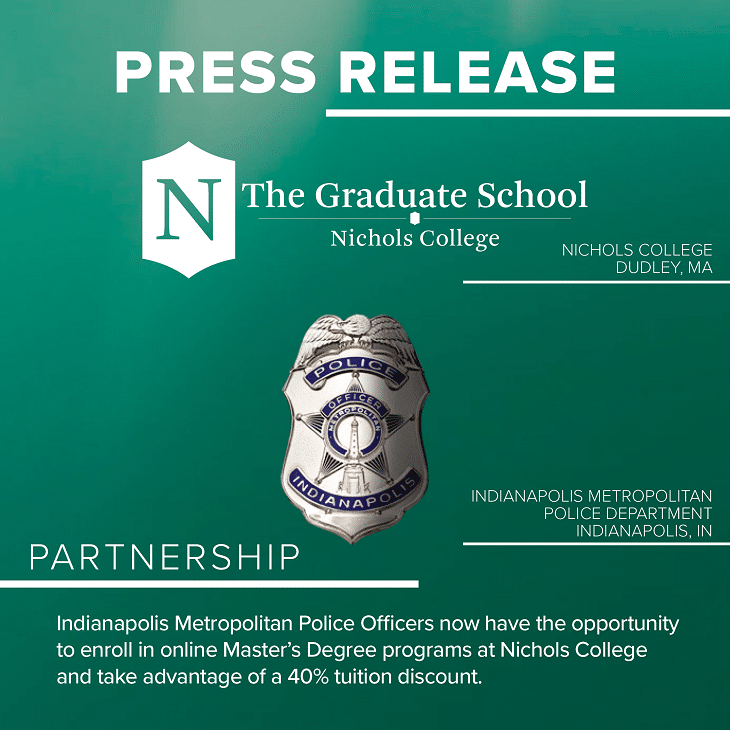 First Responders Offered Major Tuition Discounts for Online Master's Program
For Immediate Release:
DUDLEY, Mass. – Nichols College today announces a new partnership with the Indianapolis Metropolitan Police Department to assist first responders with pursuing their advanced degrees.
1,700 Indianapolis Metropolitan Police officers now have the opportunity to enroll in on-line Master's Degree programs at Nichols College and take advantage of a 40% tuition discount. Military veterans employed at Indianapolis Metropolitan Police will also have the additional advantage of discounted flat rates and waived fees. The Graduate School at Nichols College offers an MBA, Executive MBA, Master of Science in Counterterrorism, Master of Science in Organizational Leadership, and Master of Science in Accounting.
"Nichols College is proactively making higher education, to include Online Undergraduate Programs and Master's Degrees, affordable and accessible to the First Responder and Military communities both in New England and throughout the United States," said Nichols College President Glenn M. Sulmasy, JD, LL.M. "Nichols College has always had a profound appreciation for their sacrifices and contributions to our communities and nation."
"IMPD is excited about this tremendous opportunity to partner with Nichols College to advance the individual careers of our officers and professional staff," said Officer Theodore Cragen, Indianapolis Metropolitan Police Department. "The institution of higher education plays a vital role in progressing the profession of law enforcement forward, hand in hand with both the police and the community."
About Nichols College
Nichols College has earned business accreditation from the prestigious Association of Advance Collegiate Schools of Business (AACSB International), the longest serving global accrediting body for business schools and the largest business education network connecting learners, educators, and businesses worldwide. Founded in 1815, Nichols College transforms today's students into tomorrow's leaders through a dynamic, career-focused business and professional education. Nichols offers real-world learning focused on professional depth – combined with vibrant living, competitive athletics, and an unmatched alumni advantage – equipping students to exceed their own expectations. www.nichols.edu
Media Contacts
Denise Kelley
Writer/Editor
denise.kelley@nichols.edu
508-213-2219