Go Route: How A Bison Made A Big Play In Business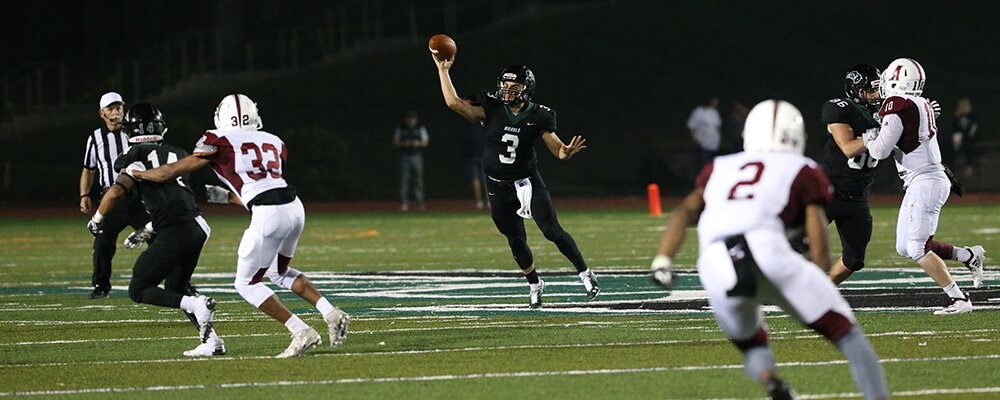 When Michael Pina transferred to Nichols College it was more than educational – it was transformational.
Pina, who graduated from Nichols this year, is the founder of QB Velocity, a football program that helps build the skills and confidence of young players, providing them with mentorship and training. He was also starting quarterback for the Nichols College Bison since 2019.
But Pina was not always a Bison. Pina, who is from Brockton, Mass., started at Mount Ida College, which is the same place QB Velocity was born.
"I saw that high school and middle school players were lacking fundamental skills and I wanted to offer a way to help these student athletes get to the next level," said Pina, who graduated a bachelor's in Business Administration with a concentration in sport management this year.
But shortly after Pina had started his business in 2018 news hit of Mount Ida closing. From there, he decided Nichols College would be where he would continue to grow as a business owner, student, and athlete.
As a junior and senior, Pina became very involved, serving as an admissions ambassador, working for the Sports Information Department as a game-day announcer, and leading the football team as the starting quarterback – all while developing QB Velocity.
"During my time at Nichols, I've been very focused on growing my business," he said. "The school has given me a lot of tools that I've been able to directly apply."
As an example, Pina cites an experience in a sport marketing and communications class, which used his business as a case study.
"My classmates were responsible with presenting on how I could grow the business and came up with amazing ideas," he said. "Two examples that I have incorporated into my business are to expand my merchandise offerings, which has been a huge success with my athletes and has increased our revenue, and to send merchandise to brand advocates. I have sent t-shits with my logo to influential coaches and players in the industry. It has been so rewarding and impactful to see them represent my brand."
In addition to boosting athletic skills on the field, Pina feels it is important to teach lessons of leadership and to serve as a mentor to his athletes. "I was blessed with great mentors growing up," he says. "They were great examples for me and I wanted to be able to do this for others."
Pina contends he also has applied lessons learned from the signature leadership classes offered at Nichols College to his role as coach and mentor to QB Velocity student-athletes.
"Nichols has helped me to be open to new opportunities," Pina said. "They've given me even more of an entrepreneurial spirit and the confidence to try new things."
---
About Nichols College
Within a supportive community, Nichols College transforms today's students into tomorrow's leaders through a dynamic, career-focused business and professional education.
Media Contacts
Denise Kelley
Writer/Editor
denise.kelley@nichols.edu
508-213-2219