Fire Meets Fire: Nichols to host steel and glass art show featuring faculty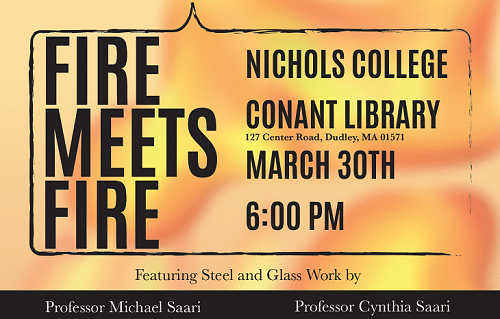 DUDLEY, Mass. – Nichols College is pleased to announce The Fire Meets Fire art show, featuring steel and glass work by Michael and Cynthia Saari, taking place March 30 at 6:00pm on the Nichols College campus.
Michael Saari is a Nichols College faculty member and alumnus, and internationally recognized metalsmith and creator of Spectacular AO in Southbridge, MA.
His wife, Cynthia Saari, is also a Nichols faculty member and is a nationally known glassworker and jeweler who has been featured on CCTV's Artists and Authors series.
The show, which will be held in the Conant Library at Nichols, will be open to Nichols College faculty, staff and students as well as residents of Dudley, Webster, Oxford and surrounding communities. Refreshments will be provided thanks to support from the Fischer Institute at Nichols College.
The art show is supported in part by a grant from the Dudley Cultural Council, a local agency which is supported by the Mass Cultural Council, a state agency.
Pictured above: artwork created by Nichols College professors Michael Saari and Cynthia Saari