Classes Move Online 3/23-4/3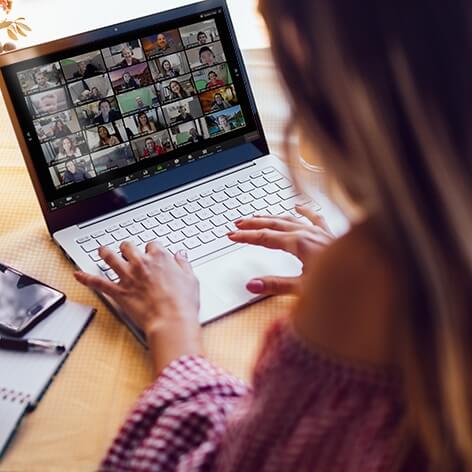 Portions of this article may not reflect the most current situation, and are preserved here for historical purposes only. Please visit covid19.nichols.edu for the most up-to-date information.
---
From the Office of President Engelkemeyer:
Dear Nichols College Community:
As Nichols College continues to manage the rapidly changing developments associated with the Coronavirus (COVID-19) our primary focus must remain on the health and safety of our community members, as we support students in their academic completion of the spring semester.
Given the most recent information available, and how much has changed since our last message, Nichols College has made the following decision: Beginning with classes on Monday, March 23, 2020 and extending through Friday, April 3, 2020, Nichols College will conduct classes via online methods only. Residence halls will remain open during this time for those students who want to have access to campus.
Why are we moving to online classes during this two-week time frame?
Nichols College recognizes that its strength lies in the personal engagement our students receive from faculty and fellow learners. For this reason, we are still hopeful that given more time that we will be able to open our classrooms up again to finish the semester. However, we must also prepare and be transparent that this may not be possible. We will continue to assess this decision in the coming days and weeks. This reality is painful to us all, as we agree whole-heartedly that the level of engagement and personal touch we pride ourselves on is the very substance that makes Nichols College; Nichols College.
However, it would be irresponsible given the uncertainty of the current state of national affairs to continue to think that we can conduct business as usual. Therefore, we do believe that giving students two weeks of online instruction following spring break is now the most prudent action for the campus to take. Decisions past April 3, 2020 will be made in the coming days and weeks. Your patience and understanding are appreciated.
 If classes are online, why are the halls going to remain open?
We know that each of our students and families have their own specific needs and unique circumstances. Some of our students come from outside of the New England region and traveling back and forth from home when we open, or if we need to close again, is problematic. Many of our students will need to be in a location where they have viable access to their online classes and that access may not exist for them elsewhere. We want to be able to provide each of our students the flexibility that best suits them in finishing their academic semester successfully. Each student should fully consider all aspects of a decision to return to campus.
While keeping the halls open to those students who want to remain on campus also puts them in close proximity to one another; by moving to online learning between March 23 and April 3 we will also significantly reduce the amount of interactions between one another where we are able. In the coming days, we will communicate a detailed plan for how this will look for students, as well as options for those students who may need to return to gather belongings if they need items over the two week period away from campus. Please continue to read your Nichols College email several times a day.
What if you've never taken an online course before?
Over the course of the next week, students will also receive additional information from Academic Affairs with helpful hints and instructions on how to move to an online format. This will be a learning curve for most of us – faculty included. Kudos to our dedicated faculty who have been prepping and learning and who are committed to moving their content to a synchronous online format using Canvas and Zoom. Patience will be needed on both sides of this equation as we traverse this work-around solution. Watch for additional resources in forthcoming communications and on the Nichols College website.
Athletics
Sadly, later today all institutions in the CCC (Commonwealth Coast Conference) will receive official notification that all athletic competition will be canceled for the Spring 2020 season. Conferences across the nation are following this protocol. Knowing the sheer determination and dedication of any athlete, this decision, made by the Board of Directors of the CCC, was intensely difficult to make. It follows the directive from the NCAA Board of Governors to cancel all remaining winter and spring NCAA Championships. There is no way to soften this blow. To our amazing athletes who do great things every day to represent our entire Bison nation, please know that we all feel this loss and have nothing but great admiration and respect for how proudly you've carried the Bison name.
Athletes that may now need to remain on campus over spring break should contact reslife@nichols.edu or stop in to Fels 301.
Campus Events:
We must now begin to consider ways that we will need to alter campus events for the health and well-being of all involved. Several large events scheduled between March 23 and April 3 are going to be canceled or postponed. Staff are working now to release a list of those cancellations next week. Remember that social distancing is a recommended method to mitigate against the further spread of COVID-19. Careful consideration of all upcoming events, programs and gatherings will alter much of life as we know it between now and the end of the academic year. The campus priority must remain on personal safety and on supporting the successful academic completion of the spring semester.
What more can one do?
Listen to the guidance we are receiving from those in authority:
Wash with soap and water for 30 seconds – multiple times a day
Cover your cough or sneeze – then wash your hands
Avoid personal contact with others – practice social distancing – avoid communal surfaces when possible
Don't share food or drink with others
Your cooperation and understanding during this time is greatly appreciated. Next week – during spring break — you will hear from Nichols College several times. We will post our notices to the College website as well as send them directly to your Nichols College email address; it is imperative that you continue to monitor these methods for communication and share them with your support systems outside of the institution.
The updates provided in this notice represent Nichols College's position as of March 13, 2020. The information contained within may require updating with little notice as the situation is ever changing. This update and the previous updates can be found here.
Sincerely,
Susan West Engelkemeyer, Ph.D.
President
---
About Nichols College
Within a supportive community, Nichols College transforms today's students into tomorrow's leaders through a dynamic, career-focused business and professional education.
Media Contacts
Denise Kelley
Writer/Editor
denise.kelley@nichols.edu
508-213-2219