As Bison kickoff the 2022 season, Assistant Coach Acres reflects on Green Bay Packers summer fellowship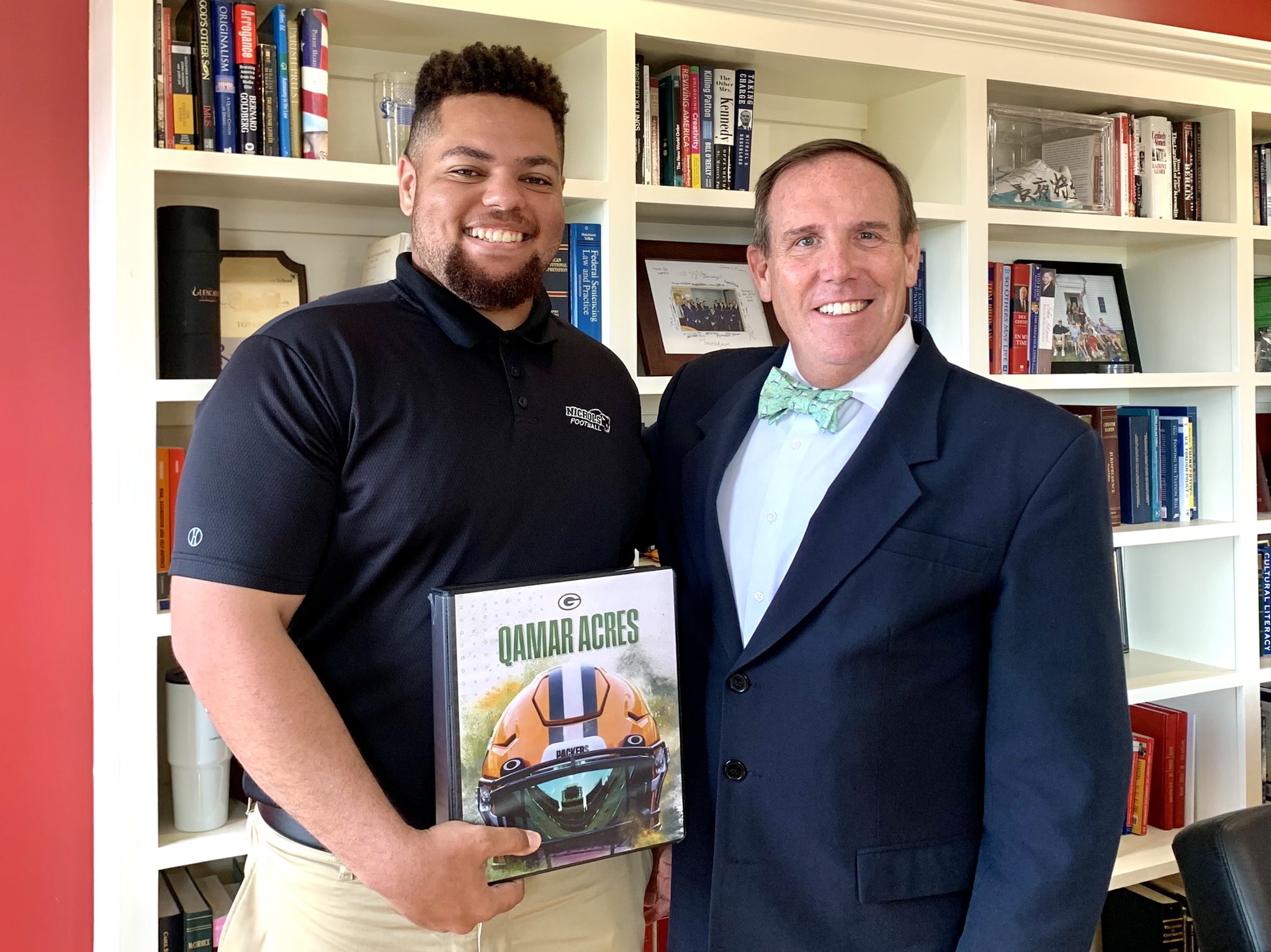 DUDLEY, Mass. As the Nichols College Bison football team returns to practice for the 2022 season, offensive line graduate assistant coach Qamar Acres will bring new insights and greater experience to his role on the sidelines, thanks to a summer fellowship he completed with the Green Bay Packers.
Acres was one of 12 coaches who joined the Packers staff through the NFL's Bill Walsh Diversity Coaching Fellowship, which, for more than 30 years, has offered aspiring NFL coaches the opportunity to gain experience with NFL teams in the off season. Each coach working with Packers – including two former NFL players – was assigned a position group and worked with special teams.
Acres spent most of his time with the Packers offensive line coach, Luke Butkus. "Being an offensive line coach, I learned the most from him," says Acres. "He would say, 'Every snap matters.' This is a great way to keep playing the play, and no matter the outcome of the play, to be ready for the next one because it can be the play to win the game."
Acres is entering his second season with the Bison as he completes his master's degree in organizational leadership at Nichols. In his undergraduate days, he played three years for Mt. Ida College then transferred to Abilene Christian University in Texas, graduating in 2019 with a degree in sociology. While Acres would not describe himself as the most gifted athlete, he was able to make the unusual transition from a Division III to a Division I school. He credits this to "being detailed oriented, working his tail off, and trusting the process."
He brings that same mindset to his coaching job at Nichols where, last year, one of his players was named all-conference. In the off season, Acres watched more than 40 game tapes looking for clips to use a teaching tools for his players.
"What truly resonated with me was the attention to detail," Acres says of the fellowship. [Packers Head Coach] Matt LeFleur said, 'Details separate good from great,' and I agree with that one hundred percent." Acres believes everything is done with a purpose and a process that everyone must buy into. He states, "Trust the process and fall in love with being uncomfortable. When adversity hits, I tell my OL, 'Remember your why.'"
The fellowship program allowed Acres to work with many people in the Green Bay Packers organization, from the offensive line coordinators to the chief of staff. "What I loved is that everyone was genuine and pleasant to be around," he says. He adds that being around the players illustrated their passion, their commitment to getting back to the Super Bowl and their own culture.
As the Bison ready for battle this season, the offensive line is looking forward to working with Acres again. "In my three years playing for Nichols, I've never had a coach put as much time and effort into a position group and for the team," says Melvin Olson '23. "I'm very grateful to have him around and I'm certain he will go on and do amazing things in the future, making everyone at Nichols very proud!"
For now, Acres can be found on Vendetti Field, teaching his players the process, telling them to trust it, and exclaiming, "Remember your why!"
---
About Nichols College
Within a supportive community, Nichols College transforms today's students into tomorrow's leaders through a dynamic, career-focused business and professional education.
Media Contacts
Denise Kelley
Writer/Editor
denise.kelley@nichols.edu
508-213-2219