A Team Player – Nichols College trustee Jim Brown '87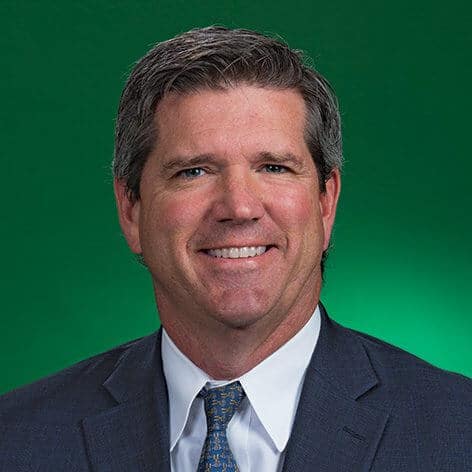 Jim Brown '87, of Sudbury, MA, is a Nichols College trustee. After graduation, with the advice and counsel from Don MacQuarrie '69, and fellow trustee John McClutchy '72, Brown entered a developmental program at Shawmut Bank in 1987 and later earned an MBA from the Carroll School of Management at Boston College. His business career has been largely spent as an executive in both commercial and private banking sectors. He is presently on the board of directors for Ranfac Corporation in Avon, MA, a certified medical device company. While playing tennis for Nichols during his senior year, he met his future wife, Tracy, then a first-year student at Amherst College during spring break in Florida. They have been married for nearly 32 years. Because of logistics, he was interviewed over the course of several emails and a telephone conversation.
What are your professional highlights since graduating from Nichols College?
The highlights for me have always started with building great teams, accomplishing exciting things together, and always forming lasting relationships along the way. I'd be remiss if I didn't mention that I've had a string of great, supportive bosses, colleagues, and directors throughout my career.
Please tell us about Tracy and your children.
Ever since our meeting, Tracy has been my partner and rock. We have three grown children. Brandon, our oldest, followed his mom's footsteps to Amherst and is now a trader for Goldman Sachs. Nick, our middle child, graduated from Brown, and after working in private equity, will soon begin MBA studies at the Sloan School of Business at MIT. Our youngest, Courtney, is graduating from Williams College this year and is moving to Newport Beach, CA to work for PIMCO.
Do you have favorite leisure activities?
Outside of spending time with my friends and family, I enjoy golf and travel. I also jog, but my kids call it a "shuffle".
What is the best piece of advice you've gotten that has guided your life and business philosophy?
Doing good for others is more important than doing great for yourself.
What makes you feel productive?
Serving others and mentoring. Offering formal or simple advice. Learning new things. I do try my best to be positive and happy always.
What characteristics are common in the people you most admire?
I admire those who recognize their opportunity to make a difference and use that opportunity and success to achieve big things—to solve real problems and create lasting change in people's lives. My father is certainly an example for me. He became an orphan at nine years old and spent some five years in an orphanage. My middle name (Cannon) is in honor of the name of my father's mother, a poor Irish immigrant who died very young. I always think about how my parents worked not for themselves but for their kids. I know that a lot of Nichols students have similar life experiences.
Regarding Nichols, what is the best part of being a college trustee?
It's inspiring to me to be a small part of a place that does so much good. It is a unique place. The faculty and staff, students, and alumni, deserve support as we all progress toward an ever-better future for the college we love.
Where would you like to see Nichols go in the future?
That's a great question and not a simple answer. I want to see Nichols become the best academic institution it can be, with ever higher standards and outcomes. I want it to be a great experience, with a competitive D3 athletic program, fantastic social and cultural programming, all the while balancing the importance of supporting its mission and history lifting and developing students who weren't born into financial wealth and advantage. I also hope to see more women at Nichols, with the goal of as close to a nearly matched male/female ratio as possible.
Do you have a few special memories about Nichols that you can share with the community?
I have far too many to count. I loved tennis and I enjoyed intramural basketball and flag football and golf on the Nichols course even more. I really enjoyed finance, economics, and English classes. I still keep my American Literature text on a home bookshelf. Little did I realize that reading something like "Who's Afraid of Virginia Woolf?" would so impact me in the long run. I also liked history. My view is that if you don't understand history, say the current Russia/Ukraine conflict, you're not going to win business from those who do understand it. My professors at Nichols literally changed my life. One funny story that I've told my family many times concerned a weekend night, when my roommate, AB, told me that a girl I had a crush on was going to be coming by the dorm for a party. Our room was an absolute shambles, so after clearing all the trash and turning it spotless he handed me a beer and then let me know he made the whole thing up. Got me good!
What are your suggestions for Nichols students today?
I would tell every student to make the most of it. Dive in, develop many different relationships, listen, and learn from others, value your professors, and enjoy every minute of it. Do not spend all your time devoted to the one skill or sport or passion you entered the school with. And after graduation, break out to be more than you can be, and do it as soon as possible.