Student Profile: A State Trooper In The Making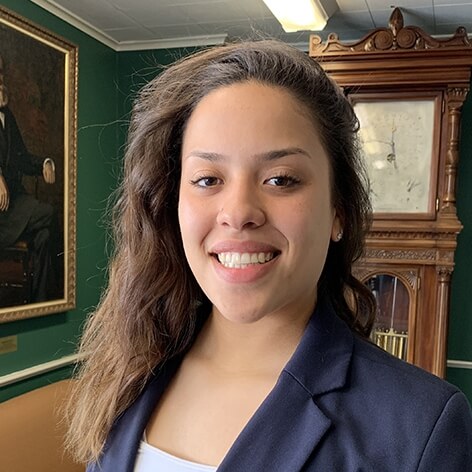 Earlier this month, Desiree Rivera graduated from Nichols in only three years, an achievement built on taking college courses through a high school program offered at the University of Connecticut. The Criminal Justice major will be entering the law enforcement field with a head start at the age of 20. It also means that she won't be able to land her dream job—yet.
That job, working for a state police department, will have to wait a year until Rivera reaches the required application age of 21. "I'd like to become a police officer and work my way towards becoming a parole officer," Rivera said. "That's my ultimate goal. I've got all the steps in place."
In the meantime, Rivera has been taking big steps as an undergraduate, working her way through a variety of positions that are setting the stage for her future employment. This past summer she worked as an intern in the re-entry program at the Massachusetts Correctional Institute for women in Framingham.
"The program helps women back into society," Rivera explained, adding that she transferred to a similar position at a maximum-security prison for men later in the summer. Rivera has also earned a paid position as a dispatcher for the police force at the College of the Holy Cross in Worcester.
Rivera admits that she did not enroll at Nichols with the Criminal Justice major in mind. "I started out being recruited for the women's basketball team, and from there the track and field team reached out as well," she recalled. "Once I got a great financial aid package, I thought it was a great opportunity.
"And it was a small school—the classes at UConn were ginormous—where it was possible to better focus on my classes."
Her focus has resulted in a higher than a 3.5 grade point average, not to mention her athletic accomplishments and the comraderie she experienced from the start. "Everybody on the Track and Field team was welcoming," she noted. "The coaches care about how you are doing outside of the sport."
On the basketball court, Rivera became known for regularly getting double-doubles (scoring 10 or more points and getting 10 or more rebounds in a game) and helping lead the team to a conference championship.
Rivera has had ample opportunity to return the good will she has experienced in sports with her work as a community manager and programmer of events for several dormitories—from planning pizza parties to activities around Breast Cancer Awareness month. "I love it," she said. "It's definitely a place where I have built community and made friends with residents."
As for life after graduation, Rivera is mulling an offer to work as a police dispatcher for the Springfield Police Department in western Massachusetts… and counting the days until she turns 21 and can apply to the state police.
Learn more about other amazing Nichols College students on our Profiles page.
---
About Nichols College
The mission of Nichols College is to educate and enlighten students to capitalize on their ambitions and to become impactful, forward looking global leaders.
Media Contacts
Susan Veshi
AVP, Advancement and College Communications
susan.veshi@nichols.edu
508-213-2227